Josh and I had a chance to go out and do some back to back to back comparison driving between Project Sierra and a 2011 Ford F-150, equipped with a 5.0L V8.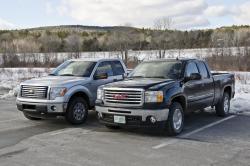 Both vehicles were 2011 models, extended cabs, and featured the "mid-level" V8 engine offered. All in all, a good matchup between the two.
We're working on writing up "comparison" article in the next few days. In the meantime, here's our general thoughts.
Styling:
Sierra is clear winner
Chassis:
Ford seems tighter but rides MUCH rougher. Tie
Powertrain:
Ford wins here, no debate. the 5.0L is an amazing engine
Interior:
GMC wins this round by far. GM's interior are more comfortable and softer.
So, what do you think? F-150 vs Silverado/Sierra is a tougher comparison than most imagine.