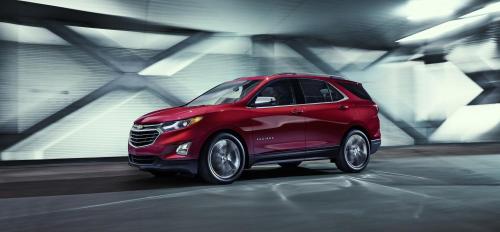 John Goreham
Contributing Writer, GM-Trucks.com
9-23-2016
GM was one of the first automotive companies to begin speaking openly about the shift away from cars.  Why not?  After all, its low-volume performance cars aside, the general has been behind the industry leaders in terms of car sales for a long time.  Perhaps this was just the shift GM needed to become relevant again in a high volume vehicle segment besides trucks.
The Chevy Equinox is critical to the brand's financial health and long-term success. In its announcement today, Chevy laid out the ways in which the new compact crossover will stay in the fight.  Most important is the overall size and shape of the Equinox.  The Equinox shaves about a half inch in width and five inches in length off its current body, putting it in the same size box as its peers. It also loses about 400 pounds.  These are good things, because, although more space is always welcome, the current Equinox has been larger than its peers in the segment and it didn't fit the mold.  There is always a place for trend setters, but that's not what the outgoing Equinox is.  And sales have fallen off a cliff.  Better to toe the line and wear the uniform.  Chevy's focus groups like the new design, and John Cafaro, executive director, GM Design, said, "Customers who previewed the vehicle early on had a strong emotional response to the sleek and sophisticated exterior design."
The new 1.6-liter diesel engine option will attract media attention because the auto press loves diesel family vehicles.  Almost nobody else cares, and they have never sold well in the U.S.  GM didn't give any numbers, but, as always, diesel power's ability to put up good highway numbers when combined with (just) front-wheel drive will allow GM to attract attention.  Will the Equinox diesel have a higher combined MPG, or better cost per mile than segment leaders?  Doubtful, but possible.  In any case, diesel vehicle advocates love to write comments under stories, so we are as happy as anyone to see GM offering the new spark-less engine.
Dramatically more important than the diesel will be the two gasoline turbos GM will introduce, a 1.5-liter and a 2.0-liter. Sub-two-liter, boosted engines have just recently matured and companies like Honda, Ford, and Hyundai have engines like this on the market now in small vehicles that work perfectly.  We suspect GM will as well.  Interestingly, GM opted for a nine-speed auto transmission.  Although it sounds like that will help with fuel economy, the fact is that geared transmissions are done in this segment and the CVTs will be the fuel economy leaders.  It is hard to understand why GM made this move.  
Infotainment will be what we expect today, but keep in mind this vehicle is six months away.  Safety is key to the family vehicle segment and GM is one of the only automakers who don;t have a Top Safety Pick + compact crossover.  GM hopes to rectify that with OPTIONAL advanced crash prevention.  We highlight optional because all 2017 Toyota crossovers will have that technology standard.  Toyota is ahead in sales, already has TSP+-rated crossovers, and every single article you read about GM's vehicles's safety will be pointing out that GM charges families extra for safety (or should).
No news on pricing yet.  GM says the new 2018 Equinox will come to U.S. dealers in Q1 of 2018.