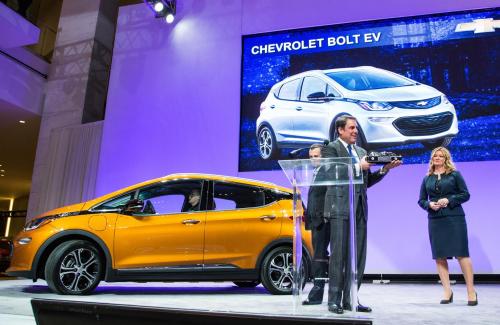 Zane Merva
Executive Editor, GM-Trucks.com
1/9/17
The Chevrolet Bolt has taken home the coveted title of 2017 North American Car of the Year. 
Early this morning in Detroit at the 2017 North American International Auto Show, the NACTOY Group announced the award's winner. The Bolt marks the fourth time in 4 years that Chevrolet has won either the Car or Truck of the year award. 
Other media organizations have also bestowed their awards on the Bolt this year. Motor Trend named it Car of the Year and made a place on Car & Driver's 10-Best list. It also was named Green Car of the Year by Green Car Journal and the Best New Car to Buy by Green Car Reports. 
The Bolt is entirely electric and has a range of approximately 236-miles on a single charge. Currently on sale, it retails for $37,495 before federal and state rebates. 
"The Bolt EV fulfills Chevrolet's promise to offer an affordable, long-range electric," said Mark Reuss, executive vice president, GM Global Product Development. "It is a game-changer that is not only a great electric vehicle; it's a great vehicle — period."