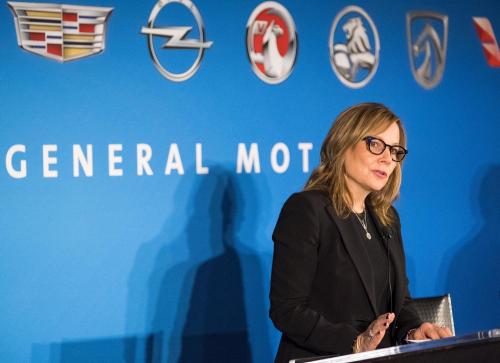 John Goreham
Contributing Writer, GM-Trucks.com
1-10-2017
General Motors has a perfect response to both silence and assuage large investors that the Detroit Free Press says have been critical of GM's stock price, saying it is undervalued. The company is buying up billions of its own stock. The ongoing and expanding buyback has two effects. First, it shows GM has confidence in its future earnings. By betting on itself GM shows that it thinks it can and will improve its position financially as time goes on.  Second, buying back stock after having been criticized about the stock being undervalued, raises the value of the stock!
GM's final report on its 2016 performance will not come until February, but publically traded companies are allowed to comment on the expectations of their earnings as long as the statements are based in fact. Mary Barra looking confident at the podium stepped forward and offered this quote: "We've generated consistently strong results the last few years by delivering great vehicles, growing the topline and driving efficiencies, while at the same time establishing a leading position in shaping the future of transportation," Barra said.  "We'll stay focused on executing our strategic plan and generating the profitable growth needed to create long-term value for our shareholders."
After GM announced its expected results, GM stock saw its highest price in over a year during trading and settled back to a 3.7% increase since yesterday.