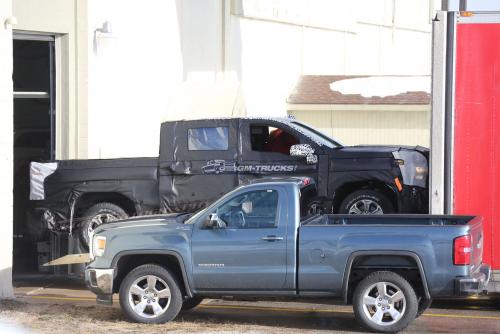 Zane Merva
Executive Editor, GM-Trucks.com
1/31/2017
The very first photos have been captured of GM's next generation full-size Silverado pickup truck. We have licensed these photos for our members, so get ready to take your first look at the 2019 Silverado. 
Visit our 2019 T1XX Silverado/Sierra Forum
Our spy photographer reports:
Judging from the heavily disguised prototypes we caught being loaded into car hauler at a General Motors test facility, it appears that we've seen the first sign of testing for the next-generation Chevy Silverado pickup.  Of the two prototypes spotted so far, both are Crew Cabs, while one looks to have the short bed while the other has the full-size bed configuration.

 

Engineers parked a current single cab Silverado pickup alongside the loading platform, in an effort to shield the prototype from prying eyes.  While it blocked a portion of the prototype, the truck also provided a nice opportunity to see the all-new truck next to today's model.

 

Our sources at AutoPacific tell us that this new Silverado is accelerating it's efforts to create an aluminum-intensive body to match the Ford F-series trucks.  The next-gen truck—reportedly being developed with the internal code name T1XC—is expected to reach the market in late 2018, as a 2019 model.  Our sources tell us that GM has made great efforts to refine its production processes with these lightweight materials, and promises a lighter, stronger, and more efficient truck than its competitors.  

 

It will be interesting to see how the next Silverado ultimately stacks up against the F-150, and how GM will spin their current criticism of aluminum intensive trucks when they have one of their own.  Now that we know that next-generation Silverado prototypes exist, we'll be on the lookout to catch them on the road.  Stay tuned. - Glen Paulina

 
Here's the photos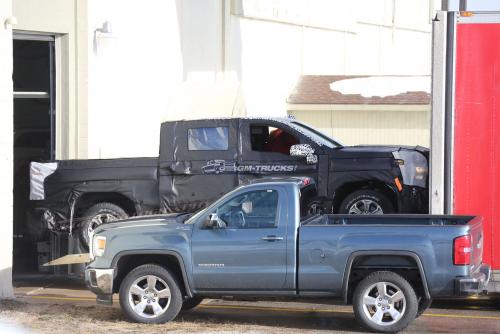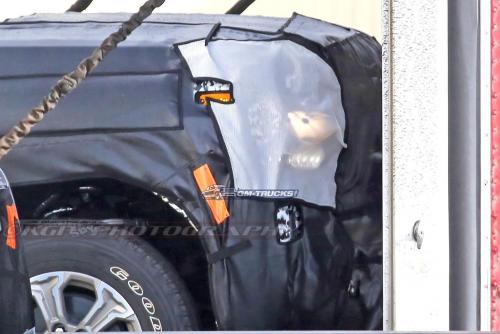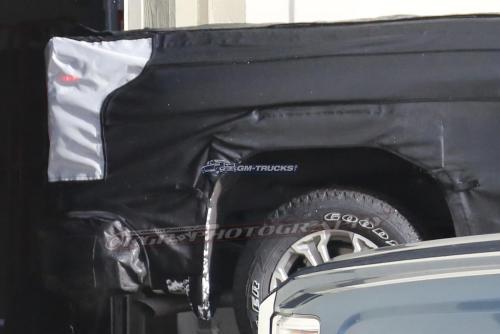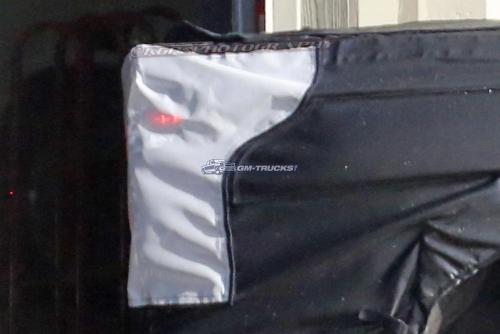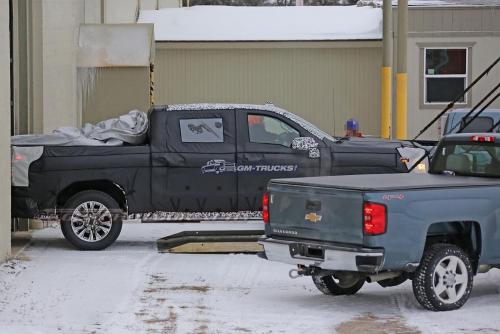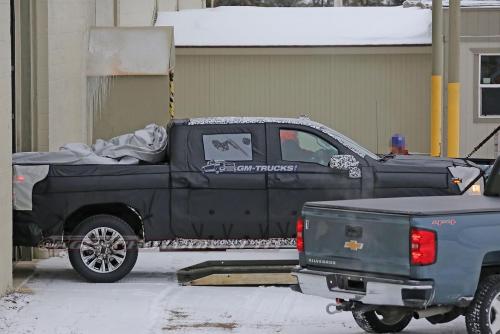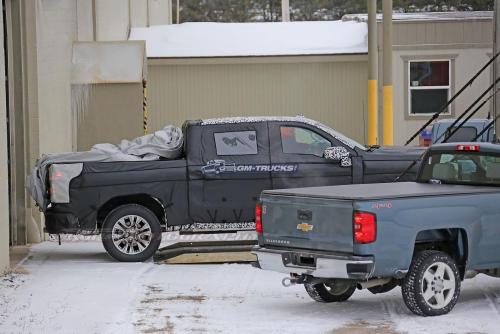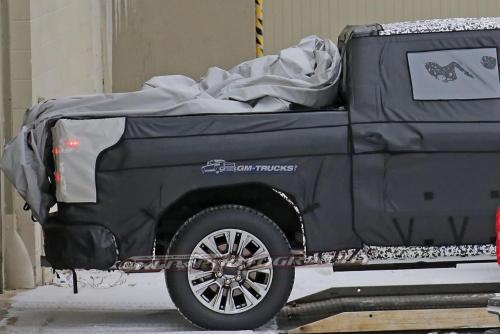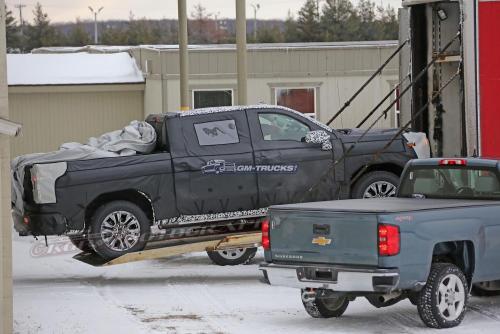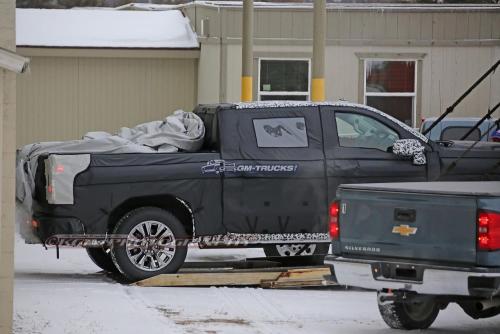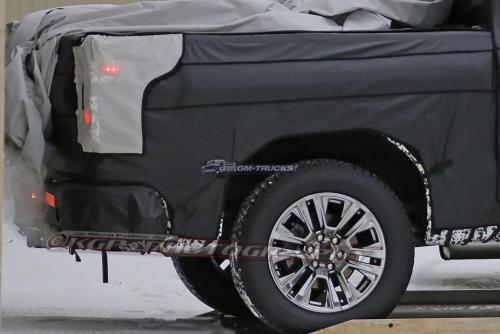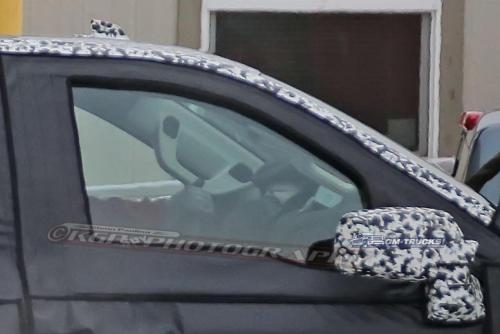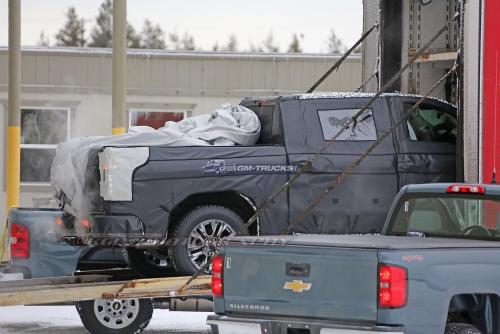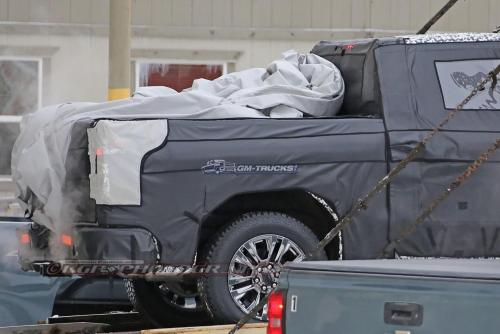 What we can learn from these photos
Principle engineering of the new Silverado is primarily done and prototypes are being manufactured
These photos show two different vehicles. One has white lettering on the tires, one does not. 
The crew cab will be much bigger than the current generation
Rear exhaust tips seem integrated into the bumper or fascia
The gap between the bed and body seems much tighter than current generation trucks
A large driver's hand hold is apparent inside the cab
Use of LED's for some (but not all?) exterior lighting
Headlights are much larger than the camo would want you to think but doesn't seem to be using production housings yet
The single cab "current generation" truck may be a hybrid mule with next gen drivetrain. 
The "sharkfin" antenna remains
Brake rotor sizes seem to be larger than current models
Rear view mirrors are mounted lower on the door panel
New chrome/polished wheels
What we can't tell
What the body is made from. It could be steel, aluminum, or composite. 
What types of engines will be available
What do you think?
We want to hear your thoughts on these first photos of the next generation Silverado. Post your comments and theories below!
If you like what you see, head on over to our 2019 T1XX Next Generation Truck Forum to discuss the new Silverado with other fans!