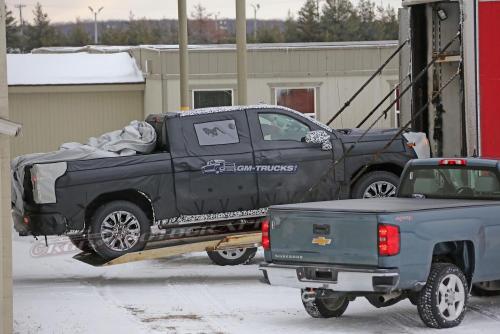 Zane Merva
Executive Editor, GM-Trucks.com
2/2/2017
We now have proof
that the 2019 T1XX full-size pickup program is entering the later stages of development. With running prototypes built, expect to see camouflaged next generation Silverado and Sierra running around the world on public roads in the very near future. 
With that in mind we're putting the word out to GM-Trucks.com members to keep your eyes open. No doubt, next generation mules are undergoing testing in the wild as you read this. They may already be on public roads. 
If there are T1XX mules being driven on public roads we as a community can and will find them. 
If you see what you think is a next generation General Motors product, take a picture/video and send it to us.  We'll pay you up to $100 per original photo and up to $200 per original video. 
Here's how we're laying this bounty out:
No violations of employee contracts to obtain any media
Media must be exclusive and not published elsewhere
Media must be original and owned/taken by the submitter
We will remove metadata from and watermark/edit any photos/video we choose to use
We have the right to refuse to publish any photo/video received for any reason
Bounty award amount based on quality, exclusivity, and number of photos/videos accepted
Program expires at our discretion and / or upon first release of official vehicle photography
To submit a photo, photos, or video to be considered for a bounty reward
Email the photos or video to Zane [@] GM-Trucks.com along with your contact information. 
Good luck and let the games begin!