Zane Merva
Executive Editor, GM-Trucks.com
2/15/2017
Stopping by the local Chevrolet Dealership as a teenager in the late 90's was always a lot of fun. I distinctly remember strolling through the models on display, dreaming and drooling over the Corvette Grand Sport and S-10 ZR2. As I climbed through the display vehicles I also was quite guilty of grabbing the dealer model information books by the armload to obsessively read over later at home.  
Today, these dealership model information books seem like relics of the past. I haven't looked at one in years but imagine my surprise to find out they still get printed to help consumers make buying decisions on the show room floor. Chevrolet also, naturally, publishes them online in digital format. 
2017-chevrolet-colorado-catalog.pdf 21.68MB 614 downloads
Click the above link to download the entire 2017 Colorado Dealer Brochure
As you "flip" through the book and read the details, it seems like all of the information is standard fare and widely known. But it turns out we can find a nice little new nugget of information about the all new ZR2 buried in the details. 
The footnote for the colors page reads "Deepwood Green Metallic ...ZR2 Only". And that's how today we learned that the ZR2's unique shade of green has a name and you'll be able to buy it for yourself. Ahh, brings back old memories.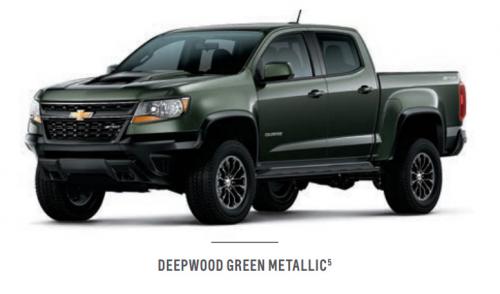 Credit: Joseph K on the Colorado ZR2 Facebook Group