John Goreham
Contributing Writer, GM-Trucks.com
2-27-2017
General Motors is raising the stakes on discounting to almost unbelievable levels. Perhaps it was the slight dip in sales of full-size trucks over the past couple of months, perhaps GM just wants to top Ford in full-size truck sales, or maybe inventory is above levels the General is comfortable with. Or maybe it's all marketing hype and the savings are not on trucks anyone really buys in big numbers. Whatever the reasons, GM is discounting trucks at a level that is approaching comical. The deal is for a 1500 Crew Cab All-Star, and as the advertisement shows, the discounts include about ten grand is cash from GM. Only $750 of the discount has to do with the "Option package discount."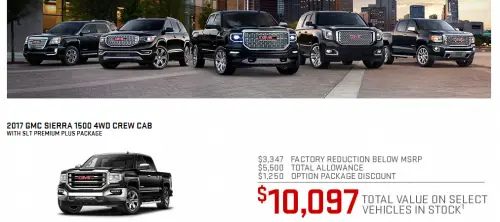 GMC is also discounting heavily. Its special deal is on the Sierra 1500 4WD Crew Cab. Ram has discount offers of about six grand show on its website.  Ford's and Nissan's discounts appear to be about four grand on the F-150 and 2017 Titan.  Toyota's Tundra site has no national discount offers posted, but has a "See Local Specials" button. When we put in our zip code no specials were shown.