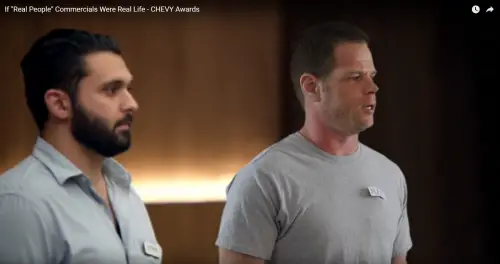 John Goreham
Contributing Writer, GM-Trucks.com
3-20-2017
GM-Trucks.com loves to report the results of the various J.D. Power awards. Why not? The GM brands, and Chevy in particular, tend to kick butt in the awards, outscoring premium brands every time and seem to always top Ford and Ram. Even better, the GM-Trucks.com membership like to cut up the awards in the commentary. Maybe we are late to the party, but we recently discovered the unedited versions of Chevy's advertisements showing the "real people" that Chevy shows off its trophy case to. Watch the video and you will see what we mean.
If you like the J.D. Power award video you may also like this one about the mystery car that looks exactly like a Chevy Malibu.  
Author's note: Having grown up in "Medfid" Mass., the real person named Mahk in the video is every guy I grew up with.