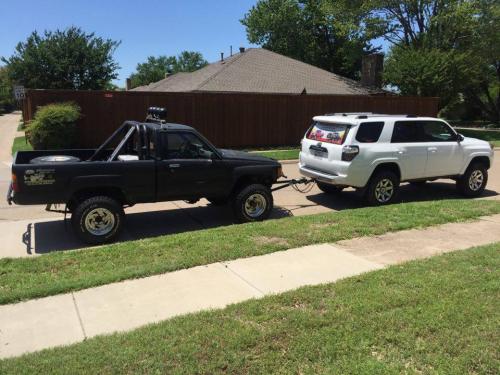 John Goreham
Contributing Writer, GM-Trucks.com
3-26-2017
One reason manufacturers create "halo" cars and trucks is to pull in the fans. Those who really live the life that particular vehicle is associated with. The customers who enjoy that lifestyle, but have other needs that put daily drivability first will still shop the model but will go for the less extreme trims.  We have been following Joey Karr's 2017 Chevrolet Colorado ZR2 purchase since we discovered that he will be among the first owners. Joey definitely lives the life. His Red Hot ZR2 V6 is already on order and he expects to take delivery in about four more weeks. Joey has promised to share his thoughts and images with GM-Trucks.com once the truck arrives. In speaking with Joey, we were surprised to find out that he is the owner of a unique business. One that one might think would point him in the direction of a 4Runner TRD Pro or Tacoma TRD Pro. Rather than tell you what we learned, we will let Joey take it from here with some question prompts to tell the tale.  We think you may be interested and possibly a little jealous when you hear what Joey drives, owns and does for work:
GM-Trucks: Joey, let's jump right in. Tell us what you do for work:
JK: I own a store called "The 4Runner House", A Toyota Pickup and 4Runner parts and repair specialty shop. I have been open for over 7 years and have grown partial to the Toyota quality. Over the years I've personally owned at least 100 classic Toyota 4x4's and have a lot of experience using them on the trails. With that said, I really cannot be biased towards one brand or the other, I just tell it like it is.
GM-Trucks: Tell us about the Toyotas you own now.
Joey: I have a 1980 Toyota Pickup V8 monster truck which is strictly an indoor show truck. Also a 1988 Toyota Pickup 4x4 4cyl with 385k miles that is lifted 2" on 31" tires with front and rear locking differentials. The '88 is a great truck to put miles on and is very capable on the trails. Like the 1980, it has a roll bar in the bed but also a spare tire carrier which makes the bed space very limited. I also I own a 2014 4Runner trail edition with KDSS suspension. I modified it with an icon 3" suspension lift, total chaos upper control arms and 33" tires. It's an awesome truck that is very capable so I will only sell it for something worth giving it up for. Right now compared to the ZR2 I have more ground clearance, better approach and departure angles along with more cabin space.
GM-Trucks: You also have a pretty special GMC truck.
Joey: Yes, I have a 45k mile GMC Syclone that makes around 900hp. It has a GM bow tie block with full forged internals, Vortec big valve head conversion, 75mm turbo, stand alone ECU, a big fuel system and pretty much everything under the sun.
GM-Trucks: With all those amazing options, why are you even considering another vehicle?
Joey: Recently I decided that I need buy a pickup as my main daily driver. I have always been a GM guy at heart. I've owned many Corvettes, Camaros, Syclone's, Typhoons and Blazers. When I first heard that the ZR2 name was being brought back I was immediately interested. I always wanted one of the original S10 ZR2 trucks back in the 90's. Although I didn't want to buy a Colorado just for the ZR2 name unless it was really worth it. I was never a fan of the cab shape or front end of the 2015+ Colorado but I wanted to give it a chance anyway. The first thing that got my attention with the ZR2 was the wider rear axle, longer front control arms with spool valve shocks and a 2" lift. I also really liked that it had rock sliders stock. After GM finally confirmed that it would get electronic locking front and rear differentials I was pretty much sold.
GM-Trucks: So why not a Tacoma TRD Pro?
Joey:  There's quite a few good reasons. First off, after driving a new Tacoma it's V6 felt underpowered and more like a 4cyl. The V6 Tacoma is faster than a diesel Colorado but doesn't feel like it pulls near as hard as the V6 Colorado. The Tacoma does drive nice but definitely not as well or as enjoyable as the Colorado. I really liked the electric steering in the 3 different 2017 Colorados I've driven. It really handles more like a sports car than a pickup. Another plus for the Colorado is that it gets slightly better mpg's V6 to V6. The biggest problem with the Tacoma as an off-roader is that it has no option for a front locking differential. That alone has kept me from buying one. At least in my 4Runner I have the A-trac which uses the brakes to technically lock the front diff. It also seems that while the build quality of the Colorado has only improved over the years it's seemed to get worse with the Tacoma. There is a wide range of aftermarket support for the Tacoma which is great but I still can't get over that hideous front end. Another advantage the 8 speed ZR2 has over the Tacoma is its 43:1 crawl ratio. While the Tacoma isn't too far behind at 36.2:1 it doesn't do well crawling with anything over stock size tires. Overall the new Tacoma just doesn't interest me enough to buy one.
GM-Trucks: You are going to be one of the first ZR2 owners. How did you find it?
Joey: In the search for a ZR2 I decided to use the same dealer that my parents just bought their 2017 Tahoe from. My salesman Chuck Winnett from Huffines Chevrolet in Plano, TX is one of coolest car dealers I've ever had the chance to work with. He never tries to pressure you into a sale like most car dealers and is just real down to earth. I have been talking with Chuck about buying a ZR2 for the last 4 months. When they received their first 3 allocations for ordering a ZR2 he was nice enough to give me one of the openings to order the way I wanted. As of now, we are just waiting on the manufacturer to post a build date and then we'll see what happens when it gets here.
GM-Trucks.com would like to extend our thanks to Joey Karr for being so generous with his time and personal story.  We have just one question for the membership; If you could borrow just one of Joey's rides which would you choose?