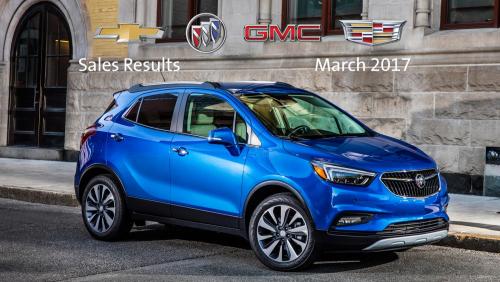 John Goreham
Contributing Writer, GM-Trucks.com
4-3-2017
General Motors chose an upbeat tone for its press release this month saying it has the "fastest-growing retail brands." Kurt McNeil, U.S. vice president of sales operations, offered a comment, saying, "The economy is strong and we see more growth ahead for our brands. More people are working, consumer confidence is at a 16-year high, fuel prices are low and Chevrolet, Buick, GMC and Cadillac have a wave of new crossovers to compete in the industry's biggest and hottest segments." What was not highlighted was that every GM pickup truck model was behind 2016's March sales level. Every truck model is also down about one or two percent year to date.  
In March, Silverado was down 11%, Sierra down 14%, Colorado down 13%, and Canyon was down 13%. Double-digit declines in a company's core product don't usually translate into upbeat sales reports, but GM sees hope in its new crossovers. Equinox sales were up for GM, and that is a key model going forward since it competes in the highest-volume segment of all now since compact crossovers have passed trucks. GM saw hope in the Cadillac XT5, but its sales are still only about half of Lexus' RX sales. At GM the Chinese-built Envision is selling well with sales of approaching the XT5. GM chose a crossover it does not manufacture in the U.S. as its image for this month's sales report. Despite the truthful good news that GM has more crossovers on the market now, both GM and Cadillac are still down for the year compared to last. The CTS is selling at less than 900 cars per month now. 
GM overall is up for the year. Looking at the sales charts it is the Chevy Cruze that is having the biggest net impact on overall sales with about 26,000 more vehicles sold in 2017 than in 2016.