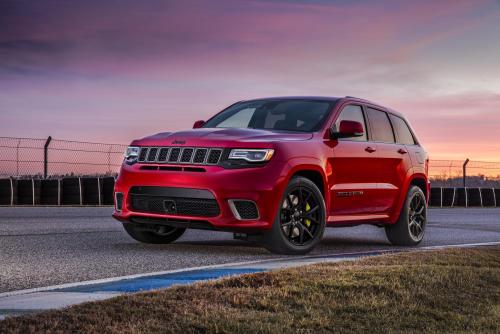 John Goreham
Contributing Writer, GM-Trucks.com
4-12-2017
This being a GM trucks site we try to emphasize the exciting new offerings from the General. However, today the news is all FCA. At the New York Auto Show FCA just took the Challenger and Grand Cherokee off the leash.
First up, Jeep has introduced its new Grand Cherokee Trackhawk. The Trackhawk is the world's most powerful SUV now with 707 hp. Yup, Jeep dropped the Hellcat engine into the Grand Cherokee. 0-60 MPH is now 3.5-seconds and the quarter mile is 11.6 seconds. In a Jeep. It also stops as well as it goes with the Brembos bringing it down from 60 MPH in 114 feet.  
Second, and we can't believe this is the second coolest vehicle at the show, the new Dodge Demon takes the Hellcat a bit further. Street legal and able to run 100 octane fuel, the Demon gets 840 hp from an all-new engine, NOT a tuned version of the Hellcat's engine. It has so much torque it can lift the front tires off the ground. For three feet. It runs the quarter in 9.65 seconds. That is a production car record. And zero to sixty is 2.3 seconds. It's 2.1 seconds with a roll-out.  Zero to thirty is one second. There is no other production car quite like this for sale.  Let us say again, the Demon is street legal - even when running 100 octane fuel - in all 50 US States. Watch the video below and if you don't get goosebumps head straight to the emergency room.
Dodge has a kit one can buy that puts skinny drag wheels in the trunk with some track tools. It then puts four special rear tires (drag radials) on all four corners (make sense?) So you can drive to the track safely and then put on the small fronts. What do you think Dodge wants for that option? It's a buck in case you guessed higher.  There are a whole bunch of other cool options too, like a front passenger seat. Also a buck. Get the idea? This car comes with all the things you need to go racing and the street version and the track version are five bucks different in price.