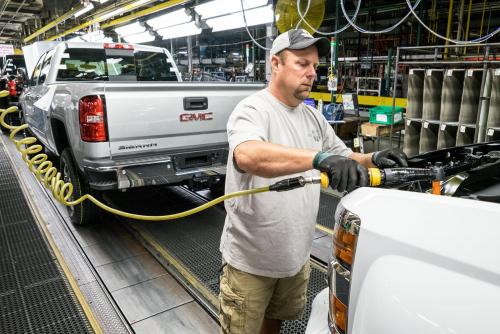 John Goreham
Contributing Writer, GM-Trucks.com
4-12-2017
General Motors will idle plants in North America this year to make changes required for new pickup and crossover vehicle models. This is according to a report by Automotive News. The scheduled plant shut-downs will affect multiple plants. The extended shutdown also helps to explain inventory. Which came first, the 97-day supply of vehicles or the plan to shut down plants is debatable, but GM's Alan Batey, GM's president of North America, says, "We are absolutely where I want us to be. Our inventory is high because we're going to take 10 weeks out in the back end of the year as we're modifying our plants, particularly with pickup trucks." The down-time is not to be confused with the normal summer-time shut down in July.
GM plans to retool for the coming generation of full-size pickups it plans to begin selling mid-2018.
This news follows a shutdown this past December in which GM stopped production at plants when inventory reached an 8-year high. At that time, GM had a six-month stock of Camaros built.