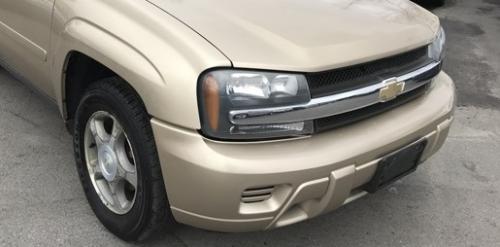 John Goreham
Contributing Writer, GM-Trucks.com
5-12-2017
General Motors has agreed to increase the warranty on certain vehicles' headlights for up to 12 years of 150,000 miles. This after the government investigated owner complaints about low-beams suddenly shutting off on certain GM models. The headlight control module is the issue and Tuesday GM instructed dealers to begin honoring the warranty on about 300,000 vehicles now in circulation.
The models affected include some of the following vehicles (not all):
2006 to 2009 Chevrolet Trailblazers and GMC Envoys
-2006 Buick Rainier, GMC Envoy XL, Chevrolet Trailblazer EXT
-2006 and 2008 Pontiac Grand Prix
-2006 to 2008 Buick LaCrosse.
This is reportedly a full recall, not a TSB, and owners will be contacted if they own a vehicle covered.  The Detroit News speculates there may be more recalls coming as a result of this issue. NHTSA has not yet added this issue to its running tally of monthly recalls, so we suggest calling your dealer if you feel you may have a vehicle in the included group of vehicles and want to check if a fix is available.