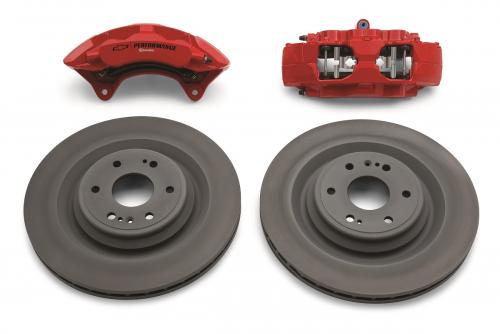 John Goreham
Contributing Writer, GM-Trucks.com
5-15-2017
General Motors has announced Brembo brake packages for Chevy, Cadillac, and GMC trucks and SUVs with 20-22 inch OEM wheels. These brake packages are sold directly from GM's dealer and parts network and feature the logo of the brand embossed on the calipers. Russ O'Blenes, GM's Director, Performance Parts, Variants and Motorsports Engineering, commented on the development of the brake packages adopted by GM, saying, "Testing for this product has included brake dyno testing, full GM noise/vibration/harness testing, and on-vehicle testing with over thousands of test miles.  These tests are the same stringent validation requirements that a production brake system would go through."
General Motors says the Brembo packages offer the following Features and Benefits:
·         Don't void your factory new car warrenty   
·         Red Brembo® six-piston, fixed aluminum calipers with Chevrolet Performance, GMC or Cadillac logo
·         410 x 32mm (16.1-inch x 1.3-inch) Duralife™ rotors
·         84% increase in brake pad area and 42% increase in rotor area for increased system thermal capacity.
·         Duralife™ rotors feature a hardened surface to reduce corrosion and provide quieter braking with less vibration.
·         31% reduction in pedal force and 12% reduction in pedal travel at max deceleration during GM Testing, providing improved pedal feel.
GM will offer the new Brembo six-pot calipers and upgraded Brembo Duralife rotors as a dealer-installed option on new vehicles, and as after-purchase upgrades at dealerships. Current owners can also order the parts kits directly at: Chevrolet.com/accessories, GMC.com/accessories, and Cadillac.com/accessories.
The kits are given the following part numbers:
o   Chevrolet – PN #84263234: 2014+ Silverado and 2015+ Tahoe/Suburban
o   GMC – PN #84263235: 2014+ Sierra 1500 and  2015+ Yukon/Yukon XL
o   Cadillac – PN #84263236: 2015+ Escalade/Escalade ESV
"These big 6-piston Brembo brakes just look amazing.  They fill 20-inch or 22-inch wheel with a high tech braking statement that only Chevrolet Performance can make."   
 -Roger McCormack, Director, Accessories and Performance Parts Planning & Marketing
"Testing for this product has included brake dyno testing, full GM noise/vibration/harness testing, and on-vehicle testing with over thousands of test miles.  These tests are the same stringent validation requirements that a production brake would go through." 
-Russ O'Blenes, Director, Performance Parts, Variants and Motorsports Engineering
GM says the MSRP of these brake kits is $2795. If you opt for these brakes, please send GM-Trucks.com your images and impressions.