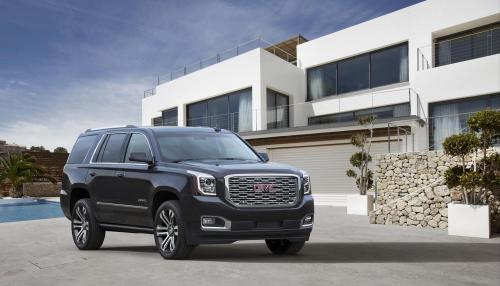 John Goreham
Contributing Writer, GM-Trucks.com
5-30-2017
The GMC Yukon Denali evolves a bit for the 2018 model year. The two big changes are a new 10-speed automatic transmission and a new grill.
GMC says that the new Hydra-Matic 10-speed transmission has a wider 7.39 overall gear ratio spread. When paired with Yukon Denali's 6.2L V-8 engine it- "Enhances refinement with world-class shift smoothness, responsiveness, and quietness." We checked the EPA's website to see if the fuel economy changed for 2018, but it has not yet been listed.
The grill is sculpted and "multidimensional" in GMC's lingo. "The new grille, which is flanked by HID headlamps and LED Signature Lighting, advances the design legacy established with the very first Yukon Denali in 1999," said Matt Noone, director, Global GMC Exterior Design. "It's a more exciting and sophisticated design, while remaining instantly recognizable as part of the GMC Denali family." The grill also increases airflow to the radiator, which is never a bad thing.
One additional design element for 2018 is the addition of Mastique Ash real wood trim.