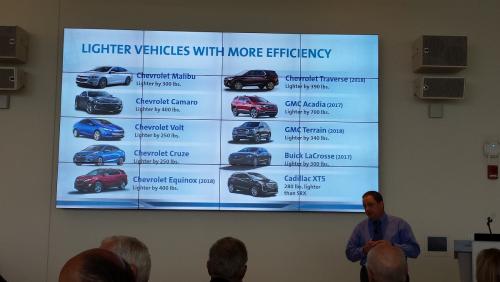 John Goreham
Contributing Writer, GM-Trucks.com
6-5-2017
At a recent New England Motor Press Association (NEMPA) annual meeting at the Massachusetts Institute of Technology (MIT), a representative from General Motors went deep on the topic of lightweighting. Charlie Klein, Executive Director, Global CO2 Strategy, Mass and Aerodynamics, for General Motors, wowed the group by pointing to steel, not necessarily aluminum, as a very common solution to adding lightness to vehicles. Although magnesium, composite plastics, and aluminum do play a significant role in modern automotive design, more and more advanced steel is the go-to solution for reducing mass cost effectively, while still maintaining platform rigidity and safety.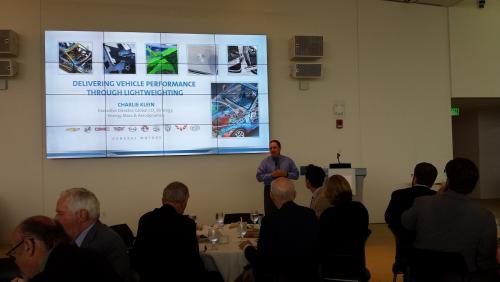 As the top of page chart highlights, General Motors has taken out hundreds of pounds of mass on every one of its popular models over the past vehicle generation. What Mr. Klein emphasized was that GM did this while steering straight into "headwinds" of increased safety requirements, infotainment and active safety electronics weight additions, and ever-increasing customer expectations of greater rigidity (which is felt by the driver as a premium feel on the road).
Among the technologies that GM has invented and patented in the past decade, the one that most impressed the group was GM's ability to spot-weld steel to aluminum. The group immediately had questions on how corrosion of the dissimilar metals was managed, but Klein assured the group it was part of the process and is now in production on the CT6.
Klein also showed how GM is making structural body segments (beneath the skin) more cost effectively, lighter, and more rigid by reducing parts. Kelin's example was the rear support section behind the rear wheel well. On the ATS that section has a dozen or more components. On the CT6, it is a single piece.