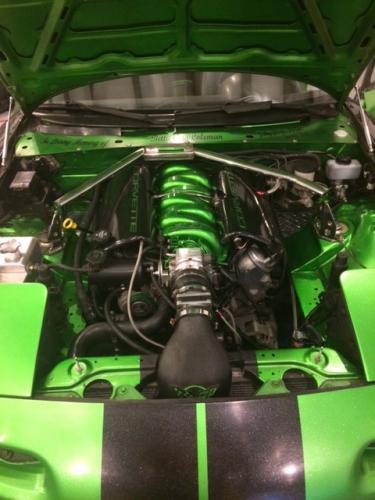 John Goreham
Contributing Writer, GM-Trucks.com
6-7-2017
Mazda Miata V8 conversions usually seem to use Ford engines for some reason. Ford has made some great V8s over the past century, but we'll take a Corvette engine any day. So did James and Janna Weeks. While Janna was serving in Afganistan, James began a resto-mod project for her in honor of her late mother, who they had inherited the NA-generation Miata from.
James told us that the Corvette engine was from another project and it replaced a turbocharged 1.8-liter engine that was the first engine upgrade to Zoom, the car you see above.
James told that Zoom us now sports a 5.7-liter LS6 V8 with modified heads, intake, and cam.  The transmission is a T56 6-speed. The rear end is a Ford 8.8 with 3.08 gears.  Zoom once ran to 156 MPH on the half-mile on a closed course. Then James and Janna turned on the nitrous and Zoom posted 165 MPH.
A huge V8 in place of a tiny 4-banger usually disrupts the balance of a conversion car. That is unless the engine coming out is iron and the one going in is aluminum. James says that the whole conversion added about 300 pounds total to the weight of the car and that the front to rear weight distribution is only 1% changed to 52/48.