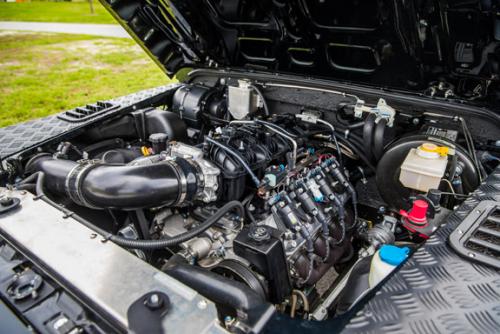 John Goreham
Contributing Writer, GM-Trucks.com
7-11-2017
East Coast Defender blends English ownership and tradition with a U.S.-based workforce in Florida to build amazing Land Rover Defenders. The classic compact SUV is quickly becoming one of the hottest classic restoration segments in America, and East Coast offers some very interesting updates on what is perhaps the defining European "contemporary classic" compact SUV.
East Coast Defender's latest project involved adding a Chevy small-block V8 to the classic Defender 90. The East Coast Defender 90's LC9 has 326 hp, up a smidge from the 68 hp the vehicle originally started with about 30 years ago.  East Coast Defender adds a six-speed transmission, stainless exhaust and brake lines, EBC Performance brakes, and an improved cooling system centered around a Ron Davis aluminum radiator.
"We have an incredibly diverse client base who come to us from across the country," said Elliot Humble, East Coast Defender Co-owner. "I believe that speaks volumes about the broad appeal of our handcrafted Defenders. Like a finely tailored shirt, each SUV we build exudes the character and personality of its owner. 'Project Blackout' is an attractive vehicle that's a stunning extension of its new owner."
This off-roader looks like a cool combination of old and new. What say you GM-Trucks.com faithful?