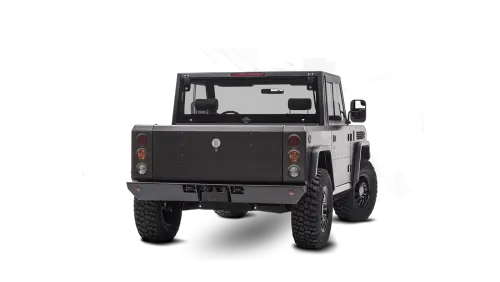 John Goreham
Contributing Writer, GM-Trucks.com
7-31-2017
Bollinger Motors revealed its electric pickup/SUV Friday. The vehicle is a square-bodied electric drive SUV that looks like a Land Rover or vintage Bronco in many ways. That is far from an insult. That look is loved by many and the Bollinger B1 has a bad-ass back-to-basics look that is hard not to like. Aerodynamics must not matter when no gas is being burned.
The reveal included many of the mechanical specifications of the B1. For example, Bollinger says it can haul 72 sheets of 4'x8' lumber and also carry 24 sticks of 2x4" lumber. Towing is rated at a respectable 6,100 pounds. with 472 lb-ft of torque, the B1 must move out in a hurry. Indeed, its 4.5-second 0-60 MPH time makes it one of the fastest trucks ever built.  
As has become the norm with electric vehicle reveals, we don't yet know the price and none are available from stock. However, if you want to get in line, Bollinger will accept your $1,000 deposit today. Learn more at the company's website.