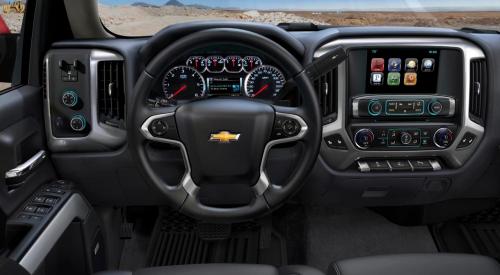 John Goreham
Contributing Writer, GM-Trucks.com
8-7-2017
Back when electronic, or electric, steering replaced hydraulic assist, many drivers worried that if the electric motor that adds the power steering input was suddenly disabled the vehicle would lose control. Manufacturers poo-pood safety concerns, calling the new systems "fail-safe." Today, GM has announced a huge recall of about three-quarters of a million 2014 model year Silverado and SIerra pickups because the electronic steering may fail and the driver may lose steering control, possibly leading to a crash.
 - Background on GM electric power steering here.
The NHTSA recall website explains the problem, saying, "The vehicles may have a temporary loss of electric power steering (EPS) assist, especially during low-speed turning maneuvers." The result is explained as well, as, "If EPS assist is lost and then returns, the driver might lose temporary control of the steering wheel, increasing the risk of a crash."
GM will follow the law and notify all owners of the problem by snail mail.  However, like all manufacturers, GM has a recall lookup website. You can access it here.   The plan is for GM dealers to simply update software. There is no mechanical problem according to the information provided.  
 - Please, check out one of members' excellent background story on this topic in the comments below.  Thanks 97 Sierra SLT!