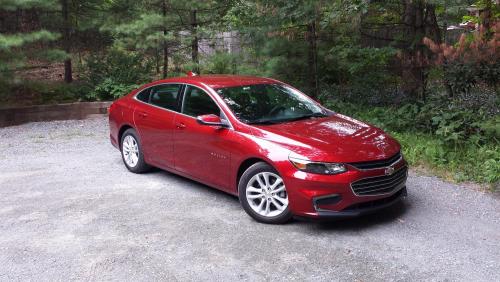 John Goreham
Contributing Writer, GM-Trucks.com
8-10-2017
The GM-Trucks.com team was fortunate to find some seat time in a new, 2017 Chevy Malibu Hybrid this month. General Motors has cut its media fleet for 2017 and the Malibu was the only GM car we've driven in recent memory. Simply put, it blew us away.

Reviewing any car or truck requires focusing the mind in two ways. First, what do owners of this type of vehicle want and look for? Second, could this vehicle be so good that it transcends its segment and may attract buyers from similar segments? With our brain re-set from trucks, we found this midsize green sedan hits the mark for its target audience and definitely would make conventional midsize family shoppers very happy given a chance.
The Malibu Hybrid's defining feature is comfort and refinement. We've driven the Camry Hybrid, Kia Niro, Hyundai Ioniq Hybrid and others in recent months and the Malibu Hybrid doesn't just meet the bar, it exceeds it in almost every way.
If you like a smooth comfortable ride over bumpy roads (the GM-Trucks team spends considerable time on dirt roads, so we do), then the Malibu is tuned for you. The "normal" profile tires on our mid-trim Hybrid were compliant and kept the ride very mellow. The Malibu handles like most other midsize family sedans in all other respects. If you want a Car and Driver breakdown of skidpad adhesion and handling "at the limits" good luck. You may be better served by a Cadillac CTS-V. This car is for daily driving and it excels at its mission.
The drivetrain is outstanding, but only if quiet, smooth operation with outstanding fuel economy is your preference. In this segment, that is exactly what buyers want and expect and the Malibu Hybrid delivers better than either the Kia or Hyundai we recently tested (which are about the same size as the Malibu in passenger volume, in case you wonder why they are in this story for reference).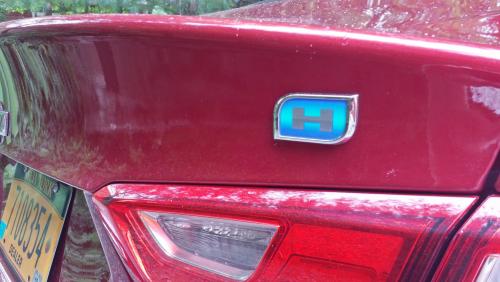 We managed 49 MPG in our real-world suburban and highway driving, better than the 46 MPG the EPA estimates most drivers will see. On regular gas. That means they Malibu Hybrid costs about the same per mile as an EV would, in our expensive electricity market. In our testing of the new Hyundai Ioniq, which boasts a much higher EPA Combined estimate, we saw 48.2 MPG. In the Niro, we saw 44 MPG. The low-key Malibu Hybrid topped them both.
Inside, our mid-trim Malibu was drab. The flat-back, unheated, cloth seats were a let-down and with no moonroof, the interior was dark. Our $31,235 tester lacked a few things, but if you want leather, Nav and a moonroof they can all be added in for customers with a $35K budget. The trunk is small for the class as well, due to the battery pack behind the passenger seatbacks.
On the plus side of the Chevy frugality, the Malibu Hybrid did have Android Auto which we put to good use. Apple Car Play is also included of course, and this allows buyers to skip Nav and save some money while being able to get the best Nav possible via one's phone (which you already own).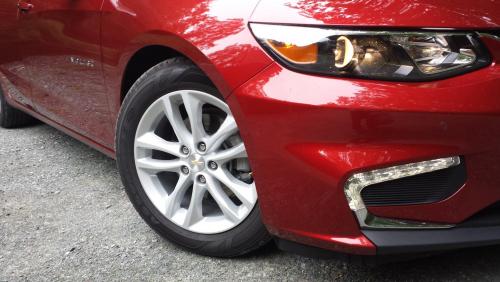 The Chevy Malibu line is an IIHS Top Safety Pick, only its headlights' rating held it back from the top score possible. Our tester had emergency auto braking but did not offer adaptive cruise control. An odd combination.
Conclusion
Overall we feel that the Chevy Malibu Hybrid deserves more attention. This is a fair-priced, super-safe, fuel-sipping car with outstanding comfort. Isn't that what family sedan and mid-sized green-car shoppers put at the top of their wish list?