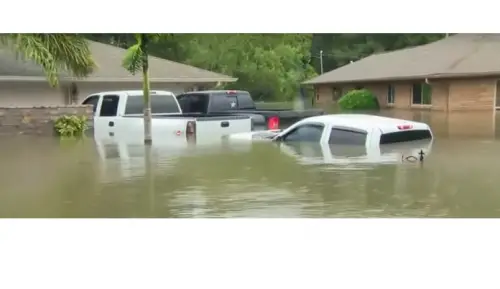 John Goreham
Contributing Writer, GM-Trucks.com
9-02-2017
According to Black Book, the automotive industry analyst experts, Hurricane Harvey just destroyed over 500,000 vehicles in Texas, Louisianna, and Florida. That is about 3% of the vehicles bought new each year. About 500 dealerships in the Houston area alone were flooded. Factor in the vehicles that will be damaged and destroyed as part of the rescue and recovery efforts and suddenly an awful lot of America's pickups just left the building.  
Texans love their pickups as much as any section of America. Texas is also North America's second-largest vehicle market after only California. GM-Trucks.com has done numerous stories related to to the tight midsize pickup truck market. GM's full production efforts with Colorado and Canyon were already maxed out prior to this catastrophe. Making more is really not an option. GM can make more full-size trucks and those will be more popular and in greater need. One easy to forecast change to the pickup truck market is that prices will be much closer to MSRP than they have been in the past two years and inventory will be sparse everywhere as dealers shift inventory to the SouthWest in the coming three to six months. The $11K discounts on some Silverados we reported on earlier this year are likely gone for the foreseeable future.
*Media note: The particular video and the screen shot from it were chosen for the scenes of the trucks under water, not due to any personal network preference of the writer.