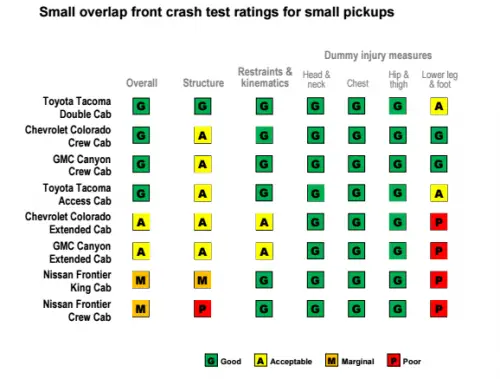 John Goreham
Contributing Writer, GM-Trucks.com
9-06-2017
In a recent round of comprehensive safety testing by IIHS, the Colorado and Canyon fell short of the best in class for safety. As the chart above and the video will show, the cab configuration of the Colorado and Canyon differ in their crash test results. 
In order to earn the highest score IIHS awards, the Top Safety Pick Plus, a vehicle must have a score of Good on all crash tests. The Colorado and Canyon do offer a trim that meets this requirement. However, a vehicle must also have "Acceptable" or "Good" rated headlights. The Colorado and Canyon only come with "Poor" rated headlights. Also, GM does not make a midsize truck that meets the "Advanced" rating for forwarding collision prevention.
In the midsized truck segment, only the previously tested Honda Ridgeline earns a Top Safety Pick Plus rating.