The air intake, which includes the air filter and other air metering equipment like the mass air flow sensor, is a pivotal part of your engine. It gathers cool air from outside the engine compartment, filters it, and quietly directs it towards the throttle body before combustion.
Unfortunately though, the factory air intake on the 2019+ 6.2L and 5.3L V8 engines isn't exactly pretty. It's big, obnoxious, and was designed by GM to be quiet above all else.  Even Chevrolet and GMC sell an aftermarket intake option for their vehicles to overcome the reduced performance of the factory intake.
Aftermarket air intakes are commonly known as Cold Air Intakes. A cold air intake, or CAI for short, is a piece of equipment that replaces the factory air intake. The idea is that aftermarket units are designed to move more air than the factory intake and look better doing it. Because being quiet isn't a huge consideration, most aftermarket cold air intakes have sleeker and slimmer designs than their factory counterparts but also allow more noise from the engine to make its way into the cabin.
Enter the Roto-Fab Cold Air Intake for the 2019+ Chevy Silverado and GMC Sierra. It's an aftermarket intake option designed to not only look better than the factory air intake but to perform better as well- at least in theory.
To find out, we're going to unbox the Roto Fab CAI and see how it looks. Then we'll remove the factory system and install the Roto Fab intake. Finally we'll see if it changes our engine's performance, modifies or increases the intake tone, and see how it looks under the hood.
What Is It: Roto-Fab Cold Air Intake
Cost: $499.95
Time To Install: 1-2 hours with basic tools
Part Numbers:
10161078 : 2019-2020 Chevy Silverado / GMC Sierra 1500 CAI – 5.3L Engine
10161080 : 2019-2020 Chevy Silverado / GMC Sierra 1500 CAI – 6.2L Engine
Other vehicles/model years available
Website: Roto-Fab.com
Roto-Fab Unboxing
Our RotoFab Intake came in a compact box and was packaged firmly with no damage to the intake or the box.
Tearing into the box reveals a handful of carefully wrapped parts, a thermo-segmented hardware bag, and a set of instructions.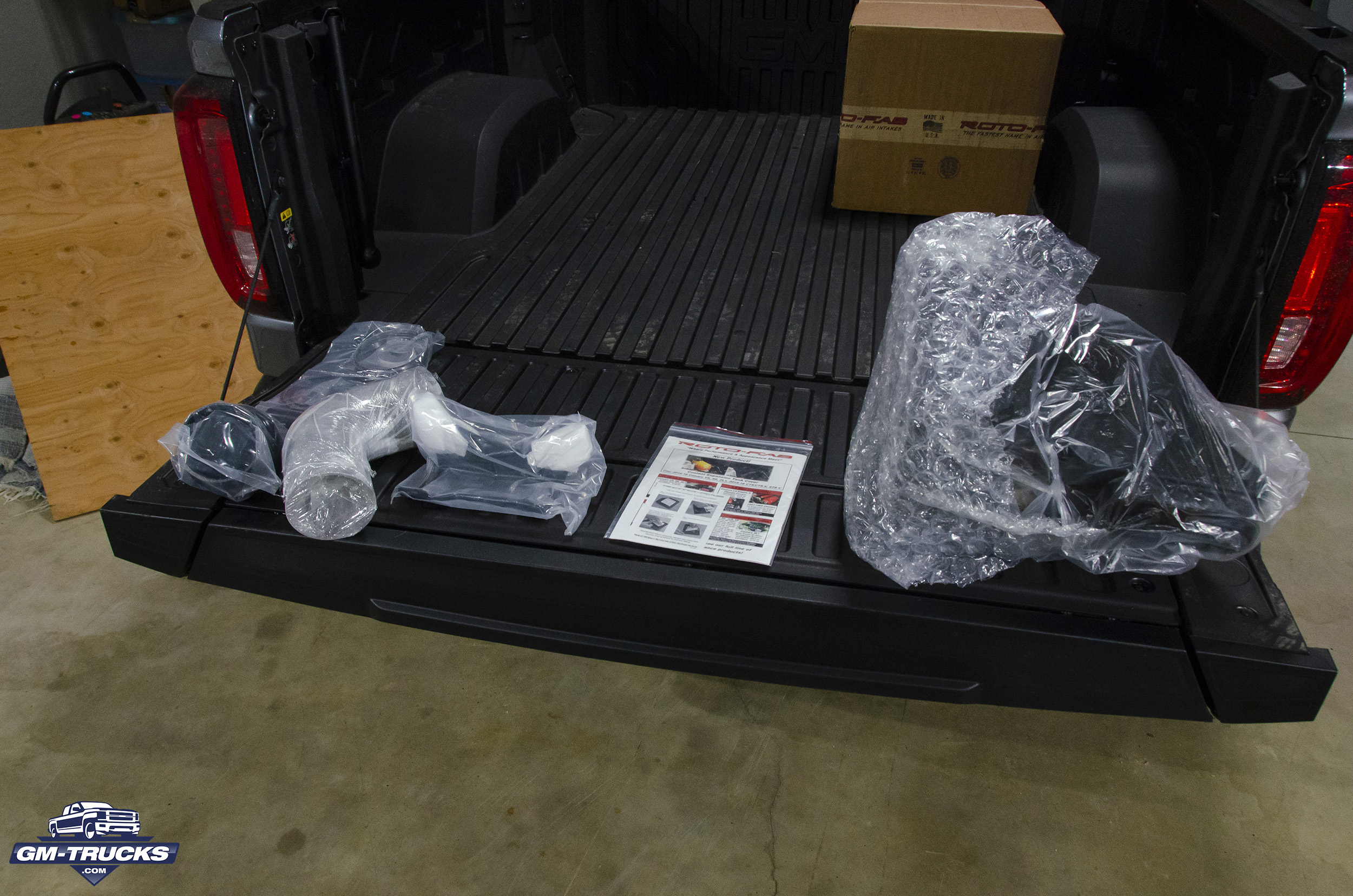 The price on the Roto Fab Cold Air Intake is $499.95, which is in line with what CAI's cost for the new generation trucks. The fit and finish is excellent and definitely matches the price tag. Now would be a good time to note that the particular Roto Fab intake we're installing is not CARB certified, so if you live in California.. Well, I'm not sure how legal or illegal this intake would be for you. If that does not apply then read on.
There's not many parts to the intake and those included are well organized. We had our package opened up and laid out  for installation just a few minutes.
The Stock 6.2L Intake
We know the Roto-Fab cold air intake is going to change the way our engine sounds. The factory intake is designed with baffles and tuned chambers as a way of quieting the sound of the air entering the engine at high speed.
That ends up equaling a muted, vacuum cleaner type note when you step on the throttle in a stock truck. It's not offensive, loud, or very distinguishable. You don't notice it on purpose. Increased engine noise is actually one of the reasons why you might really like a cold air intake on your truck.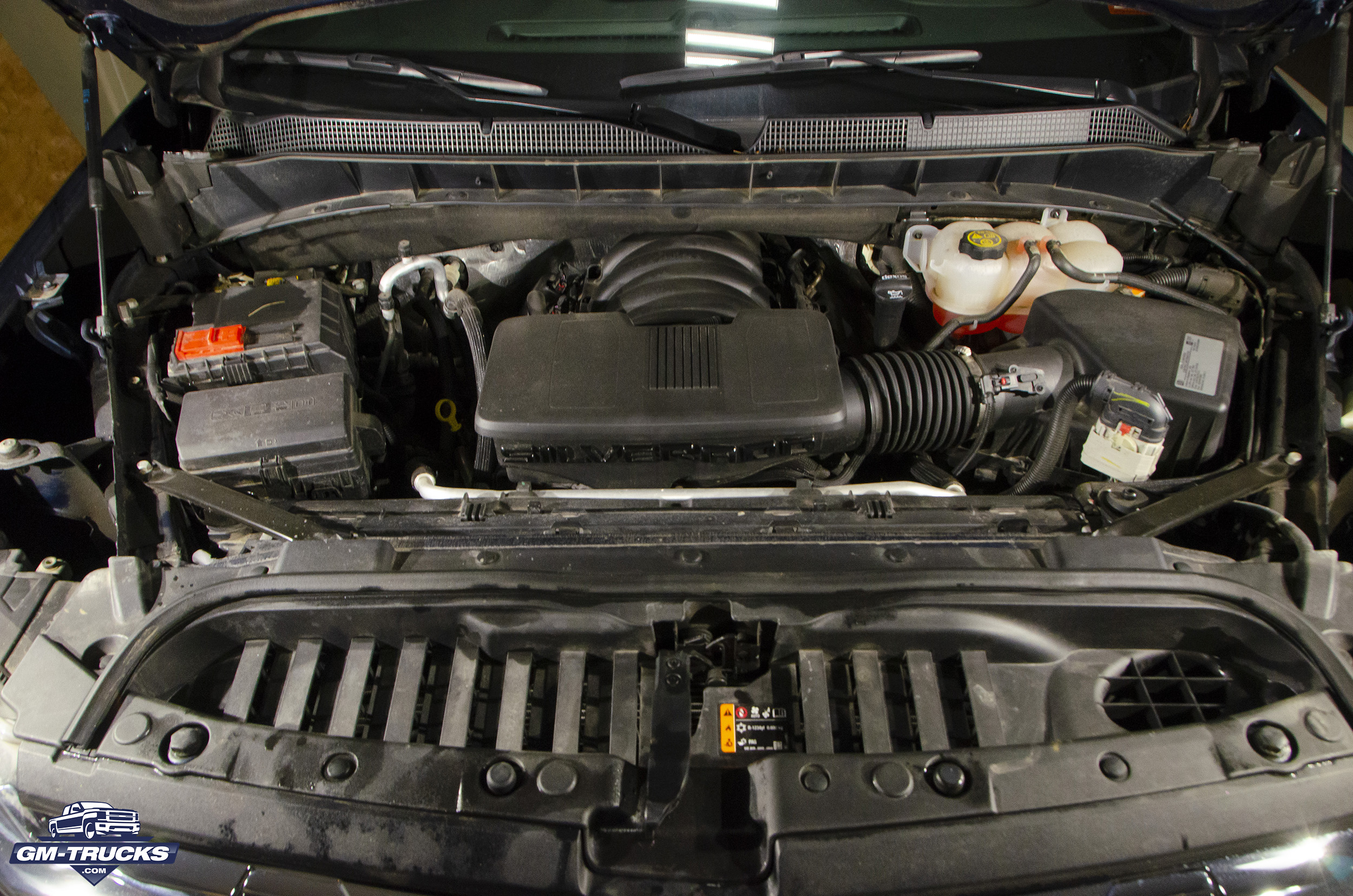 The fancy acoustical tuning of a factory intake does take a toll on the flow of the air coming into your engine. It's restrictive, looks bulky, and tamps down the potential performance of your engine.
Since the Roto Fab intake focuses entirely on performance, the appearance is focused on smooth airflow over a short path through a large filter. No baffles, no acoustic tuning to mute engine noise. How much of a difference will this make? Will it be too loud? Too noisy?  Will it actually change the way our 6.2L drives? Lets find out.
Installing The Roto-Fab CAI
Now that we've taken a good look at this kit and organized the parts, it's time to grab the tools we need to get this thing installed. Thankfully Roto Fab has included a tool list inside it's incredibly organized installation manual.
The company has thoughtfully told me that I need a 7mm socket, 8mm socket, 10mm deep socket, a socket extension, a T15 Torx bit, a small flat screwdriver, a phillips screwdriver, and a pry tool. Nothing that an intermediate automotive enthusiast wouldn't already have or couldn't easily get at the local hardware store.
Roto-Fab's instructions are really amazing. They go into deep detail about each step, including annotated photos showing the details. If only every aftermarket performance accessory came with an instruction manual this detailed…. life would be good.
Most steps along the way went well but required careful reading of the instructions before moving ahead. For example, I didn't disconnect the correct vacuum hose when removing the stock intake and, in return, had trouble pulling the intake out of the engine bay. Thankfully I didn't break anything but almost caused some damage.
While removing the stock mass air flow sensor, take special care not to damage the sensor. We used a nitrile glove to cover it and keep dust off the part while we were moving things around under the hood.
Installing the Roto-Fab CAI was easier than removing the stock intake. No cutting, custom work, or irreversible changes are required.   Everything else was bolt-in or snap-in and go. In all I was able to remove my factory intake and fully install the Roto Fab intake about an hour.
We only ran into two small issues along the way. First, the new location of MAF sensor takes all slack out of the factory harness. We found aligning the various parts and keeping the MAF slightly slack took some finesse.
Second, the adjustable stainless steel bands included to connect the various sections of intake pipe are slightly different sizes. Make sure to figure out which sizes go where before installing. We mixed two up and had to back track because they all look so close in size.
However, over all the installation process was smoother than we normally experience for an aftermarket part. There were no missing parts, a very clear set of instructions, and pieces that fit in place just as they promised they would. We didn't get frustrated and enjoyed the process.
So what do you do with the stock intake that you have left over? This is always a good question to ponder. In this case, since we would easily be able to go back to factory, we'll keep our stock intake for later… just in case. You could also try to sell the parts for extra cash but the value of a stock intake may not be that much.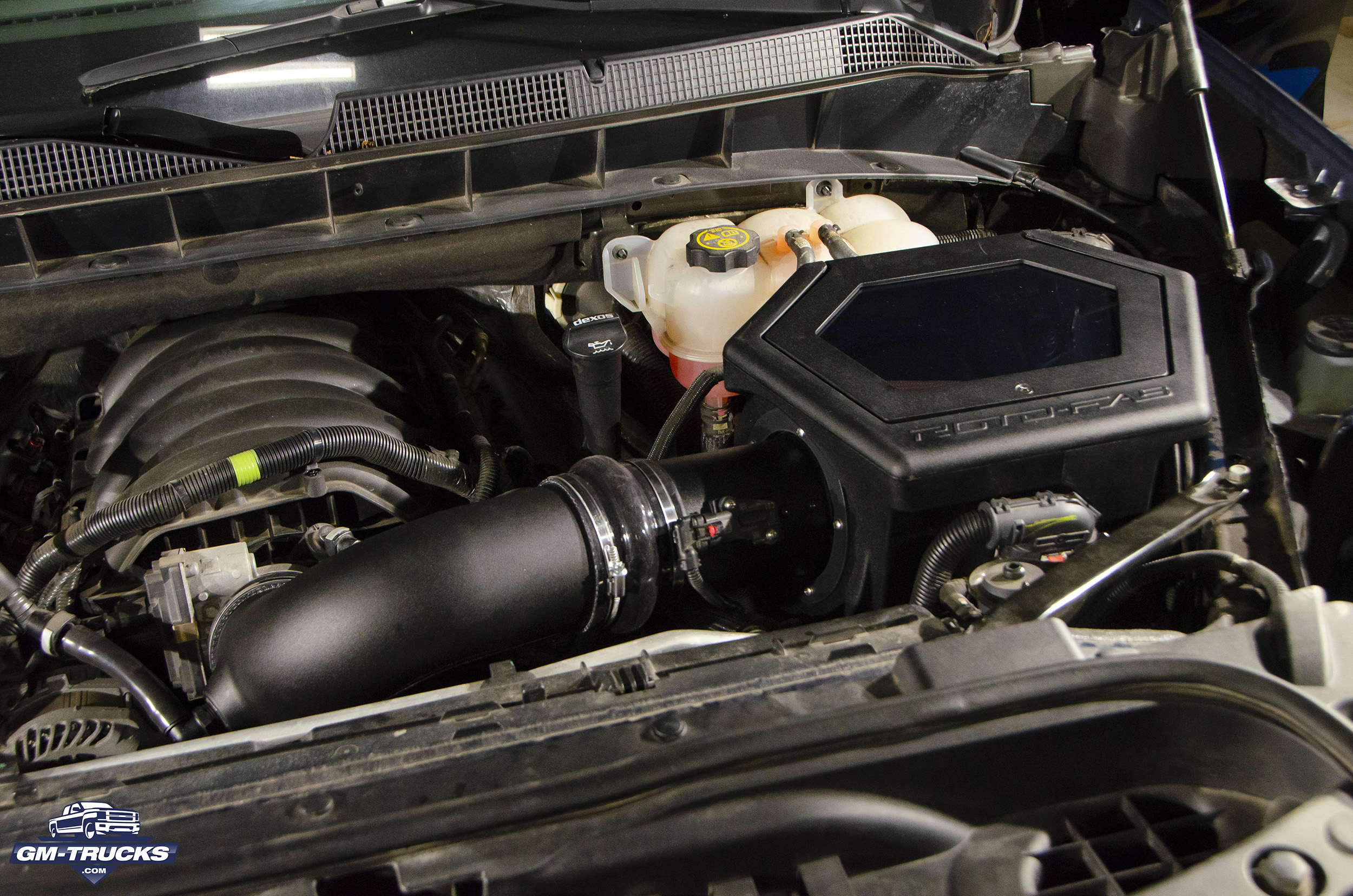 Roto-Fab Cold Air Intake Final Conclusions
After getting the Roto-Fab installed we couldn't wait to take it for a spin. The improvement was noticeable and immediate.
First, we noticed our engine was louder, with a more distinctive note coming from the firewall under acceleration. Second, our 420 horsepower 6.2L V8 snapped to life from a stop with a crispness we'd never seen before.
Low end torque noticeably improved, the engine spun up quicker and acceleration was hotter than with our stock intake. Even better- instead of a shop-vac like "whoosh" when we mashed the throttle, we were now greated with a low, visceral, growl.
"This is incredible" is pretty much all I could think during my first drive. Our Silverado sounded better, performed better, and looked far better under the hood. Win, win, win.
The process of installing an aftermarket accessory can be just as much fun as the end result. In this case, we'll be enjoying the added power and torque along with the super slick engine compartment upgrade for a lot longer than the time it took to install our Roto Fab Cold Air Intake.
If you want to learn more about Roto-Fab and which vehicles they have cold air intakes available for, visit Roto-Fab.com