Specialty Vehicle Engineering has created an up-powered Yenko Silverado.
Packing a supercharged V8 engine with 800 hp, the truck is an absolute beast. The Limited Edition Yenko/Sc® Silverado is available in both 2WD and 4WD. Bodies will include Crew Cab and Double Cab. GM's dealers are the only place you can get one.
Specialty Vehicle Engineering has employed state-of-the-art engine technology to pull 800 hp and 720 lb-ft of torque from the 378 C.I.D V8. The engine is a blueprinted Lt-1 aluminum block V8. Specialty Vehicle Engineering adds many upgrades including a race-quality computer-balanced rotating assembly, forged 1538mv twisted steel crankshaft,  forged aluminum pistons, CNC-ported Lt-1 cylinder heads, custom stainless steel headers with high-flow cats, and the company's own high-output centrifugal supercharger assembly. To ensure the power can get to the wheels, Specialty Vehicle Engineering has also included a heavy-duty automatic transmission.
One of the many upsides of the GM dealership network being the delivery point for these trucks is the 3 year/36,000 mile warranty. Perhaps the only downside is that only 50 will be built.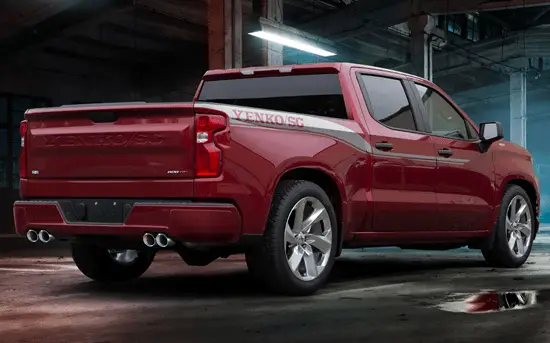 To learn more about this amazing truck, check out Specialty Vehicle Engineering's webpage, or visit your local Chevy dealer.