Surprisingly, the 710 hp Supercharged Engine Is Not Why We Love This Vehicle.
Well, it is a LOT of the reason why we love the new 2021 Dodge Durango SRT Hellcat. There are only a small handful of large utility vehicles in the world that can launch like this vehicle. Hell, there are only a handful of cars of any type as quick and fast as this Cat. To our amazement, the Dodge Durango SRT Hellcat is also a fantastic all-around vehicle.
We were fortunate enough to be among the few journalists who have driven this unreleased vehicle. Dodge says they go on sale in early 2021. We drove the Durango SRT Hellcat in all types of real-world scenarios and came away amazed at its poise and comfort. Here's our report. If you are all about racetrack performance, we will talk a bit about that, so be patient.
2021 Dodge Durango SRT Hellcat – What Is It?
The new Durango SRT Hellcat is a six-passenger, all-wheel drive, body-on-frame SUV. We'd call this vehicle a mid-full-size SUV since there is no hard line anymore between SUV classes. The Durango SRT Hellcat is one of very few sport utility vehicles that we feel fulfills all aspects of that description. This vehicle can haul people, haul ass, and haul a trailer. That is what we think defines a performance SUV. The Durango can not only carry six passengers and tow up to 8,700 pounds, it can also hold a roof rack. There is no Tesla "SUV" that can do either. The Durango is a unique automobile.
2021 Dodge Durango SRT Hellcat – How Much Does It Cost?
Dodge says the Durango will start around $80,000. We would budget $85K-$90K if we had our hearts set on this vehicle. Who knows what cool options might be priced above the entry point? You don't want a base Hellcat of any shape. Get all the goodies!
2021 Dodge Durango SRT Hellcat – What Powers It?
If you know what a Hellcat engine is, you know what powers this Dodge Durango SRT vehicle. The engine has eight cylinders and displaces 6.2 liters. That alone should indicate serious power and torque, but it is the supercharger that makes all the difference. With 710 hp and 645 lb-ft of torque, the Dodge Durango SRT Hellcat is among the most powerful and capable vehicles with six seats ever created. If you can think of a production vehicle you can walk into a dealership and drive home that can top it, please let us know.
Dodge Durango SRT – How Fast Is It?
Without going into a philosophical debate on speed versus quickness, let's say that this thing is stupid fast. We mean that in a good way. Dodge says it will leap off the line and travel to 60 MPH in 3.5 seconds. There is a launch button on the dash to help you with that. You won't need it. We floored this thing a few times when we were alone on some open stretches of roadway, and the launch without any skills or electronics is amazing. Move your foot off the brake and stop the accelerator, and this Durango shoots forward like a cannonball. Its all-wheel drive system is why a vehicle this size and weight can launch so violently.
We've been fortunate enough to drive every version of every car the folks at FCA put this engine into, the Challenger, Charger, and the Jeep Grand Cherokee Trackhawk. We've also driven some of the Scat Pack-equipped Challengers. The cars, being rear-wheel drive, can break the tires loose under hard acceleration on warm dry pavement. At 40 MPH. So, launches are tricky. The Trackhawk and Durango don't need tricks. The AWD and Fred Flintstone tires along with a great chassis design do all that is needed to keep you from spinning sideways into the bushes. Or worse, having the traction control intervene and cut the power.
The Dodge Durango SRT has a 200 MPH speedometer. We suspect this vehicle will use at least 90% of that dial. Why do we think that? We've driven the Trackhawk on racetracks, and the two vehicles have a lot of similarities. Speaking of racetracks, we've also driven the Challenger and Charger versions of the Hellcats, including widebodies on the track a few times (Thank you, FCA!). The organizers put cones on the straight-aways so keep the journalists from becoming angels. One thing we learned on the tracks is that the Trackhawk pulls waaay harder than the cars exiting a corner due to its AWD system. Although power-on oversteer is undoubtedly possible in any of these vehicles, the AWD system in the Trackhawk and Durango make these performance vehicles much faster in the real world.
Our on-road testing did not allow us to reach the limits of the Dodge Durango SRT Hellcat. In fact, we suspect nobody ever will test the vehicle's limits on public roads in a way that is safe or legal. You need a closed course to do so. However, there is a lot more to this vehicle than top speed, quarter-mile times, and 0-60 MPH sprints.
2021 Dodge Durango SRT – How Does It Drive?
The Durango SRT Hellcat is fantastic on public roads. Back in July, the GM-trucks.com staff were part of an hour-long video conference with Timothy Kuniskis, Head of FCA Passenger Cars – North America. Tim is one of the key people responsible for the Dodge Durango SRT. We all know the Durango chassis is now ten years old and body-on-frame at its core. Forget all that. Tim carefully and methodically walked our group through the endless changes Dodge makes to its performance Durangos that make them almost unique vehicles. If you own a Citadel or any Dodge Durango, don't take this as an insult. Instead, look at it this way; Dodge needed to create a driving experience with the comfort of a Citadel in a package than can beat a BMW M3 in a drag race. And then go tow a Ferrari on a trailer while carrying six racing team members. Dodge had its work cut out for it.
The Durando SRT Hellcat steers precisely. The brakes work on your way to pick up the kids from school and they will also bring this thing to a stop in a big hurry. I'm not sure we've ever seen bigger Brembos on anything. The Durango is also comfortable over road imperfections. There are never any harsh bangs from potholes.
And this big cat can turn. On and off ramps are a blast. The Durango isn't tippy, and it drives smaller than it is. We took a neighbor for a ride who owns a Citadel. His first comment was, "This Hellcat rides lower than my Citadel." We also felt as if the SRT Hellcat styling made this Durango look more compact than other SUVs.
Our tester had all-season high performance Pirelli tires. Smart move, Dodge. If this vehicle had been wearing summer-only tires we would not have been able to enjoy it during the cold and wet week we had. Nobody wants to have a second set of winter tires for this vehicle. Dodge even picked the perfect rubber.
2021 Dodge Durango SRT – Infotainment & Content
All of the FCA brands have class-leading infotainment. The system in the 2021 Durango corrects some things we didn't like. For example, the heated seats are now real buttons and you don't have to use the touch-screen to use them. In fact, you can adjust the HVAC without using your eyes at all. Just use muscle memory to turn up the fan or increase or decrease the temp.
Apple CarPlay and Android Auto work via your cable. We used Android Auto and it was seamless. Pandora sounded fantastic on the Durango's audio system. Our tester had a rear-seat infotainment setup as well. That's an option we'd skip. Our kids just want their kindles and iPads.
The seats in our pre-production tester were both heated and cooled and the steering wheel was heated as well. Both second row seats also had heat and there were USB ports handy in every seating position.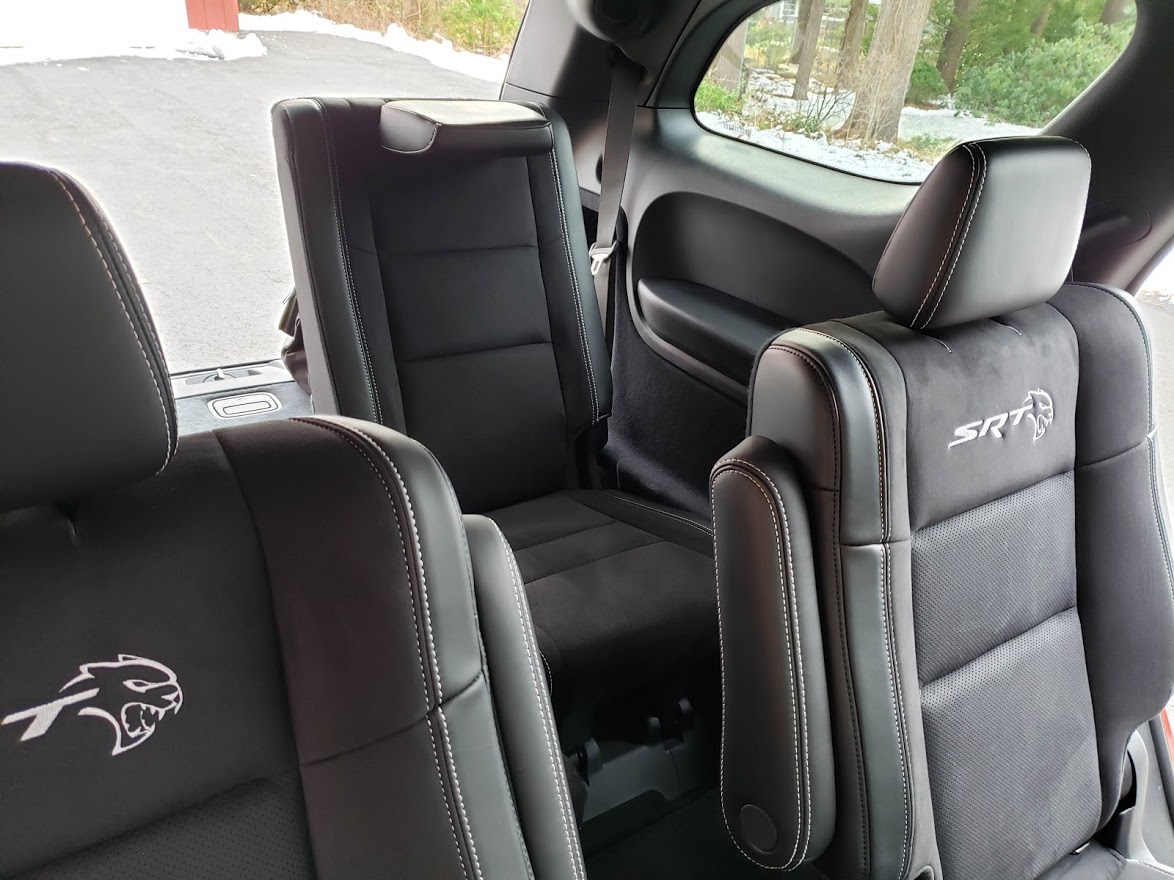 What struck us most about this vehicle's interior was how plush it was. The microfiber suede interior seating and trim materials are ultra-comfy and scream premium. The seats are grown-up sized. You will be comfortable in them. And that means all six seats. The middle captain's chairs make good sense in a performance vehicle. The two rearmost seats are more compact, but we sat in all of the second and third-row seats and found that a six-foot adult can stretch out and relax.
What impressed us most of all in terms of the Durang's content was that Dodge kept the spare tire. It's tucked up under the Durango in case you need it. We will never recommend any SUV or crossover without a spare tire. Compact is fine by us. Just something to get us to the tire store on the next day it's open. Nobody wants to call AAA during COVID and nobody with a $90K SUV wants to see it being winched up a flatbed because of a nail.
2021 Dodge Durango SRT – Conclusion
The Durango SRT Hellcat is one of the single best automobiles we have ever had the pleasure to experience. It is a well-rounded, real-world SUV that will make a perfect family vehicle. It can also tow your horse trailer, snowmobiles, Polaris ATVs, camper, or your racecar. This Durango feels refined and comfortable in all circumstances. Dodge says they are making this vehicle for one model year. If you want to own one, we'd suggest having a chat with your Dodge dealer soon. Once word gets out on this vehicle, it will sell out fast.