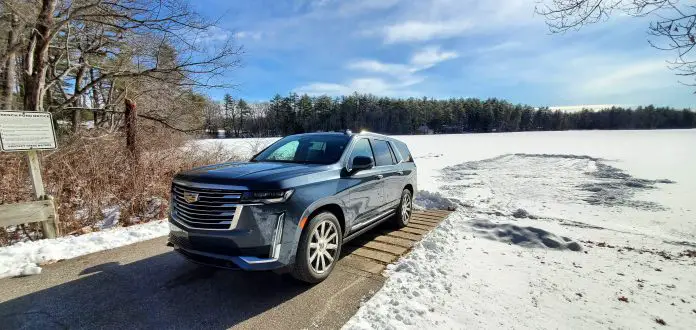 The semi-conductor shortage is leading to some crazy, and weird, parts shortages around the automotive industry. First GM cut fuel savings features from some trucks, then even HD radio got the axe. Now, electronic steering column locks are up on the chopping block.
Even wireless charging is getting cut from some 2021 & 2022 models. 
GM dealers received a message this morning alerting them to a change in the way that certain 2021 Chevrolet Tahoe, Suburban, GMC Yukon, and Cadillac Escalade models will be built after July 5th, 2021. Specifically, these models will no longer be equipped with steering column locks – a security feature designed to lock the steering wheel when the vehicle is turned off.
We'll go over the specifics in a minute, but first, here's a specific list of vehicles affected by this change.
2021 Models That Will Have Electronic Steering Column Locks Removed
2021 CHEVROLET TAHOE / SUBURBAN
LS, LT, RST, Z71, Premier, High Country
2021 GMC YUKON / YUKON XL
SLE, SLT, AT4, Denali
2021 CADILLAC ESCALADE / ESV
Luxury, Premium Luxury, Premium Luxury Platinum, Sport, Sport Platinum
Dealers are warned that this change will last for at least the rest of the 2021 model year and that they should communicate the change with owners who purchase vehicles without the column lock so they understand that the feature is missing. Vehicles built without electronic steering column locks will have RPO Code R7N- Not equipped with Electronic Steering Column Lock and will see a $50 credit on the MSRP.
GM dealers were also notified about another feature that will be removed on Chevrolet, Buick, and Cadillac models that we'll cover in a separate article.
The entire automotive industry is currently in the middle of a semiconductor chip shortage, making vehicle production difficult. Automakers are storing unfinished vehicles waiting for chips and the entire industry is facing low inventory as a result.
Here's part of the letter that Chevrolet, GMC, Buick & Cadillac dealers received this morning:
GM Semiconductor Update – July 2nd, 2021
Semiconductor Vehicle Feature Update
Updated Date: Jul 02, 2021 09:00 ET
Chevrolet, Buick/GMC and Cadillac Dealers:
As promised, we want to continue to keep you in the loop regarding the global, industry-wide shortage of semiconductors. Due to these shortages, we are announcing several changes to certain vehicles:
Electronic Steering Column Lock:
The Electronic Steering Column Lock feature will no longer be available on certain 2021 model year:
Chevrolet Tahoe and Suburban
GMC Yukon and Yukon XL
Cadillac Escalade and Escalade ESV
This takes effect starting with vehicles produced on or after July 5, 2021. By taking this measure, it will enable continued production and delivery of inventory to help respond to the strong customer and dealer demand for our full-size SUV as the industry continues to rebound and strengthen.
For orders with a scheduled production date on or after July 5, 2021, GM will build certain full-size SUVs with the RPO code R7N – not equipped with Electronic Steering Column Lock (refer to the table below for trim details and the updated Order Guide which will be available July 5, 2021). This RPO code will be reflected on the Dealer Invoice along with an associated $50 MSRP credit. The Monroney label will include this credit and indicate that the vehicle was built without the Electronic Steering Column Lock feature. Chevrolet, GMC and Cadillac are updating all consumer and dealer facing materials as appropriate.
The dealer has the responsibility to and must advise affected sold order customers immediately. In addition, dealers are strongly urged to counsel directly with all customers who purchase affected vehicles to ensure each customer understands its vehicle content. This change to the availability of Electronic Steering Control Lock is currently expected to remain in place for the remainder of the 2021MY. A listing of affected trims is listed below and is subject to change by General Motors:
2021 CHEVROLET TAHOE / SUBURBAN
LS, LT, RST, Z71, Premier, High Country
2021 GMC YUKON / YUKON XL
SLE, SLT, AT4, Denali
2021 CADILLAC ESCALADE / ESV
Luxury, Premium Luxury, Premium Luxury Platinum, Sport, Sport Platinum