If you watched our massive live unboxing of Chevrolet Performance Parts, you know we're at the beginning of a pretty significant phased upgrade to our 2019 Silverado LTZ. Over the next couple of months, we'll be installing the biggest and baddest Chevrolet Performance Upgrades that you can buy directly from your dealer. Best of all, we're going to keep our factory warranty intact.
Watch Us Install These Parts!
Now, while we will be referencing "Chevrolet" and "Silverado" throughout these upgrades, note all of these parts are available in "GMC" and "Sierra" variants. The specific accessories we're installing are only for 2019+ 1500 Silverado and Sierra.  However, General Motors has performance accessories for the 2014-2018 Silverado and Sierra 1500, 2020+ Silverado and Sierra HD and the Colorado/Canyon mid-size trucks as well.
With so many performance parts in our garage, we're going to start with the easiest and most popular upgrade for any truck. Sacrificing quiet for performance in the pursuit of an easier breathing engine. In Phase One of our Silverado Upgrades we're installing the Chevrolet Performance Intake and Exhaust.
Chevrolet Performance Intake
MSRP: $625
Fits: 2019+ Silverado/Sierra with 5.3L or 6.2L V8 Engines
What Does it Do?: 50-state certified, 17% intake restriction reduction, dry media air filter, 90mm diameter intake tube
Install Time: 45 minutes to 1.5 hours
Chevrolet Performance Exhaust
MSRP: $1,645
Fits: 2019+ Silverado/Sierra with 5.3L or 6.2L V8 Engines
What does it do?: Larger diameter pipes, 40% reduced backflow, 13+ horsepower / 7 lb-ft or torque increase (6.2L)
Install Time: 1.5 – 2 hours
Part Numbers & Where To Purchase


MY 2019 5.3L PN 84789802 – Intake
MY 2020 5.3L PN 84789792 – Intake
MY 2019 6.2L PN 84789804 – Exhaust
MY 2020 6.2L PN 84789794 – Exhaust
accessories.chevrolet.com  /  accessories.gmc.com
First Impressions
When pulling the trigger on over two-thousand dollars of upgrades you want to know that your investment is made of quality materials that fit just as perfectly as the parts on your truck that came from the factory. No trimming, no fussing, no swearing, and no hacking.
This fundamental requirement of any at home upgrader is where Chevrolet Performance hits a homerun. These "aftermarket" parts are actually OEM spec equipment, developed in house alongside the standard equipment when the vehicle is being designed and engineered.
So when we unwrapped the intake and exhaust from it's packaging it was not surprising to see typical brown shipping boxes with minimal included paperwork. No marketing materials or embellished graphics either. Just a box, the parts, and the basic info on how to access instruction manuals online or at a dealership. Just like any replacement part you've ordered from GM before.
That doesn't mean these parts come from the same factory as the stock intake and exhaust, however. The return shipping labels tell the story. The intake is an engineering collaboration between Chevrolet Performance and K&N and produced by K&N. The exhaust, again designed by Chevrolet Performance in partnership with Borla, and assembled by Borla. Chevrolet Performance is clear, these upgrades are not repackaged products available on the shelf otherwise. They just work with industry partners who really know their stuff. That's a win for us the enthusiast.
So what kind of "first impressions" can you give about parts that look like they could have come from the factory? Perhaps that's the point. Both the Chevrolet Performance Intake and Exhaust fit right in on our Silverado and look like they were always there. Same plastic colors and textures. Same fonts and materials. Same steel finish and luster.
At first glance, we couldn't have been more impressed. How about after we put them on? Will we still feel the same way?
Chevrolet Performance Exhaust Installation
The first step to installing the Chevrolet Performance Exhaust is to remove the factory unit. That seems easy right? Just unbolt it and take it out piece by piece? Not so fast.
GM assembles the factory exhaust in larger pieces to save on assembly time. Unfortunately, that means if you want to take your stock exhaust off in one piece for later use, get ready for some fun. You'll need a two post lift to take the weight off the rear axle, to potentially remove a rear shock, and then still need to wiggle out the over 6ft front section..somehow. You can totally do it if you have the time, tools, and equipment. But if you don't, you have another option.
You cut the old exhaust out. This is the route we chose, because it was really quick, super simple, and we don't have a two post lift. In fact, we didn't have any lift. So our install was dependent on our ability to take the old exhaust out and slap the new exhaust in using only two ramps and two jack stands.  Sure, you lose the ability to re-install or sell the stock exhaust but who cares? Used stock exhaust systems are unfortunately not worth the money for the effort. We saw cutting our factory unit out as the most efficient route for our situation.
With the old pipes on the floor, we started sliding the new system into place. Starting in the front and working our way back we loosely installed every piece in order. The new Chevrolet Performance Exhaust only has about a half-dozen parts, so we had everything together in no time. In fact, it took longer to remove the old system then to lay out the new one.
Once every bolt was in place and hand tight, we started straightening, aligning, and fully tightening everything up. We were prepared for this to be the most frustrating stage of the entire install. Typically, aftermarket exhaust systems are a bear to get straight. Our 2011 GMC Sierra's Borla S-Type system always had one tip that we never could get in the right spot.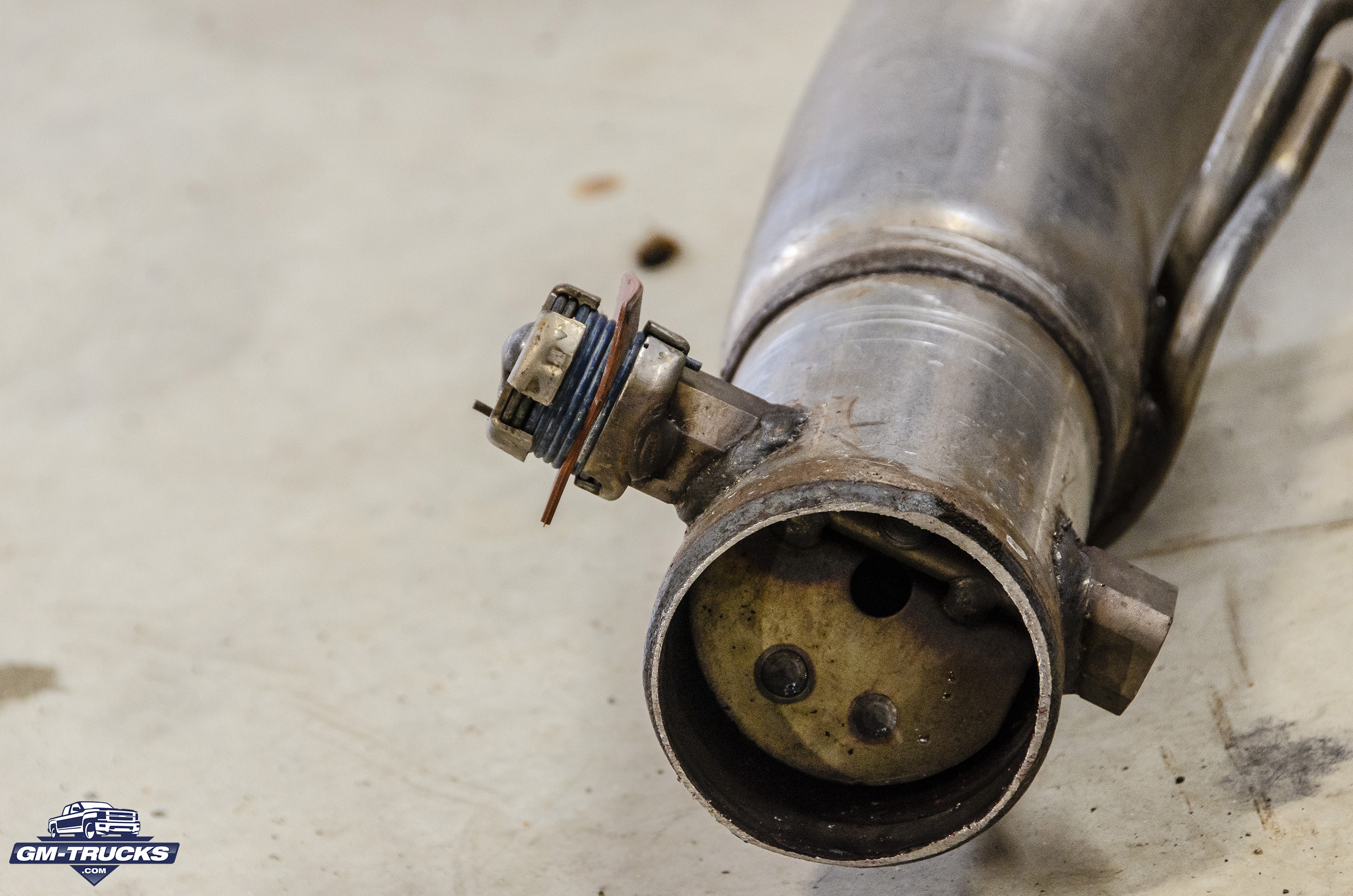 Not so with the Chevrolet Performance Exhaust. As we tightened every bolt things just settled into place. Every hanger lined up and the tips, perhaps aided by the bumper cutouts, sat in the exact right spot on our first try.
It was particularly satisfying to install an exhaust that just worked. It took us approximately 2 hours from start to finish.
Chevrolet Performance Intake Installation
With the exhaust system installed, we moved on to the Chevrolet Performance Cold Air Intake a few days later.
First we removed our factory air intake. To make this whole install easy we recommend a torx bit set, an interior trim removal kit for the push pin fasteners, a nitrile glove to protect the mass air flow sensor, a set of screwdrivers and a standard socket set.
We put our mass air flow sensor inside of a nitrile glove to protect it while it was outside of the vehicle because this sensor is a very important part of your engine. Any damage, dust, dirt, or oils you get on the MAF will most likely cause a problem. The MAF sensor measures how much air enters your engine and almost every calculation the engine computer makes is based off how much air is metered. A non functioning or poorly functioning MAF sensor is bad news. In fact, Chevrolet Performance has computer calibration that needs to be applied to your truck after the Performance Cold Air Intake is installed to ensure the MAF sensor knows what's going on. More on that later.
Once the stock intake is out we started assembly of the performance intake. First, we transferred some rubber grommets from the stock intake to the performance intake box.  Then, Chevrolet Performance wants you to install the air filter into the intake box and secure the clear cover before you drop the intake into the engine compartment. The filter needs to be inserted in a very specific way, so be patient and pay attention.
Once we had the performance air box assembly together it was time to place it in the engine compartment. The box doesn't drop directly down into the space the old air box vacated. It's also a little bit taller, so while fitting the performance intake it's best to take your time and not force anything. Watching the video that goes with this review, you'll see it took us a little bit of time to figure out how to best insert the performance intake box. However, with only a little bit of fuss we were able to get it in without problem. Remember, you won't need to force anything- just find the right angle by watching our video.
Once the intake box was in we were almost home free. We just make sure the intake snorkel was lined up and fit tightly with the intake box. Then we slipped the hose clamps on to the intake tube and fit it into place.
With another performance intake we've tested in the past, the intake tube was hard to wiggle into place and get lined up between the throttle body and intake box. The Chevrolet Performance Intake did not have that problem. Within a minute we had the tube installed and tightened down into place. A quick change of the stock intake "breather" hose with an included longer version and our intake was complete.
We installed our Chevrolet Performance Cold Air Intake in about one hour.
Conclusion – Is the Chevrolet Performance Cold Air Intake and Exhaust worth your time and money?
After a month of driving in our Silverado with our Chevrolet Performance Intake and Exhaust our opinion on the two upgrades is clear. We really like the changes they've made to how our Silverado drives, sounds, and performs.
Our Chevrolet Performance Intake didn't change how loud our engine sounded from inside of the cabin. It did however make the growl that permeates through the firewall slightly deeper when we push the throttle. A crisper throttle response has also been noted by multiple people who have gotten behind the wheel.
The Chevrolet Performance Intake manual does mention that the engine needs to be reprogrammed after install. We figured it was something we could "get around to" but quickly learned that was not the case. Within a week, our truck was setting a check engine light and running a bit rough from time to time. That said, after a quick and free trip to the dealer (the cost of the engine reprogramming is included in the cost of the intake) our Silverado was running better than ever. We've had zero problems since.
But while the intake is hidden under the hood most of the time to be forgotten about, the The Chevrolet Performance Exhaust is divine and a defining characteristic of our Silverado. Louder than stock but won't annoy your neighbors. Throaty but pleasant to the ear. No annoying drone.
Combining the intake and exhaust upgrades together is a quick and easy performance boost for your truck. Especially since you have zero warranty issues afterwards and 50-state emissions compliance. Officially, our new Chevrolet Performance parts add 15-horsepower and 9 lb-ft of torque to our 6.2L. Unofficially, it feels like even more and we can't stop flooring our Silverado away from every stop sign.
We appreciate Chevrolet Performance offers two ways to enjoy these upgrades. Either buy from your local dealer or online and install yourself, or ask the dealership to do them for you.
Our Next Chevrolet Performance Upgrade…
In our next upgrade phase we're installing the Chevrolet Performance 6-piston Brembo brake package. Then, after the brakes, we're installing a 2-inch Trail Boss Lift, then 22-inch Chevy Performance rims. Stay tuned!