What's going on with the HUMMER EV battery recall?  It seems like not many people know, and GMC also isn't talking. It's been over a month since a stop-sale order was put into place, and customers are getting frustrated. However, we've exclusively learned new details about the issues, including what GMC's next steps are, when they plan to announce further details, and what they will do to make waiting customers happy.
GMC HUMMER EV Ultium Battery Recall – The Details
Last month General Motors notified customers and dealers that the company had discovered a possible defect in Ultium battery packs that are being used in the GMC HUMMER EV and Bright Drop vehicles. A "battery sealing issue" had been found to allow water intrusion in very limited cases. The company immediately issued a stop sale order for any HUMMER EV not yet delivered to a customer. HUMMER EV Pickups stopped leaving the factory, units that arrived at dealerships were told to be immediately parked, and customers waiting for their HUMMER EV Edition 1 were left hanging.
As you may know, moisture and EV batteries are not a good mix. Just a small amount of water can cause catastrophic results– with some EV's catching fire after the battery has been exposed to water. To hear that some HUMMER EV batteries could allow any amount of moisture to enter the battery is of great concern to current owners- especially those who park their vehicles in a garage or other structure. However, GM's initial statement didn't mention what current owners should do, if anything. In an attached question and answer sheet sent to dealers, the company implies there is a safety risk driving the HUMMER EV.
Thankfully, we know of the three failures that lead GM to issue the HUMMER EV battery recall; none of them include fires. In its filing with the NHTSA about the upcoming safety recall N222380030, General Motors states, "In two of the cases, the vehicle would not start. In the third case, the vehicle lost propulsion while driving. A loss of propulsion while driving can increase the risk of a crash."
You can't help but chuckle at the obviousness of the last sentence.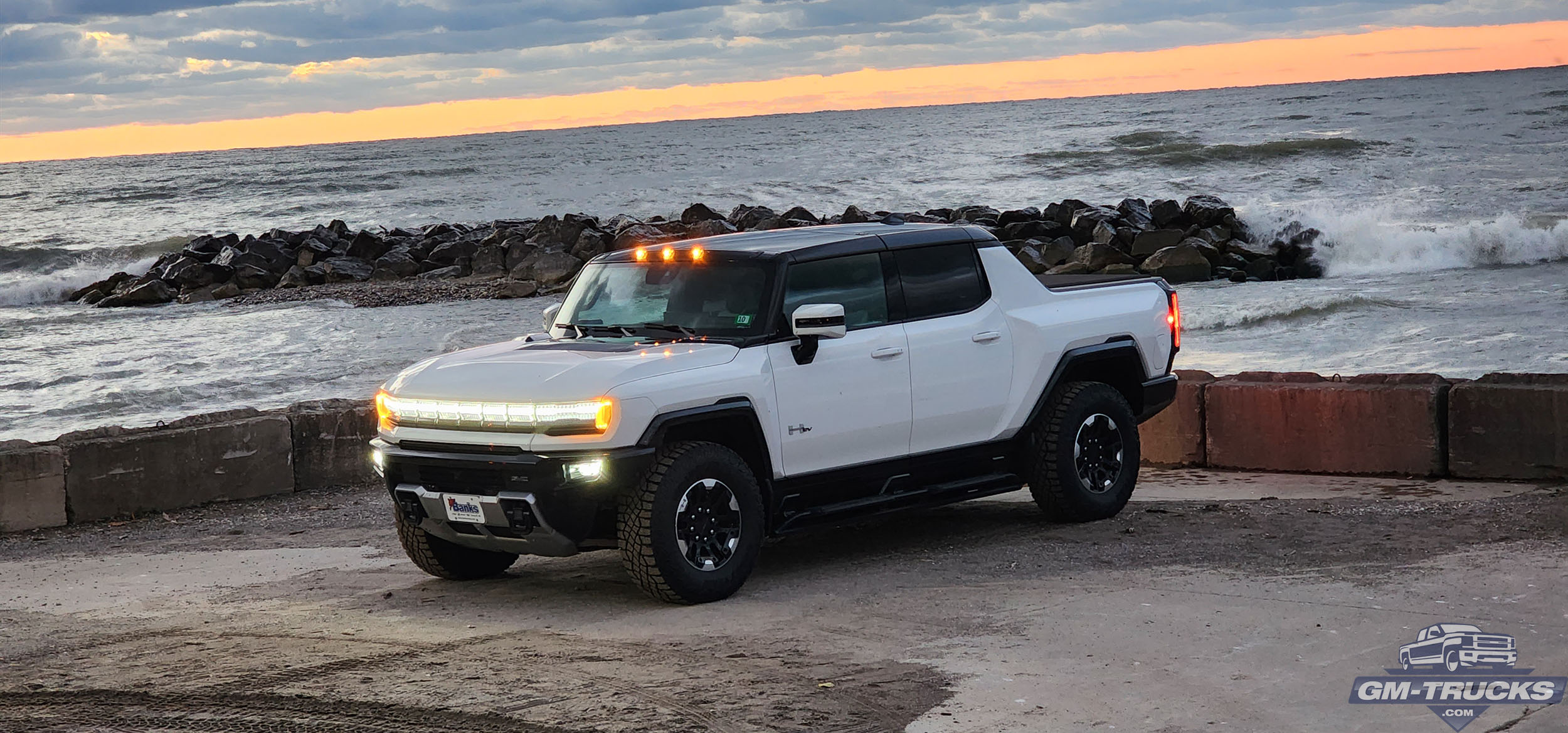 GM Statement After Asking For Update On Battery Recall
A month has passed since the original announcement, and since then, not a single new HUMMER EV has been delivered. So, we reached out to GMC's Communication Team for an update. We presented our contacts at GMC with several targeted questions regarding the safety of delivered vehicles, potential remedies, and a timeline for future announcements. Our questions were aimed at 1) Determining a timeline for the recall 2) Assessing if delivered vehicles are safe to drive and 3) Determining what potential fixes might be on the table.
Our list of questions was answered with this response:
"General Motors is voluntarily recalling certain 2022 model year BrightDrop EV600 and 2022- 2023 model year GMC Hummer vehicles. The battery pack enclosure in some of these vehicles may not have been properly sealed. If the pack enclosure is not sealed, water can enter the pack. GM is working quickly to finalize the repair procedure and notify affected customers."
Dan Flores, GM
As someone with a HUMMER EV charging in their garage at this very moment, GMC's lack of further elaboration was concerning. We know that water and EV batteries are a bad mix. We know that GM isn't letting anyone at a dealer drive a HUMMER EV and won't even ship affected HUMMER to dealerships. What should people who already own a HUMMER do? Stop driving it? Park it outside? Not charge it fully? Carry on as normal?
Exclusive: HUMMER EV Battery Recall – GMC's Next Steps
Frustrated at the lack of a definitive answer, we spread our investigative net to our contacts in the industry and started asking questions. It didn't take long to get some very specific and not-yet-public answers.
Confidentially, GM-Trucks.com has confirmed the following:
GMC plans on making a new announcement/release this Friday, 11/18/22
The battery issue is actually two unique potential defects- both involving urethane sealing and water intrusion around the top battery cover. – 1) "Top cover of battery may not be sealed properly for some vehicles" OR 2) "Battery case top cover sealing flange may cause potential urethane adhesion issue"
There is still NO TIMELINE for a fix – stop-sale order will remain indefinitely
Customers will be segmented into three groups: 1) Those who have taken delivery, 2) Those who have a HUMMER at a dealer waiting for delivery and 3) Those who still have outstanding orders with vehicles that are not yet produced or held at the factory.
Customers in groups 2 and 3 will get a follow-up email soon, including a "Thank you for your patience" gift.
But for customers who fall into group one…the biggest detail we found during our digging was that GMC will officially confirm that:
Current customers who have already taken delivery are SAFE to drive their vehicles so long as they do not ford through any water deeper than 24-inches deep.
That's my conclusion from reading GM internal documents, and the official statement may differ in specific wording but will effectively communicate the same thing.
This "update" is scheduled to go out this Friday, November 18th.
In short:
Current owners are safe to drive their vehicles so long as they do not ford water deeper than 24 inches
Customers awaiting delivery or production will be compensated with a "Thank you for your patience" gift – but we don't know what that gift is
The stop-sale as not yet been lifted, and no timeline for a battery fix has yet to be set
So, what's the fix to the HUMMER EV Battery Recall?
How GMC intends to fix the battery sealing issue is unclear.  We're not sure how many of the Ultium Battery packs produced so far are even affected. However, we do know that the GM-Trucks.com HUMMER EV (#880) is marked as included in the recall. Had our HUMMER EV arrived at our dealer just two weeks later- we would not have been able to take delivery.
What does GMC plan to do to fix these "battery issues?" We're not entirely sure.  The fix could range from a full battery replacement to just some additional sealing on battery packs. However, since the top cover is affected, any recalled vehicle will most definitely have its battery pack completely removed for whatever fix is determined necessary. As you can see from the photo below, the battery in the HUMMER EV sits under the floor and is removed from the bottom of the vehicle.
We can also speculate that if any particular battery has potential sealing issues, it may be impossible to tell how much moisture (if any) has gotten inside a particular Ultium Battery pack. If GM can tell if a Ultium battery has not been sealed correctly on a case-by-case basis, a more limited recall could occur. If the company cannot tell the extent of a sealing issue without opening or removing a battery, total battery replacement for every HUMMER EV (and Bright Drop Van) produced so far might be on the table.
It's worth noting that we have no idea what a potential fix could be, and no one that we talked to could elaborate on the eventual remedy. We are 100% speculating.
It's worth noting that the GM-Trucks.com HUMMER EV Edition 1 Pickup has performed flawlessly and impressively over our first 3,000 miles. So far, we've seen no signs of any battery issues. [knock on wood].
If you already own a HUMMER EV and want to find out if it's covered by this battery recall (and it probably is), head on over to https://my.gm.com/recalls and enter your VIN to check.
Stay tuned to GM-Trucks.com for more updates on the HUMMER EV Battery Recall.