Is a GMC Sierra AT4X Bison model on the way? GM's cooperation with American Expedition Vehicles (AEV) is set to expand to GMC models, as the Sierra 1500 AT4X will be sharing in the same upgrades destined for the Silverado ZR2 Bison, as prototypes appear to confirm.
GMC Sierra AT4X Bison? – Our Photographer Reports
We caught a test group with a disguised prototype of Chevy's recently-teased Silverado ZR2 Bison, accompanied by a similarly-disguised (and similarly-equipped) Sierra AT4X prototype. For good measure, a Ford F-150 Raptor and standard Silverado ZR2 were on hand for benchmarking purposes. The appearance of the extra-rugged Sierra AT4X with the Silverado ZR2 Bison prototype in the same disguise—showing the same upgrades—tells us that Chevrolet will no longer horde the AEV goodies solely for the bow tie brand.
We caught another one of these extreme Sierra AT4X prototypes running on its own, giving us a better look at the upgrades in store for the uber AT4X variant. We don't know what it will be called—the Bison nomenclature is likely exclusive to the Chevrolet brand—but we can see that GMC will address the rather low-hanging front bumper on the standard AT4X with a proper high-clearance bumper with cut-outs similar to the Silverado ZR2.
A stout front skid plate is visible—likely the same hot-stamped boron steel found on the Colorado ZR2 Bison, providing a very strong to go with its vastly improved front clearance. The skid plate protection will extend across the truck's entire underbelly, fully protecting the vulnerable bits.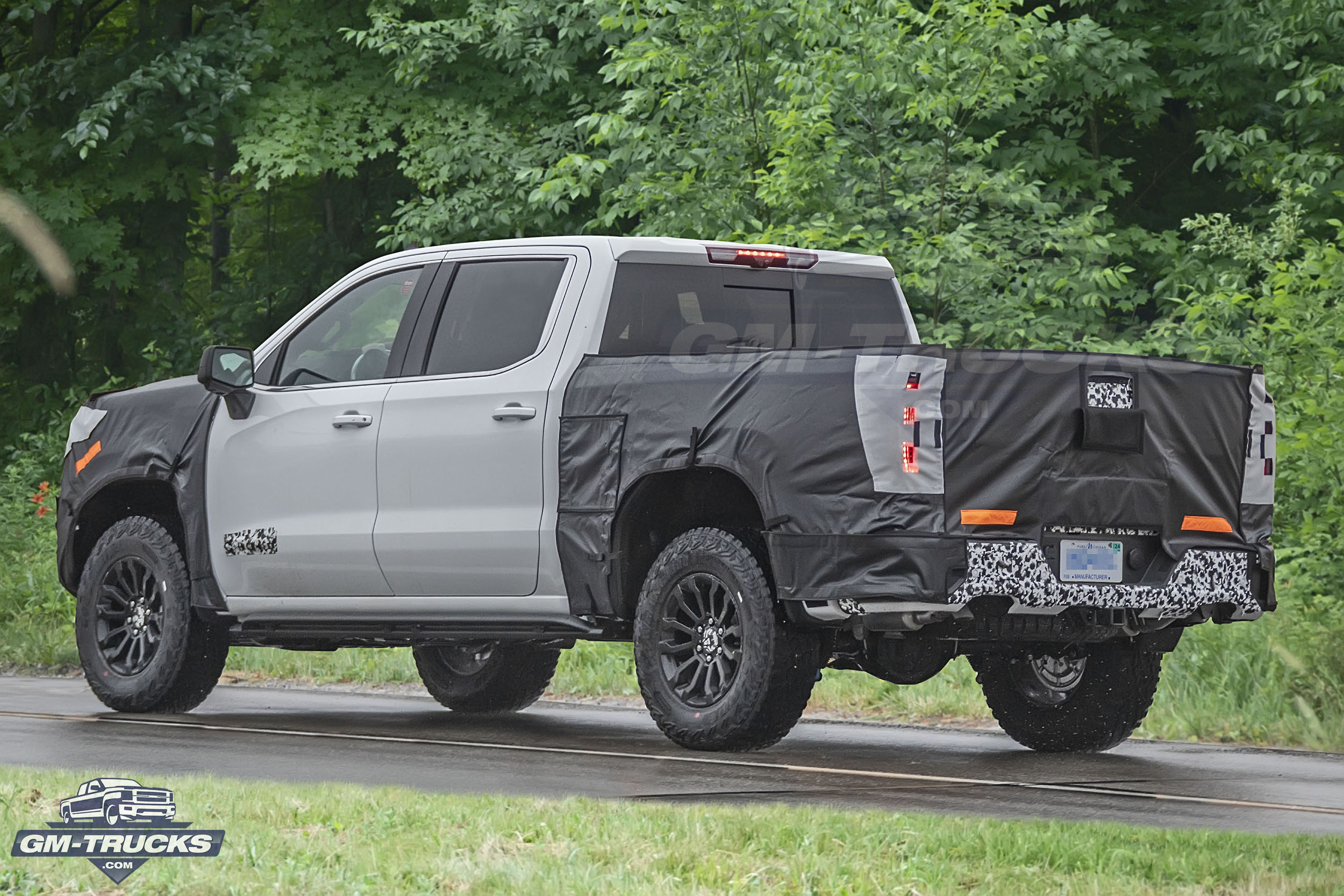 That new high-clearance bumper will finally allow for larger tires—at least tall as the standard ZR2's 33-inch rubber, but rumored to be new 35-inch versions of the Goodyear Territory MT for optimum ground clearance. The Silverado ZR2 Bison and its AEV-fettled Sierra AT4X counterpart are expected to retain the same Multimatic DSSV dampers as the standard ZR2 and AT4X models.
The Colorado ZR2 Bison first debuted in 2018, commencing the AEV/Chevrolet collaboration. The announcement of the Silverado ZR2 Bison further cemented the marriage in what looked to be a monogamous pairing between the AEV and the bow tie. Now, the AEV/GM relationship is expanding to the GMC brand. This rugged, Bison-spec Sierra AT4X appears to be proof. It now seems likely that a GMC Canyon AT4X is a likely candidate for the AEV treatment, to join the second-generation Chevy Colorado ZR2 Bison sometime next year.