Here's what we learned about the 2021 Chevy Blazer RS AWD crossover's abilities in a severe winter storm.
The Chevrolet Blazer RS AWD is a sporty, roomy, refined two-row crossover. It would make an ideal vehicle for many different types of duty. The Blazer is a fantastic family vehicle. It's also a great daily driver. For sure, the Blazer offers outstanding utility for a crossover. It is also a vehicle with style and class. Among GM's many excellent crossovers, the Blazer RS AWD is easy to call our favorite. But how does this vehicle, which excels on back roads and dry highways, do when the weather turns ugly? GM-Trucks took the Blazer out in a storm that had schools closed and the Governor urging motorists to stay off the roads. Our excuse for being out? A doctor who needed a ride to work. That's our story, and we're sticking to it.
2021 Chevy Blazer RS AWD – Equipment
Before we get to the driving dynamics of the Blazer in snow and ice, let's talk about equipment. The Chevrolet Blazer RS is at the top of the trim lines for the Blazer line. The RS we tested came with the Enhanced Convenience Package and the Driver Confidence II Package. Due in part to these added option packages, it included heated and cooled seats and a heated steering wheel. These are important for winter driving comfort, and we expect these features in a vehicle with a $50K price point. The Blazer we tested also had HD Surround Vision and Rear Camera Mirror with a lens washer. For just $220 more, you can take delivery of your Blazer RS with GM's premium all-weather floor mats and cargo liner.
The only accessory we like to see on a winter vehicle that we were not sure this RS had is a heated lower front windshield to keep the wiper blades from freezing up. That said, in our testing at 18F in a windy snowstorm, the wipers functioned without any problems.
2021 Chevy Blazer RS AWD – Drive Modes
All-wheel-drive-equipped Blazers have a rotary knob on the center console to selct drive modes. The default is 2WD. Next up is the option to select Chevy's advanced, twin-clutch all-wheel drive. There is no locking differential on this crossover vehicle, of course, nor would we want one (or two) for winter driving. Next up is sport mode and then off-road and finally, towing. We used the standard AWD mode in all of our winter driving.
2021 Chevy Blazer RS AWD – Winter Weather Driving
We were out in the middle of a storm that brought 18 inches of snow to New England. This particular storm dumped sugary "dry" snow. The type that freezes in a compacted one-inch layer under snowplow blades on the highway. This is one of the more challenging types of snow upon which to drive.
On snow-covered back streets and in our driveway, the Blazer maneuvered without any slipping in both forward and reverse. Turning and stopping at low speeds resulted in almost no slipping as well. We wouldn't expect any tire spinning at these speeds, but we observed front-wheel drive vehicles struggling during our ride, and a Mustang sideways on an on ramp. It is easy to take for granted good all-season tires and AWD.
One secondary roads covered in snow of from one to six inches of compressed snowplowed snow, the Blazer cut a path with a bit of wiggle, but certainly no problems. Our confidence grew. The first challenge was an interstate on-ramp that, for some reason, was worse than unplowed. It seemed to have well over a foot of compressed snow in places, and no less than six inches anywhere. We were alone on this stretch and were glad of it. We used momentum to keep the Blazer moving and enjoyed testing the traction limits. The Blazer was spinning wheels to keep moving ahead. It was easy to slide the Blazer a few inches to the side while accelerating and then back off the throttle a bit to regain the line. The snow was deep enough that it was contacting the undercarriage here, and the Blazer plowed through confidently.
Accelerating onto the slick freeway was no problem. We found a spot between a couple of big rigs and merged without any adverse events. Changing lanes is the real danger on such snow-covered highways, but we opted to move to the third-from right lane to get out of the big-rigs' snow wash. You never know when a load of ice will fly off a trailer's roof and damage your windshield, so we moved aside. There was a bit of a wiggle as we left the lane ruts, but the Blazer handled the merge across the snow berms very well.
We were not among the vehicles traveling the fastest on that road, but the Blazer made good time while still feeling very secure on this wintery highway. Exiting, we found the city streets randomly plowed. Some not plowed, others almost bare pavement. In every situation, the Blazer was comfortable, and we always felt in control.
One thing that struck us was how quiet the Blazer is in these conditions. This Chevy offers premium levels of noise attenuation, even in extreme situations. The feeling is one of refinement.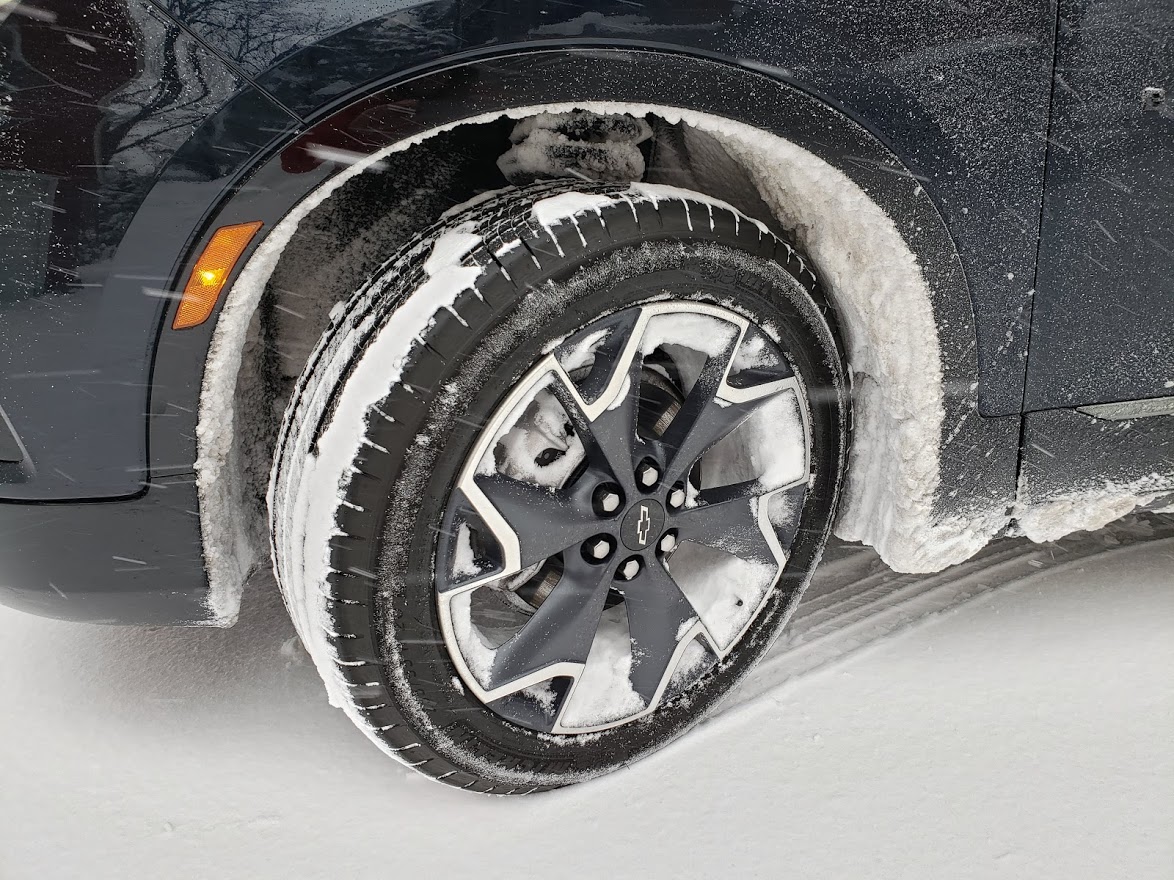 2021 Chevy Blazer RS AWD – Tires
Too many stories related to winter-weather driving focus on the drivetrain and its AWD or 4X4 capabilities. From our perspective, tires make up 80% of the winter driving capability of any vehicle. Chevrolet chose the Michelin Primacy Tour A/S tire for this Blazer RS AWD. This all-season tire is a popular OEM choice for many types of grand touring vehicles, be they sedans, coupes, or crossovers. This tire model's strengths include a quiet ride, long life, and well-rounded braking and cornering in a variety of conditions.
Michelin says that this newer version of its multi-use tire "Offers 17% more snow traction than the (older design) Primacy MXM4." The Primacy Tour A/S has the latest generation rubber compound designed to remain flexible in snow and ice. The design also has sharp lateral groove angles to bite into snow for confident turning in snowy conditions.
We'd rate these tires a ⅘ for sugar snow and slick, icy snow traction. The tire is not as good as a winter-rated tire like the Michelin X Ice or a Bridgestone Blizzak. But do you really want it to be? Those capabilities come with compromises in other areas. What may be the better option is the new Michelin CrossClimate2. This all-weather tire offers better snow capabilities than a conventional all-season tire with few downsides. Michelin's Phil Watson told us recently that this new grand-touring all-weather tire "…is Michelin's biggest technological advancement in passenger tires in 20 years."
2021 Chevy Blazer RS AWD – Conclusion
Based on our winter-weather testing, we found the 2021 Chevrolet Blazer RS AWD offers confidence-inspiring winter driving capability. On its stock OEM tires, the Blazer is able to handle a commute on all types of roads during a strong winter storm. The Blazer counts among its many pluses heated seats in the four outboard positions, a heated steering wheel, and an HD rear mirror camera that can wash snow and grime off its lens. Owners with a remote cabin or who ski frequently could take the Blazer's capabilities up a notch with either all-weather or winter-rated tires, but it is not a requirement for commuting. The Blazer, as-equipped, offers well-rounded, real-world winter driving capability. We give the Chevrolet Blazer RS AWD two thumbs up, and it has earned our vote for segment-best in this year's New England Motor Press Association's Best Winter Vehicle Awards.
Test Notes:
-Our 2021 Chevrolet Blazer RS AWD had an MSRP including destination charges of $48,700 before discounts, Costco member price reductions, and cash back allowances.
-GM-Trucks.com never puts the public in danger during our winter vehicle testing. John Goreham is a graduate of three performance driving schools, including the Team O'Neil Rally School's Winter Safe Driving Course.