The rumored high-performance Escalade-V Blackwing is looking more like a certainty. We recently caught the "probably supercharged" (but maybe electrified) Cadillac variant testing with some prototype wide-body Corvette prototypes. Just take a look.
2023 Escalade-V Blackwing
The rumors have been going back and forth whether or not Cadillac would pump up the Escalade with more power. I mean, who in their right mind could think an Escalade with 100-200 more ponies would be a bad thing? Not us.
So when our spy photographer sent us some curious Escalade shots a few months ago, it really kicked off the rumors that a high-po Escalade just might be coming our way. Today, it really looks like the "rumors" are reality.
Our spy photographer reports:
The Cadillac Escalade-V Blackwing is real, and we caught it for the first time in both standard length, and the extended Escalade ESV configurations. The fully-camouflaged prototypes caught here are rocking some key design changes that separate these from your every day Escalade.
New Exhaust Signals Hotter Engine
The most obvious change is found jutting out from the rear of both the Escalade and Escalade ESV prototypes. All current Escalades—whether equipped with the 6.2-liter V8 or 3.0-liter Duramax Turbo Diesel—have thin rectangular exhaust ports integrated into the rear bumper. These Escalade-V prototypes, however, have new quad exhaust tips and a redesigned rear bumper, signaling the sporting intentions of these flagship SUVs. The new exhaust tips have a shape and integration similar to what's found on the CT4-V and CT5-V.
More Aggressive Front-Fascia
The Escalade-V prototypes also show signs of a beefed-up front-fascia, with more prominent lower air-intakes beneath the grille. We also see signs of what appears to be a deeper front chin spoiler, which flares out at the corners for a more aggressive, planted look.
Could Escalade-V's Power Boost Come From Electrification?
One possible explanation for the high-powered Escalades testing wtih the likes of the new Z06 and possible Corvette E-Ray could conceivably point to something other than conventional supercharging to bring its additional oomph. An electrified power boost would be more in line with Cadillac's new corporate culture (especially on its biggest, thirstiest SUV).
The Corvette E-Ray is rumored to add performance-focused electrification to the standard C8 recipe, so is there a chance that the Escalade could be sharing a system similar to the E-Ray's battery boost on the Escalade-Vs? It's interesting to speculate on the possibilities, in light of the unique makeup of the Escalade-V's diverse test subjects.
New Wheel Design
The prototypes have a new wheel design not found in the current Escalade lineup. The tire details are not visible in our shots, and actually appear to have had their identities scrubbed on the prototype, as the sidewalls appear unnaturally smooth.
What's Under The Hood?
Recent rumors have suggested that the Escalade-V Blackwing would likely get a supercharged version of its 6.2-liter V8, adding at least 200 horsepower to the standard model's 420. Given that the CT5-V Blackwing gets a supercharged 6.2-liter V8, it would make sense to also offer that engine in the Escalade-V Blackwing models. The CT5-V Blackwing's engine makes a whopping 668 horsepower and 659 lb-ft of torque, so its conceivable that the Escalade-V Blackwing could be equally powerful. It would make sense that the engines could be detuned, or remapped for towing and typical SUV duty however, changing the ultimate output for the Escalade-V.
2023 Wide Body Corvette
Also of note, the Escalade-V Blackwing is testing in good company. High-powered wide-body Corvette prototypes.
Our photographer comments: 
Escalade-V Prototypes Keeping Corvette Company
Interestingly, the Escalade-V  prototypes were testing with a convoy of wide-bodied C8 Corvette prototypes (which included a Ferrari 458 Italia). Some of these Corvettes appear to be the same ones caught testing in Marieta, OH earlier this week, but its clear that the test group was reconfigured to include the Escalade-V Blackwing prototypes when we caught them. In the Ohio C8 test group, a C8 with center-exit exhaust (license plate 069m666) and a quad-exhaust C8 (license plate 087m992) were tagged with numbers 6 and 7, respectively, in the large C8 test group.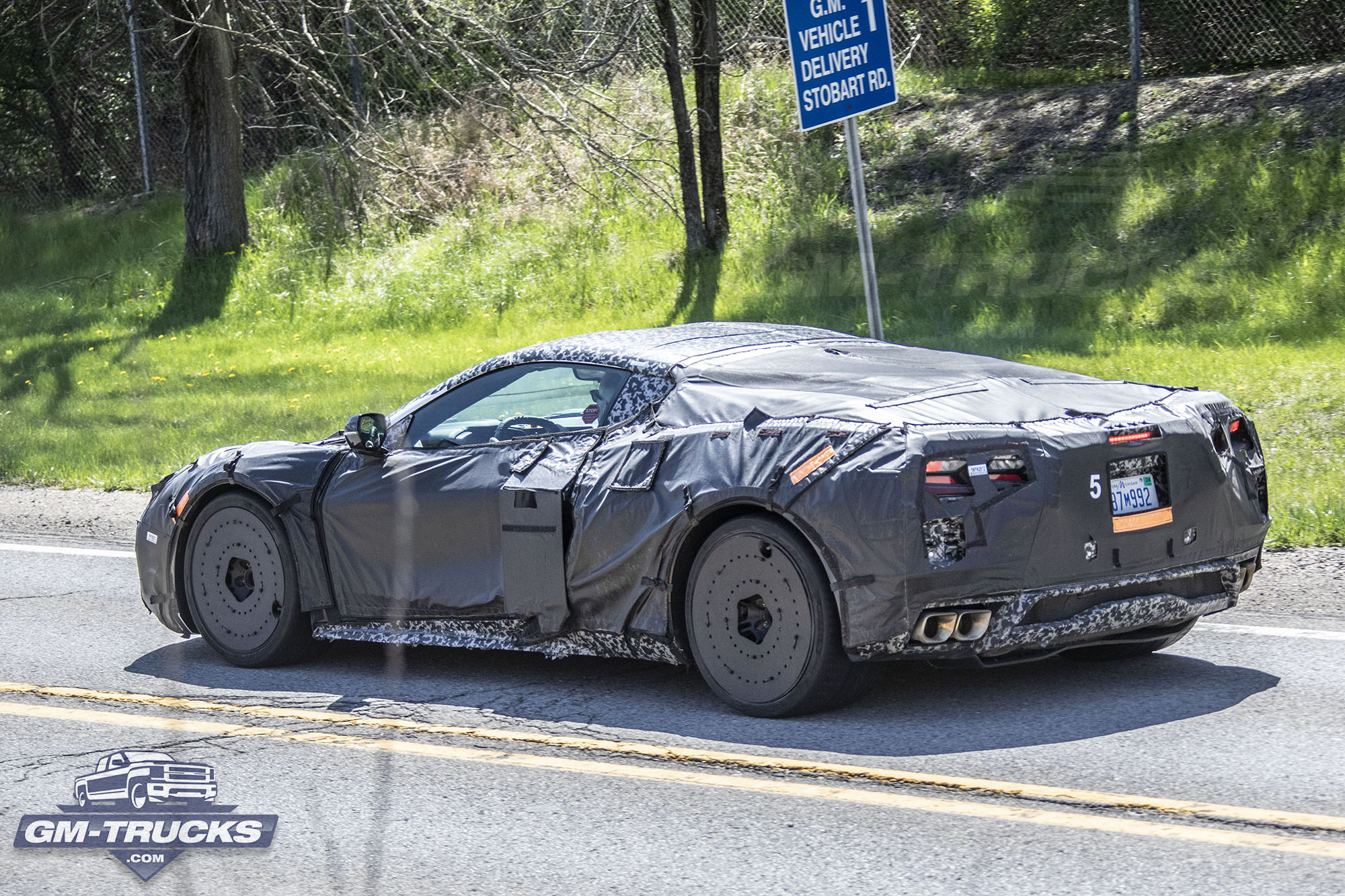 These same prototypes appeared again in our test group but were rechristened with numbers 4 and 5. The two Escalade-V prototypes were photographed bringing up the rear as #6 and #7. It's clear that the Escalades were part of the Corvette's test convoy, and not just there by coincidence.
2023 Cadillac Escalade-V Blackwing Photos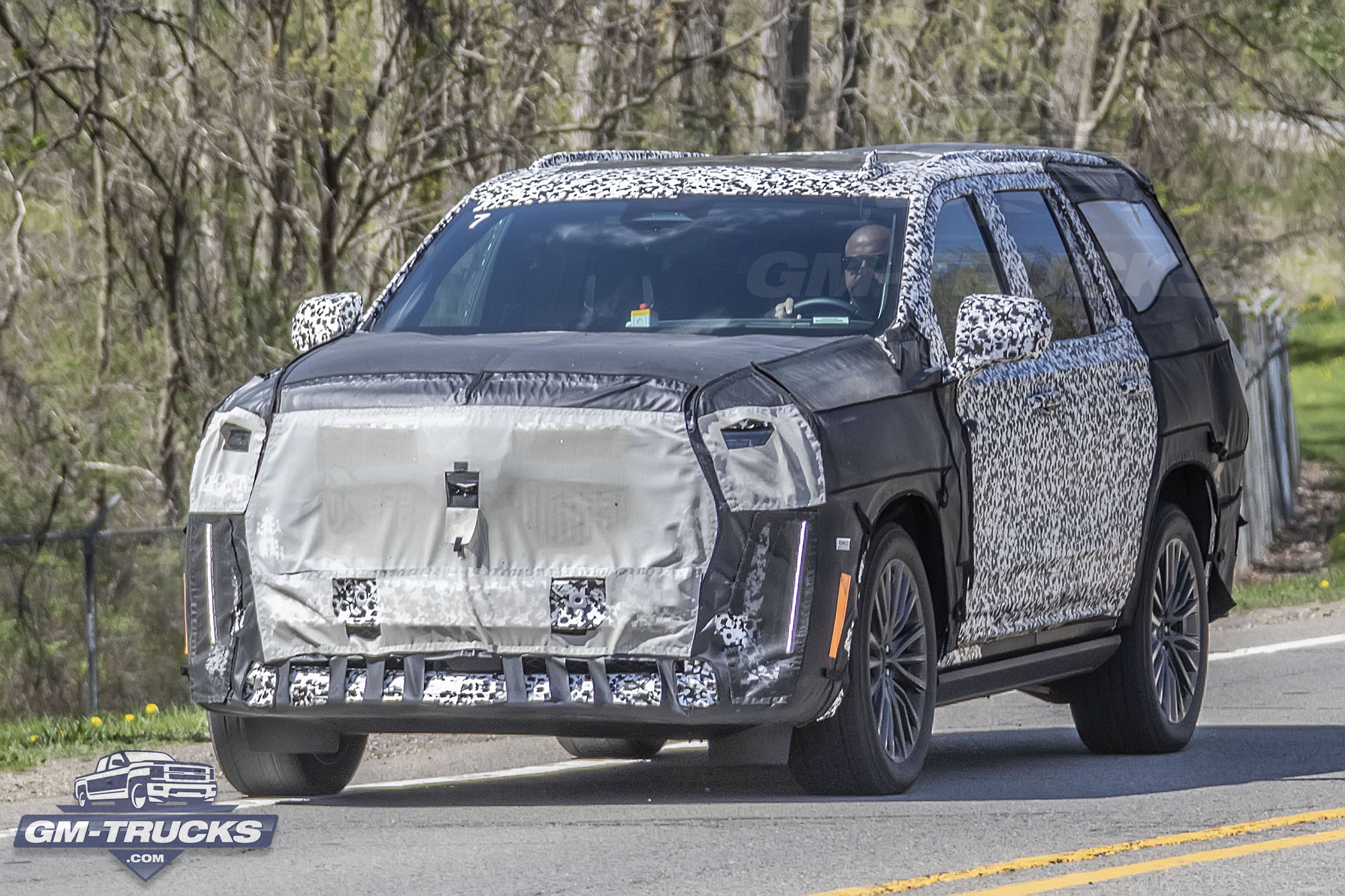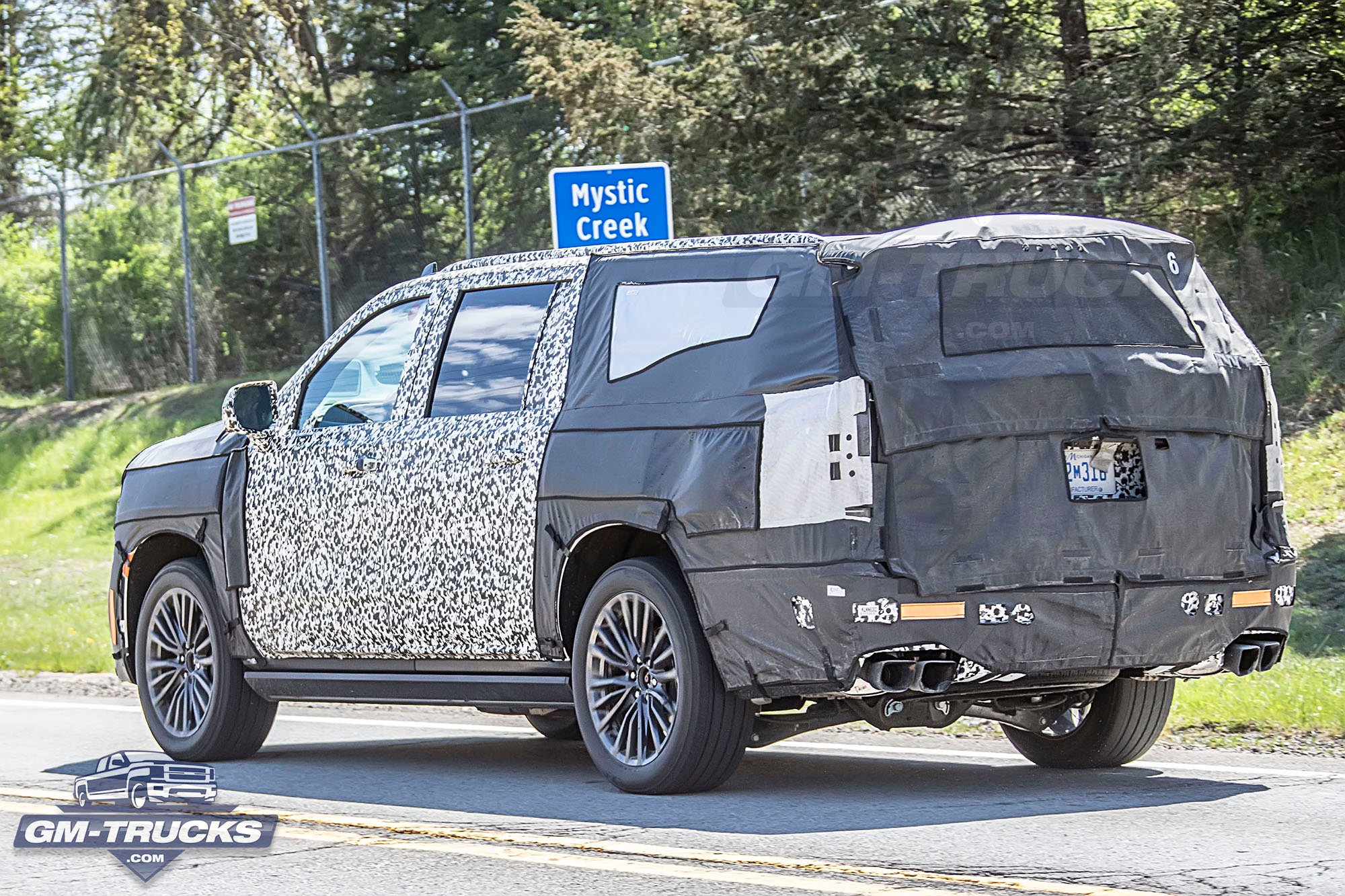 Cadillac Blackwing Models
Cadillac has already announced a CT4-V Blackwing and CT-5 Blackwing. Both have already "sold out" with reservations being filled within hours of going on sale.