The Silverado HD is getting some off-road chops with the introduction of an all-new Silverado HD ZR2 model later this year.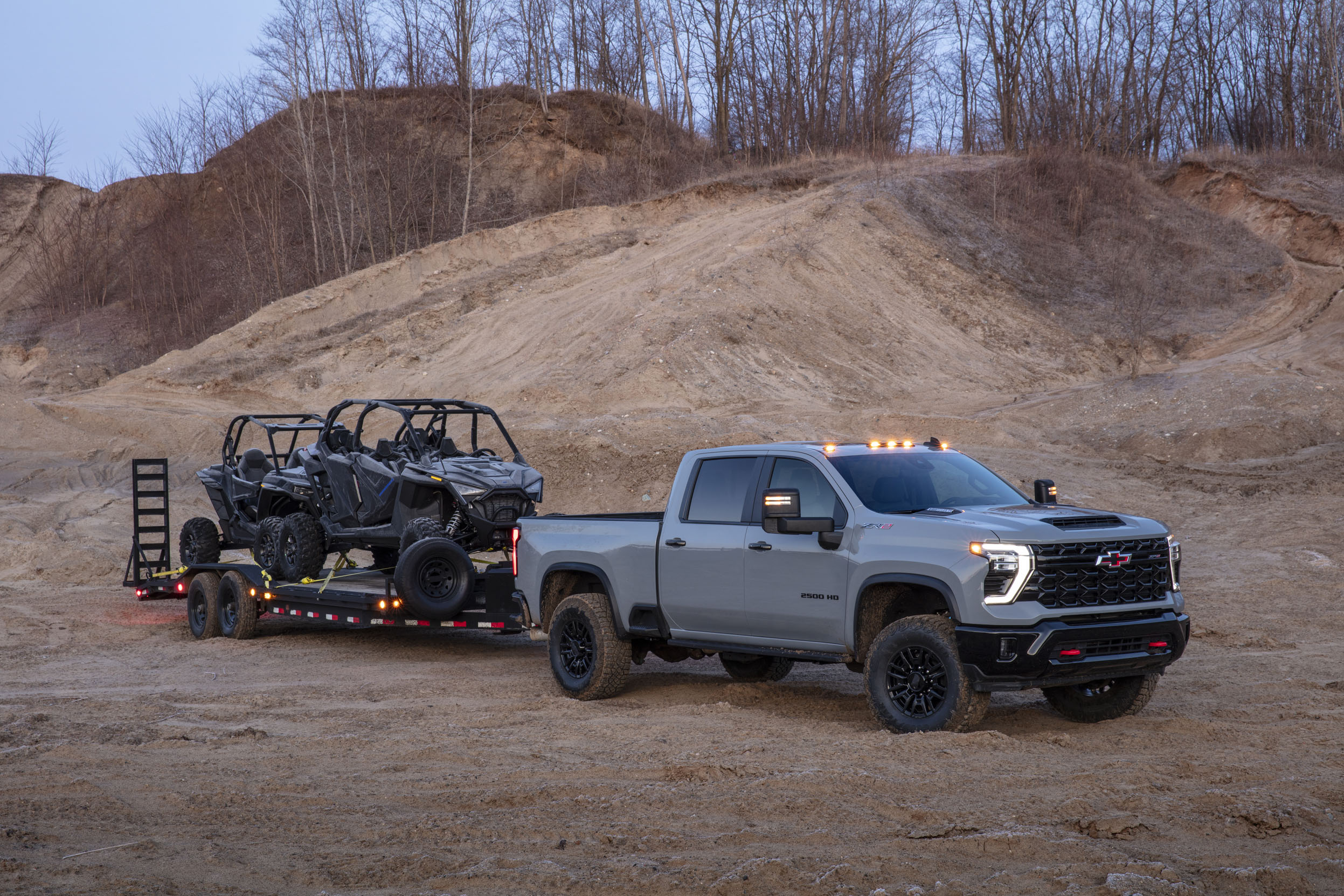 Chevrolet is expanding its popular off-road-focused ZR2 model lineup into it's Silverado HD range. The Chevrolet Silverado HD ZR2 shares all of the same goals as the smaller Colorado ZR2 and Silverado ZR2 but with all of the same towing and hauling capabilities that HD buyers expect.
What does the HD ZR2 offer for features, capabilities and abilities? Read on.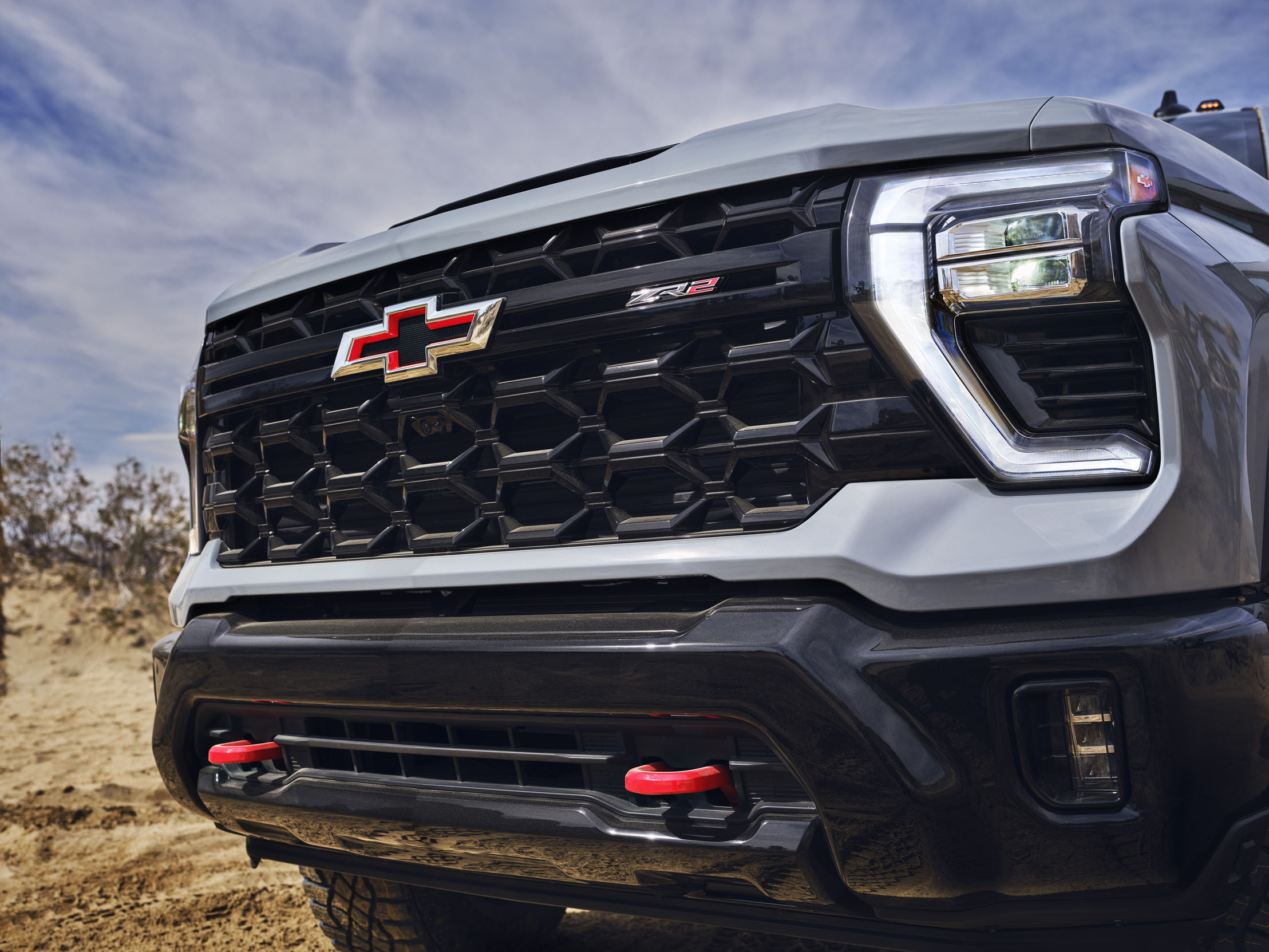 Silverado HD ZR2 – Standard Features
Available exclusively as a 2500 Crew Cab, the Silverado HD ZR2 will be sold with either the standard 6.6L gasoline V8 engine or the legendary 6.6L Duramax Turbo-Diesel V8 engine.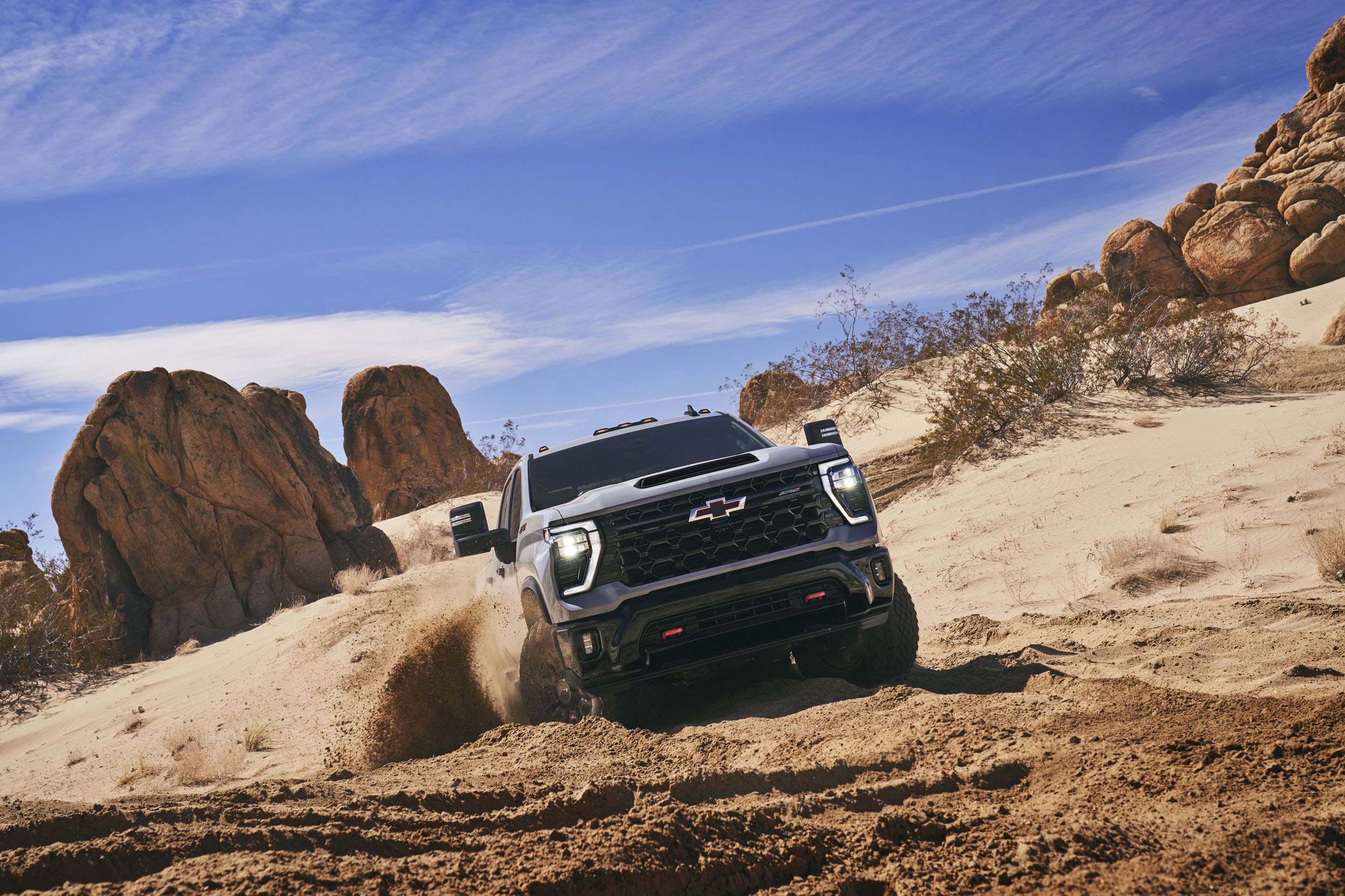 Like the 1500 ZR2, the HD ZR2's standout feature are Multimatic DSSV dampers. While larger than the DSSV dampers found on the Colorado ZR2 it's interesting to note they are the same exact dampers as seen on the 1500 ZR2 and have a 40mm internal valve for better performance in a full-size application.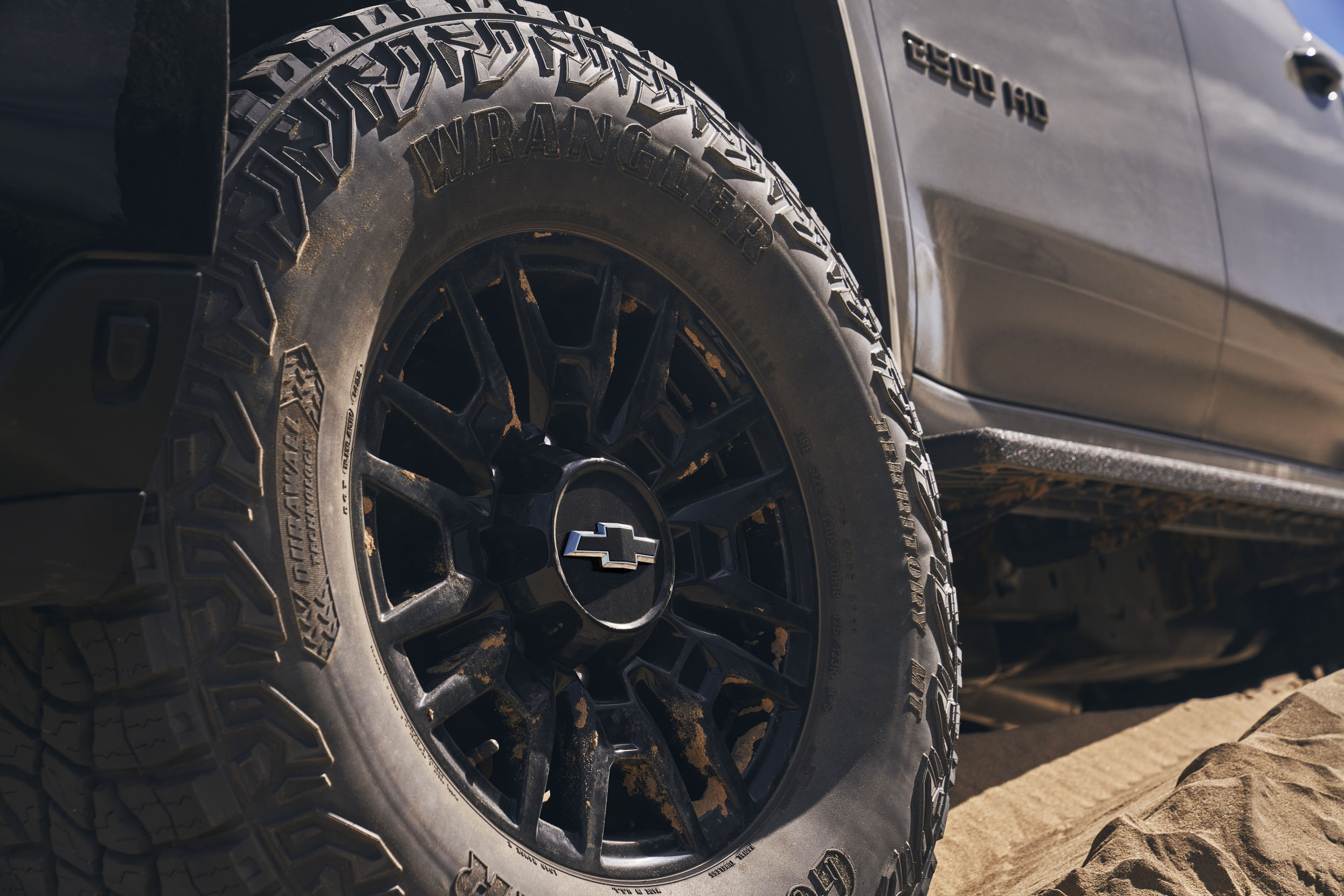 The HD ZR2 also comes with specific front upper and lower control arms, and ZR2-specific steering knuckles. The entire truck sits 1.5 inches higher than a regular HD.  A larger steel transfer case skid plate and front aluminum skid plate offer the added off-road protection that ZR2 buyers demand.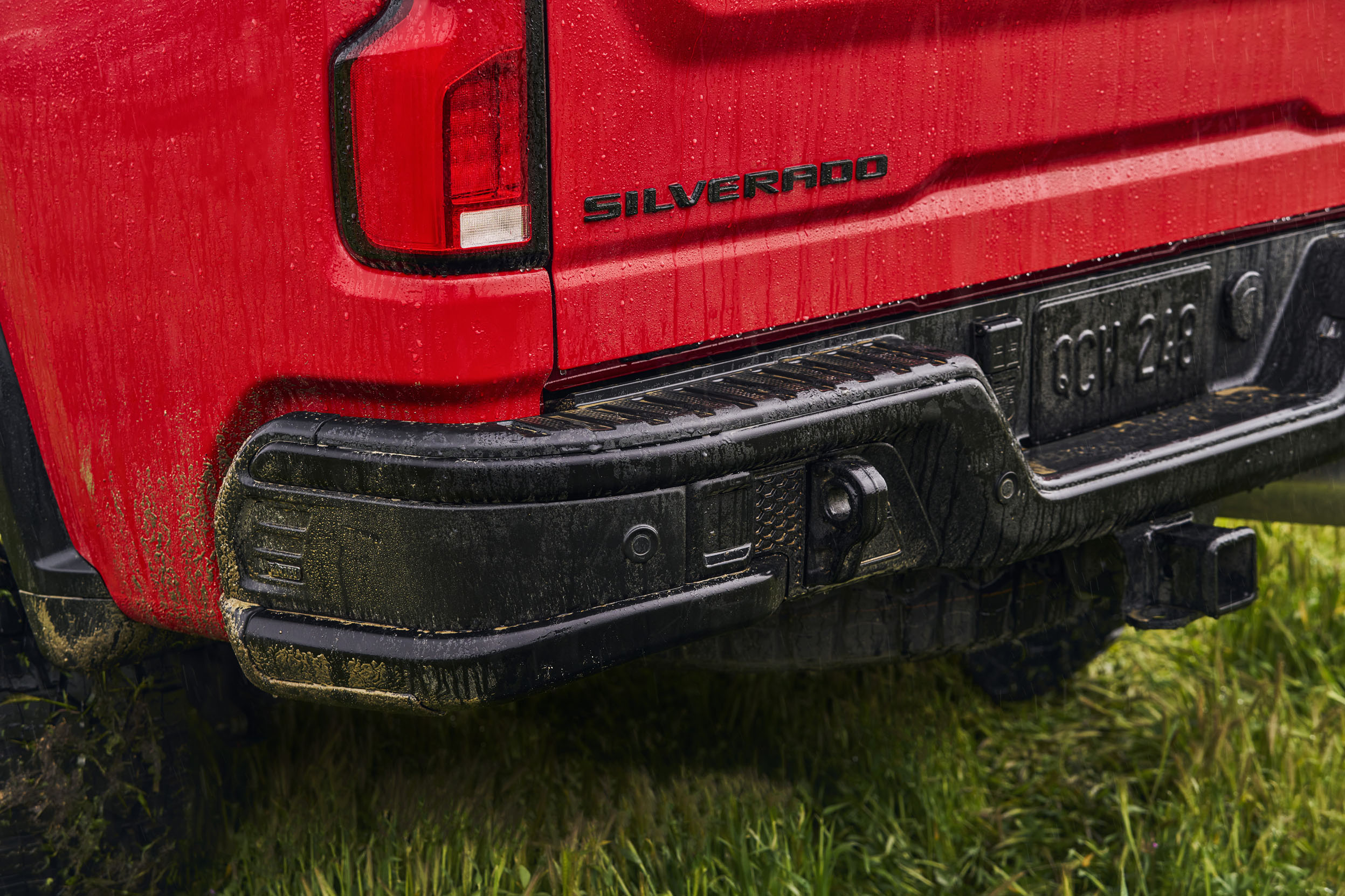 A standard rear e-locker adds more confidence off-road and the HD ZR2 comes with 35-inch Goodyear Wrangler Territory MT tires mounted on 18×9-inch aluminum wheels
Silverado HD ZR2 – ZR2 Specific Styling & Interior
Chevrolet is using the Silverado HD ZR2 to cement a "ZR2-specific" styling to all ZR2 trucks. That includes a "flow-tie" inside of the ZR2 grille styling.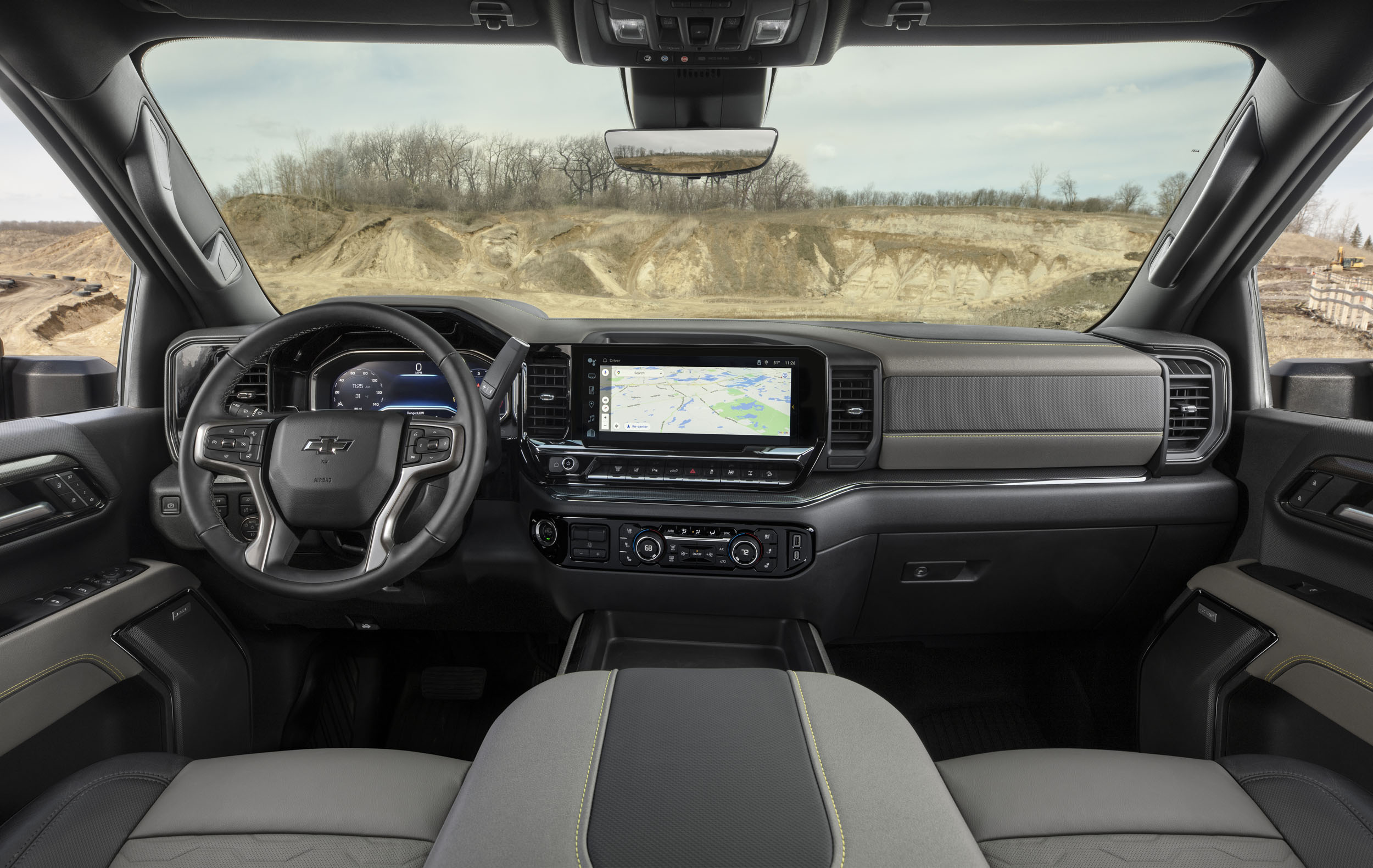 Inside, the HD ZR2 shares a similar interior color scheme to the 1500 ZR2. Greystone leather with Jet Black accents and yellow stitching hit almost beat for beat from the HD ZR2's slightly smaller sibling.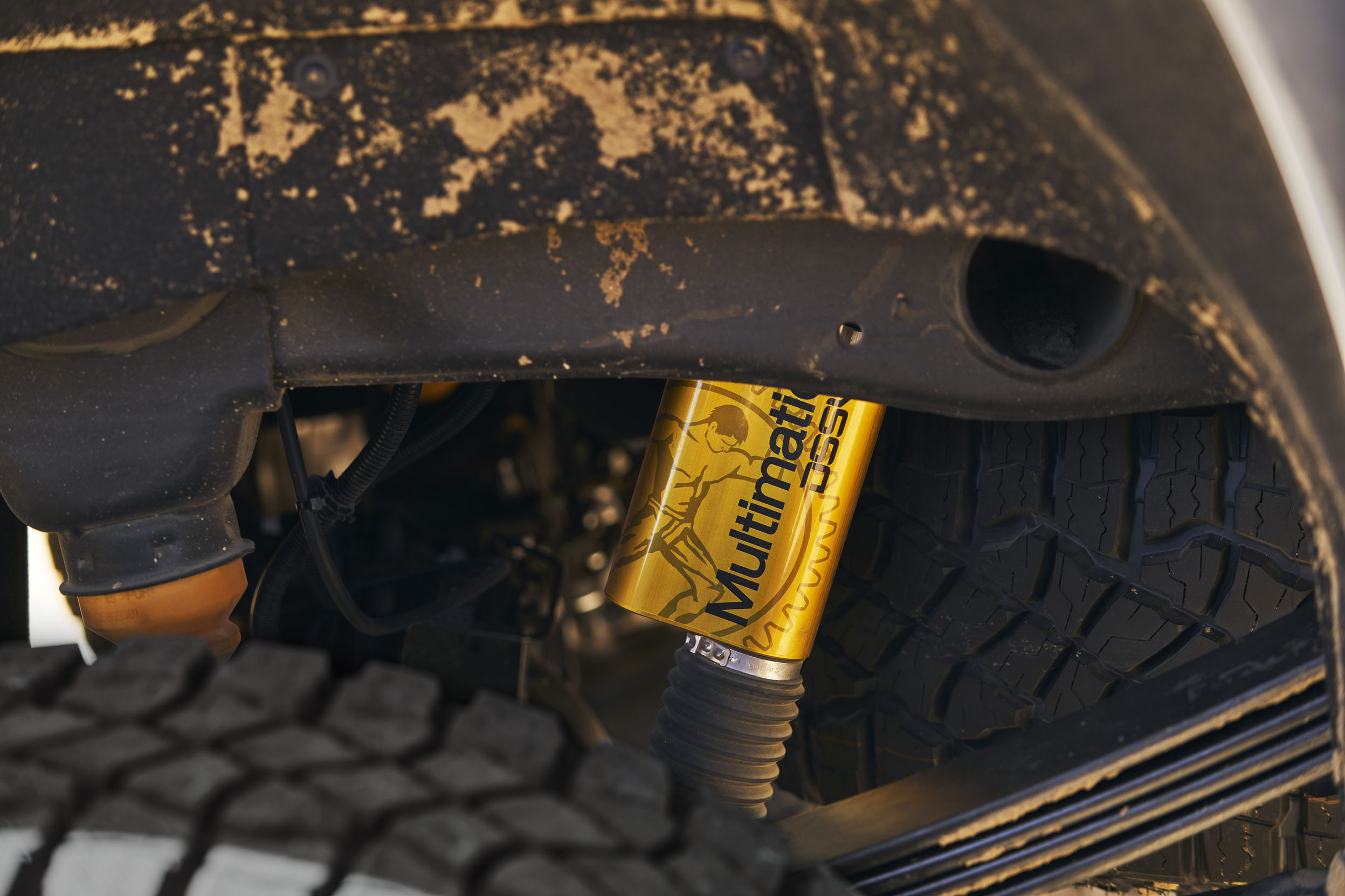 The HD ZR2 also enjoys the upgraded interior that is shared with the rest of the 2024 Silverado HD Lineup. That includes a 13.4-inch infotainment screen and 12.3-inch digital gauge cluster. A 15-inch heads-up display and HD Surround Vision camera setup add to the HD ZR2's off-road capability by giving drivers a full view of the terrain around them.
Silverado HD ZR2 – Capabilities
While off-road focused, the HD ZR2 gives up little capability you'd expect from a heavy-duty truck.
That means the HD ZR2 has a maximum payload of 3,397 lbs with a gas engine. When trailering with a Duramax Diesel engine, max towing is 18,500 lbs.
Off-Road, the HD ZR2 has 11.6-inches of ground clearance and tackles tough terrain with a 32.5-degree approach angle, a 21.2-degree breakover angle and a 21.2-departure angle.
Silverado HD ZR2 Bison – In Collaboration with AEV
Like the 1500 ZR2, the HD ZR2 will also come in an even more beefed up AEV Bison edition. Loaded with AEV aftermarket parts, the Bison takes off-road prep even further than the standard ZR2.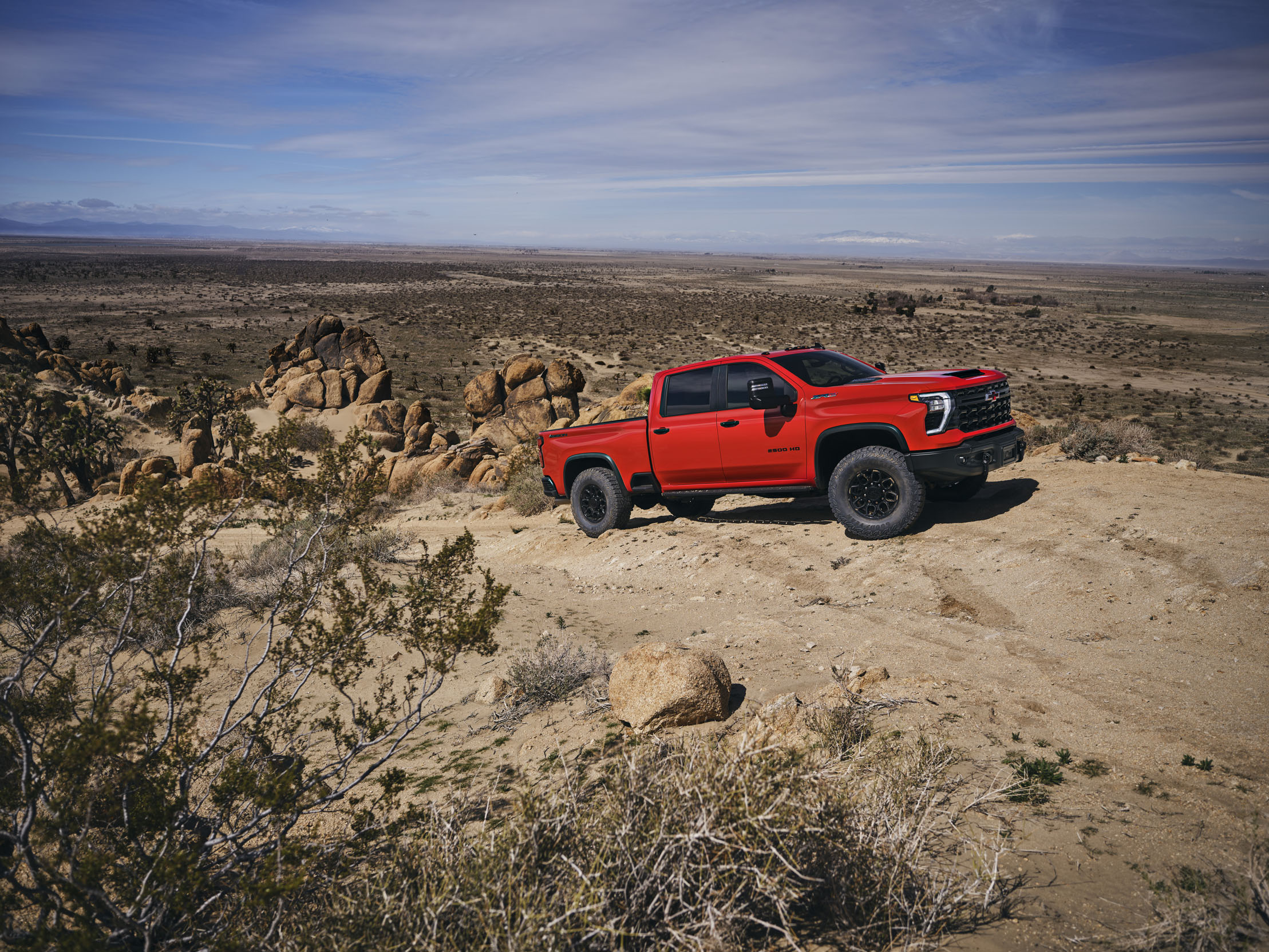 Bison-specific features include gloss black 18-inch AEV wheels, a unique steel high-approach front bumper with recovery points and winch provisions, a unique rear bumper with additional recovery points, and even more underbody production – adding skid plates for the steering rack and exhaust.
The Silverado HD ZR2 Bison increases the HD ZR2's off-road capabilities with these upgrades. Ground clearance improves to 11.8-inches and the approach angle is 29.8-degrees with a 22.6-degree departure angle.
Silverado HD ZR2 – Availability
The 2024 Chevrolet Silverado HD ZR2 will go on sale later this year, with production beginning in quarter three (July-September) at the Flint Assembly plant in Michigan.
Silverado HD ZR2 Stats
2024 CHEVROLET SILVERADO HD ZR2 & ZR2 BISON
CONFIGURATION
| | |
| --- | --- |
| 2500HD  | Crew Cab Standard Bed (4WD) |
ENGINES
Type:

6.6L V-8 gasoline

Bore & Stroke (in. / mm):

4.06 x 3.86 / 103.25 x 98

Block Material:

Cast iron with nodular iron main caps

Cylinder Head Material:

Cast aluminum

Compression Ratio:

10.8:1

Valvetrain: 

Overhead-valve, two valves per cylinder, variable valve timing

Fuel Delivery: 

Direct fuel injection

Horsepower




(hp / kW @ rpm):

401 / 299 @ 5200 (SAE certified – gasoline)

Torque




(lb.-ft. / Nm @ rpm):

464 / 629 @ 4000 (SAE certified – gasoline)
Type:

Duramax 6.6L V-8 Turbo-Diesel

Bore & Stroke (in. / mm):

4.05 x 3.89 / 103 x 99

Block Material:

Cast iron

Cylinder Head Material:

Cast aluminum

Compression Ratio:

16.0:1

Valvetrain: 

Overhead-valve, four valves per cylinder

Fuel Delivery: 

Common-rail direct fuel injection 

Horsepower 

(hp / kW @ rpm):

470 / 350 @ 2800 (per SAE J1349)

Torque




(lb.-ft. / Nm @ rpm):

975 / 1322 @ 1600 (per SAE J1349)
TRANSMISSION & AXLE
Type:

Allison

®

10L1000 10-speed automatic 

Gear Ratios (:1):

    First

4.54

    Second

2.87

    Third

2.06

    Fourth

1.72

    Fifth

1.48

    Sixth

1.26

    Seventh

1.00

    Eighth

0.85

    Ninth

0.69

    Tenth

0.63

    Reverse

4.54

Final Drive Ratio:

3.73 (6.6L gas)

3.42 (6.6L diesel)
CHASSIS & SUSPENSION
Front Suspension:

Short long arms independent front suspension with torsion bars

Rear Suspension:

Semi-elliptic, two-stage, multi-lead springs

Steering Type:

Hydraulic power-assisted recirculating ball

Brake Type:

Hydraulic power-assisted Hydroboost brake booster, four-wheel disc brakes with ABS and Stabilitrak electronic stability assist

Brake Rotor Size (in. / mm):

Front: 14 x 1.6 / 355 x 40




Rear: 14.1 x 1.3 / 360 x 34 

Wheel Size:

18 x 9-in. aluminum

Tire Size:

LT305/70R18 MT
FUEL TANK CAPACITY (approx.)
| | |
| --- | --- |
| Fuel Tank (gal. / L):  | 36 / 136 (gas and diesel) |
EXTERIOR DIMENSIONS
Wheelbase (in. / mm):

159.1 / 4042 

Overall Length (in. / mm):

250 / 6351 (ZR2) 

252 / 6401 (ZR2 Bison)

Overall Width (in. / mm):

81.9 / 2079 (without mirrors) 

105.1 / 2670 (with mirrors extended)

Overall Height (in. / mm):

82.6 / 2100

Front Track (in. / mm):

69.3 / 1762

Rear Track (in. / mm):

70.0 / 1760

Ground Clearance 

(in. / mm):

11.6 / 295 (ZR2)

11.8 / 299 (ZR2 Bison)

Approach Angle (deg.): 

32.5 (ZR2)

29.8 (ZR2 Bison)

Departure Angle (deg.):

25.7 (ZR2 & ZR2 Bison)

Breakover Angle (deg.):

21.2 (ZR2)

22.6 (ZR2 Bison)
INTERIOR DIMENSIONS 
Headroom (in. / mm):

43.03 / 1093 (front)




40.12 / 1019 (rear)

Legroom (in. / mm):

44.53 / 1131 (front)




43.4 / 1102 (rear)

Shoulder Room (in. / mm):

66.02 / 1677 (front)




65.3 / 1659 (rear)

Hip Room (in. / mm):

61.18 / 1554 (front)




60.24 / 1530 (rear)
CURB WEIGHT, GVWR & PAYLOAD
Base Curb Weight (lb. / kg):

7409 / 3360 – ZR2 gas

8113 / 3680 – ZR2 diesel 

7793 / 3535 – ZR2 Bison gas 

8495 / 3853 – ZR2 Bison diesel 

GVWR (lb. / kg):

10850 / 4921 – ZR2 / ZR2 Bison gas

11350 / 5148 – ZR2 / ZR2 Bison diesel 

Payload

1

(lb. / kg):

3397 / 1541 – ZR2 gas

3193 / 1448 – ZR2 diesel 

3013 / 1367 — ZR2 Bison gas

2811 / 1275 — ZR2 Bison diesel
MAX TRAILERING
Conventional (lb. / kg):

16000 / 7257 – ZR2 gas

18500 / 8391 – ZR2 diesel

16000 / 7257 — ZR2 Bison gas

18500 / 8391 — ZR2 Bison diesel

Fifth-Wheel/Gooseneck 

(lb. / kg):

18070 / 8210 – ZR2 gas

18100 / 8210 – ZR2 diesel

16900 / 7665 — ZR2 Bison gas

15570 / 7062 — ZR2 Bison diesel