Do you want a Chevrolet Colorado but the stock 308-horsepower 3.6L V6 just isn't quick enough for you? Callaway has a 410-horsepower answer. The SC410.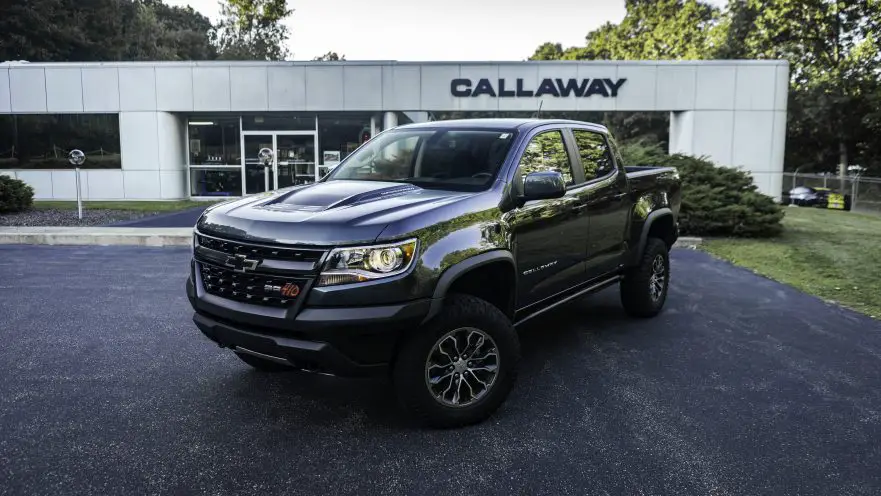 Based on the refreshed 2021 Chevrolet Colorado (or GMC Canyon if you'd prefer), the Callaway Colorado SC410 is a high-powered beast that can be built upon any LT, Z71 or ZR2 trim level.
The SC410 uses Callaway's intercooled TVS1740-based supercharger paired with high-flow intake and exhaust systems. Custom powertrain management software help to manage all of that extra power without creating drivability issues.
Callaway is building the SC410 to offer improved acceleration, towing and hauling capability to Colorado and Canyon owners. Better yet, the SC410 is sold through local Chevrolet Dealerships. That means you can order, customize, and finance a Callaway SC410 just as you would any factory Colorado.
The Callaway Colorado SC410 comes with the following features:
Supercharged 410 bhp / 400 lb-ft torque (SAE)
Callaway TVS1740 Supercharger System, Intercooled
Callaway Dual Pass Intercooler System
Callaway High Flow Intake System
Callaway Low Restriction Exhaust System
Callaway Electronic Engine Management Programming
Callaway Door Sill Inserts, ZR2
Callaway Exterior and Interior Badging
Callaway Underhood Build Plaque with VIN
Callaway Key Fobs & Authenticity Documentation Package
Callaway 3 Year / 36,000 Mile Limited Warranty
The Callaway SC410 comes with "flawless drivability" and "bulletproof durability". Backing those claims up is a standard 3-year 36,000 mile warranty, which overlaps the factory warranty from Chevrolet.
You can find out more about the Callaway Colorado SC410 at CallawayCars.com