It's a mid-April morning in Michigan and there's a smattering of snow on the ground. Here it's a few fluffy flakes, but as you work your way further north flakes become inches and inches become feet. In Michigan, snowplow season is never very far behind, nor very far away. It's one of the reasons snow plows are built near Marquette, Michigan where Chevrolet took us to learn a bit of the fine art of using one.
We dozen or so journalists flew into Marquette, Mich. and after dining on locally caught whitefish at the Landmark Inn were introduced to BOSS Snowplow, a company that began producing snow plows in nearby Iron Mountain, Mich. in 1985 and is now part of the TORO family and distributes snow plows globally.
Chevrolet, of course, manufactures everything from the minuscule Spark to Class 7 mid-sized trucks. We would be attaching a variety of BOSS plows to 2020 Chevrolet Silverado 2500HD and 3500HD trucks, some with the Alaskan Edition package, and so equipped with Chevy's snowplow package—more on that later—plus roof marker lights (you're automatically way cooler, right?), 18″ wheels and all-terrain tires, not to mention the decal.
There are many advancements that make the latest Silverado HD an amazing truck for those who plow snow. There's independent front suspension and an active transfer case. For power, the new 6.6-liter V-8 gas engine with direct injection delivers 22-percent more torque, critical for this application. The latest Duramax diesel is coupled to a 10-speed Allison tranny, which increases max towing to 35,500 pounds, if you want to go that way.
Little things like the bed step and corner step bumpers are designed for work. For cold weather trucks, engineers added a connector to the (optional) block heater on the driver's front corner, no more yellow cord dangling in front where a snowplow makes access difficult. An easy to overlook feature is Autotrac. The active two-speed transfer case (obviously on 4x4s) electronically governs the "4 Auto" mode and shifts between two-wheel and four-wheel drive. We, however, locked everything down into 4WD once set to move snow.
For plowing snow and other possible attachments, GM design and engineering redesigned the front fascia of the new Silverado HD. Previously, after you laid out $40,000-$60,000 for your new truck, the next step was visit the snowplow salesroom installation center where they would take a Sawzall to the fascia. Instead, Chevrolet provides a removable panel that re-installs to stock appearance.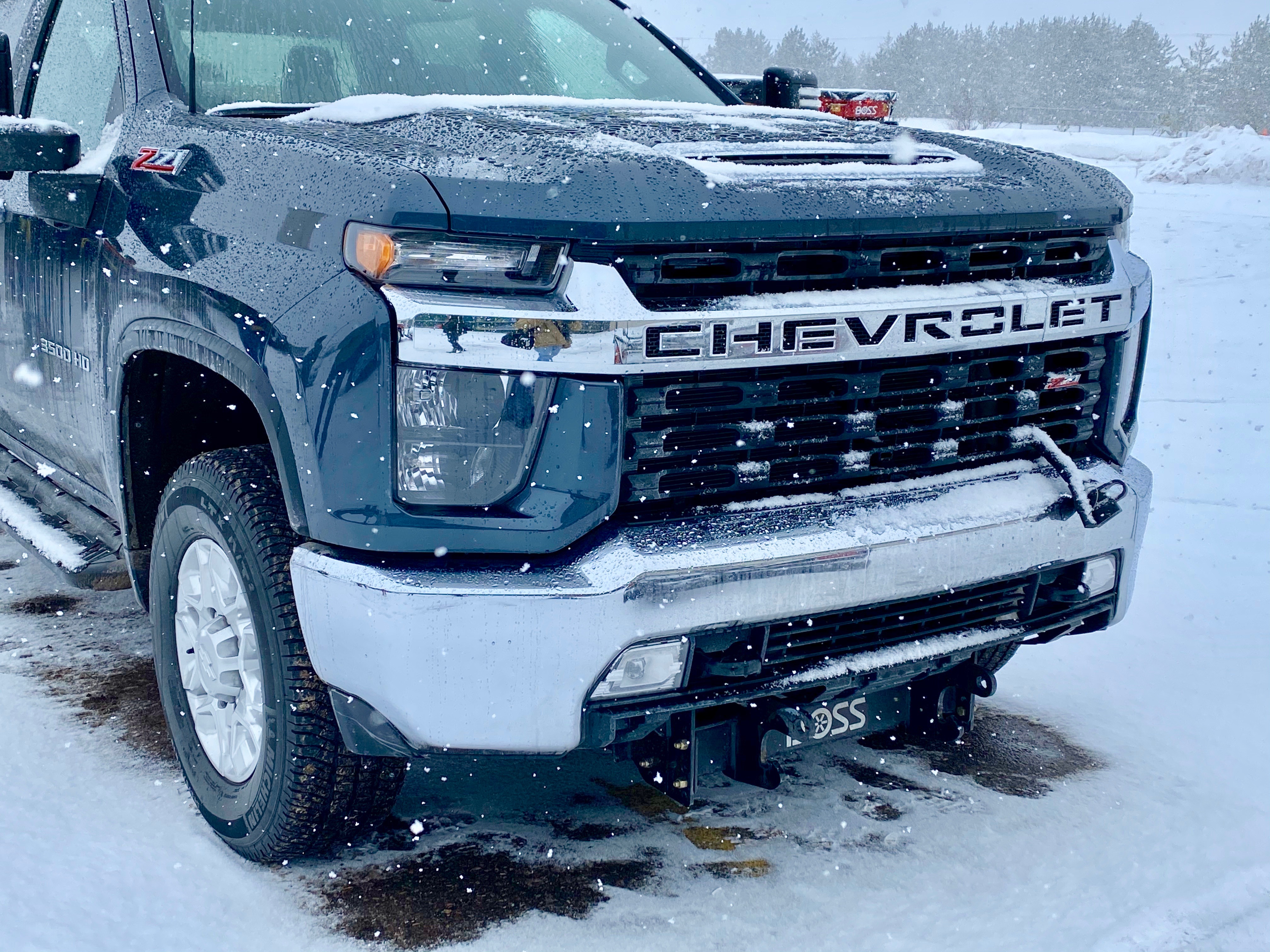 General Motor's snowplow prep package includes a 220 Amp alternator, skid plates for the oil pan and transfer case and a pre-cut hole for the plow's wiring harness; no drilling the bulkhead. There's preparation for a roof beacon as well, with the wires hidden under the headliner.
According to Chevrolet, the fleet team asked if smaller mirrors could be fitted for business like landscaping who don't need large trailering mirrors. Therefore, small mirrors are an option. Or you could keep the power fold mirrors and their task lighting as they're offered standard down to the base work truck. With the power fold mirrors, light can be usefully directed to the side.
Chevrolet says the highest rating for a snowplow hanging off the front is 1,200 pounds, the team says the sweet spot is 700-1,000 pounds and BOSS agrees. That sorts out according to engine; with the gas engine regular cab long bed it's 1,200 pounds and for the diesel 850. According to Chevrolet marketing there are two distinct markets for the Silverado HD (and Sierra HD) retail' a diesel crew cab short bed for towing. Those folks may buy a snowplow. However, gas engine trucks with regular cabs and long beds dominate commercial markets.
Since most snowplow operators are stuck behind the wheel for 8-12 hours overnight, comfort and convenience is more than a marketing slogan. I'll be the first to admit I'm a cabin snob, a new-gadget junkie and therefore drool over Ram's best. Hmm, bundled into sweater and down coat, hands fat-fingered into warming Carhartt gloves, Chevrolet's insistence that the Silverado is made for working people hit home, hard. Every button and switch was easy to use, and if I put on mittens, it remained true. That's knowing your market.
To pass the time away, included features like Apple CarPlay and Android Auto, 4G Wi-Fi with stronger signal strength, even OnStar made sense, though we were busy preparing to drive a nose-heavy rig.
On The Job: We Plow
We wanted snow, had snow, and learned that a Duramax diesel will start, unassisted, down to -20°F and with the block heater it's rated to -40°F. Temperatures were predicted to be a balmy +13°F (wind chill -20°), so starting wasn't going to be a problem. Plowing would be, so before turning us loose to move the white stuff there was a necessary safety and how-to lecture by BOSS.
After an outline of the BOSS Snowplow production process and a product lineup which includes flat-plane, V and adjustable V plows in poly, stainless and regular steel, rear drag plows, salt and sand spreaders and even plows for All-Terrain vehicles we got to the nitty-gritty, the stuff we had to know for safety:
Plan your plow pattern so that you drive forward as much as possible.
Come to a complete stop before shifting from forward to reverse.
Wait until the transmission engages before accelerating.
Accelerate slowly, allowing the tires to grip the road surface for better traction.
Avoid spinning the tires.
Start driving forward before lowering the plow for a pass.
Whenever possible, back into a cleared area.
Stay under 40 mph.
Outside, we watched experts hook up plows, made easy by the pre-attachment of the BOSS SmartHitch 2 tm. The ease of attachment made those of us from Michigan wonder why so many contractors leave their plows attached all season? Hook up took two people and could have been accomplished by one in a couple of minutes. Of interest, BOSS' motto is "Keep 'Em Open" and they were the first to put a hinge in the middle of a snowplow, the BOSS power-V.
Therefore we set off to see if mere writers could plow snow. We could, and using a variety of tools including a salt spreader. With good instruction, it was "easy". Set the plow down, move forward and pull the plow up. Simple, eh?
Well, if you're pushing snow into a bank of other snow, it's a bit harder, requiring coordination of forward momentum and when to push the UP button.
And if you were going to add salt spreading to any of the above you'd need more instruction, which was available.
Like trailering, plowing snow is far more difficult than it looks and while I'm no longer intimidated, I'm not trading in my day job. So a big thanks to Chevrolet, BOSS Snowplow, and to a pal from Chicago, fellow Midwest Automotive Media Association member Harvey Briggs for suggesting that freezing our butts off in winter would be fun. It was.