This article was originally published July 18th, 2016 and written by George Kennedy, a GM-Trucks.com Contributor. 
When you think of celebrity cars, a number of high-end vehicles come to mind. Be it a Lamborghini pulling up to the red carpet or a millionaire's grocery getter like the Mercedes-Benz G-Wagen, there is a certain type of vehicle (and associated price point) that goes with the world's most famous actors, athletes, and celebrities.
But Clint Eastwood is different from your typical celebrity. Famous for playing hard-nosed characters like Dirty Harry and The Man with No Name, Eastwood owns that persona off the big screen as well. While other stars opt for Lambos and Land Rovers, he opts for a certain GMC. And while the uninitiated may want to call this a stingy or low-rent move, they clearly know nothing of the GMC Typhoon
Despite being one of the biggest automakers in the world, General Motors occasionally takes some big chances in making cars that don't fit into the normal mold. Vehicles like the HHR, SSR, El Camino, Grand National, and Saturn Sky all didn't really fit into their time or place.
In 1991 one of GMC's most radical ventures started hitting dealerships. It may have looked at first like and ordinary Sonoma compact pickup, but the GMC Syclone was anything but. Keen eyes will notice the lower ride height, red lettering and more street-oriented tires. Looking inside, the bucket seats with red piping and raised center console tunnel might also hint to onlookers this was no ordinary truck. Open the hood and there'd be no question you were dealing with something special.
The Syclone featured a turbocharged/intercooled 4.3-liter V6 making 280 horsepower and 350 lb-ft of torque. The turbocharger was sourced from Mitsubishi (which was in still actually making fun cars at the time) and the intercooler from Garret. Power was sent through a 4-speed automatic transmission to an all-wheel drive system with a Borg Warner transfer case. It would put 35% to the front wheels and 65% to the rear.
In our modern horsepower wars, where cars are routinely making upwards of 600 and even 700 horsepower from the factory, 280 hp might seem meager, but in '91, this thing was a world beater. It could do 0-60 mph in 5.3 seconds, and blast through a quarter mile in 14.1 seconds with a crossing speed of 93 mph (figures from Car and Driver's original testing of the Syclone.). At the time, that was Ferrari and Lamborghini-quality speed, and faster than the Corvette of the day.
In 1991, only 2,995 examples of the Syclone were produced, and they were only available in black. In 1992, some were sold in a wider array of colors, and that same year, the truck was joined by a heavily modified GMC Jimmy SUV, bearing the same powertrain. The GMC Typhoon was produced from 1992 to 1993, during which 4697 examples were built.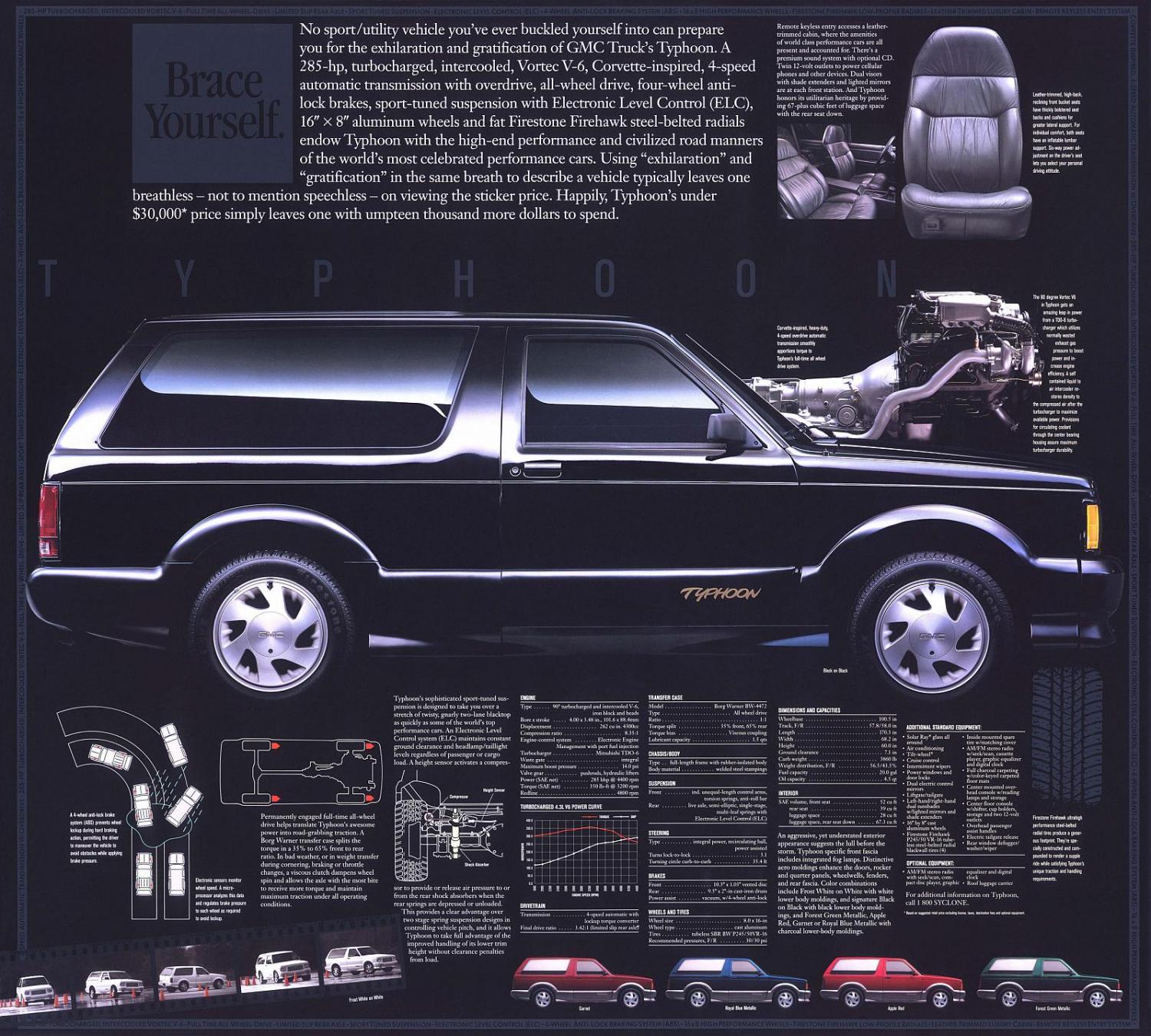 Car and Driver also tested the Typhoon, and found it slightly slower, but still an impressive 5.7-second 0-60 time and a 14.5-second quarter mile time (crossing at 95 mph).
Reviewers compared the 'Phoon to cars like the Ferrari 348, Chevrolet Corvette, and Nissan 300ZX Turbo. This put it in rarified air, and caught the eye of many performance junkies.
The Typhoon came with a starting price of $29,970, which is nearly $50,000 in 2015 dollars. And Clint owned multiple models. We know because we've seen him driving different colors of the Typhoon.
For reference, here are the color breakdowns of the Typhoon:
1992
Black on black (1262 built), Black w/ gray (130), Frost White w/ Gray (518), Apple Red w/ Gray (345), Bright Teal w/ Gray (132), Forest Green Metallic w/ Gray (82), Aspen Blue w/ Gray (28), Radar Blue w/ Radar Blue (2), and Raspberry Metallic (2). Those last two were test colors, included in the totals.
1993
Black w/ Black (1,008), Black w/ Gray (98), Frost White w/ White (532*), Frost White w/ Gray (115), Apple Red w/ Apple Red (77), Apple Red w/ Gray (101), Forest Green Metallic w/ Gray (210), Garnet Red w/ Gray (24), Royal Blue Metallic w/ Gray (35*)
Based on photos, we can tell, that he has owned one that was Red and grey, the other forest green and gray. What's great is that he really drives these things. A 2012 Los Angeles Times article references the green one:
"Son of a gun," the 82-year-old muttered as he leaned over his beloved 1992 GMC Typhoon and dragged an index finger over the mysterious inch-long scratch marring the forest-green paint just above the grill.
You don't get scratches like that keeping a rare care hidden away from the world in a storage facility. You get it out in the open, driving it often. We laud Jay Leno for taking his rare cars out on the open road, but he's got more than 100 in his massive garage. He can take any of those cars out without sweating it. But to take out such a rare, high performance variant of a GMC Jimmy? That's the type of car enthusiast we'd like to meet. We'd just ask he leave his .44 magnum at home.
Want to know more about what makes these super-trucks and super-SUVs so great? Check out this Top Gear segment from when the Syclone was new, if only to see how young Jeremy Clarkson looks: