GMC is unveiling the Canyon AT4 OVRLANDX Concept today at Overland Expo Mountain West 2021.
The concept truck is a collection of overlanding-focused upgrades designed to create the ultimate GMC Canyon for off-road adventures. It features a laundry list of upgrades with a common purpose- drive anywhere & camp anywhere.
The purpose-built Canyon is based on the AT4 trim level and then taken to the extreme. The truck has been lifted, the suspension widened, the underbody reinforced, and the exterior equipped with the latest and greatest off-road gear. AEV wheels, bumper, and other parts are a big plus to the OVRLANDX Concept and better yet, are available for sale.
The overall theme with the Canyon AT4 OVRLANDX Concept truck is not so much that it's a "concept" but more a practical demonstration of the level of customization you could complete on your own mid-size GMC today. Sure, there are one-off parts and several items you'd have a hard time replicating like the fender flares and bumper with task lighting.. but everything else seems to come out of GM's parts bin or straight out of the aftermarket community.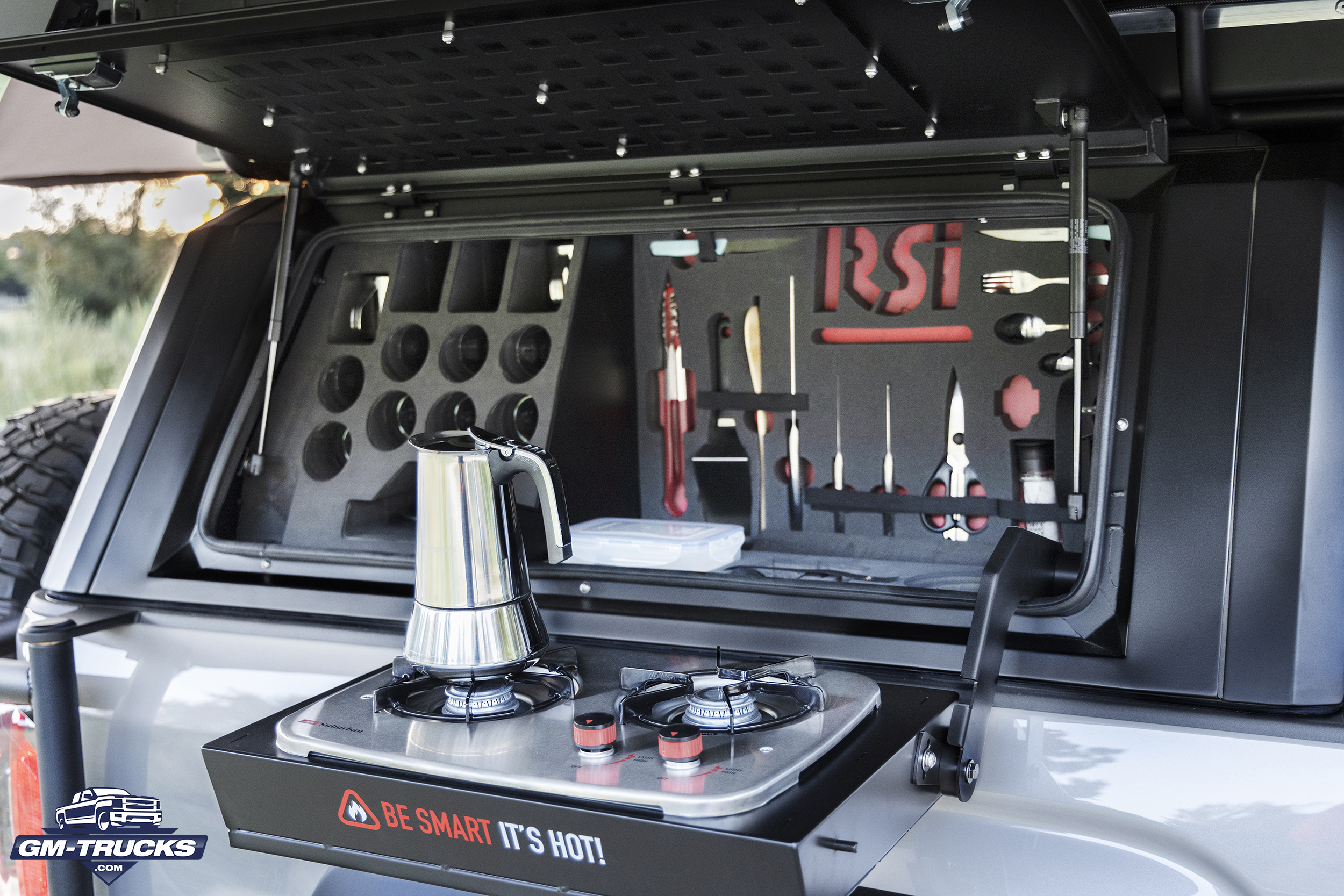 The irony is that with features like Multimatic DSSV shocks and electronically locking front and rear diffs, this truck is closer to a Chevrolet Colorado ZR2 than an off-the-shelf GMC Canyon. Colorado ZR2 owners have been creating trucks like this for years with help from the aftermarket overland community, so it's nice to see GMC get in the game.
Rarely does GM make a concept "just because", so take the OVRLANDX as a preview of features to come down the line in the near future.
Canyon AT4 OVRLANDX Features
Factory-lifted, wide off-road chassis with enhanced underbody coverage
Off-road rocker panel protectors
Cast-iron control arms
Heavy-duty front bumper with winch
Integrated front recovery points
Front and rear electronic locking differentials
Wheel flares with integrated task lamps
Multimatic DSSVTM dampers
Spare tire swivel mount so a spare tire can be kept on the back of the truck and swivel out of the way of the tailgate when bed access is needed
Guy lines for protecting the windshield from low-hanging branches
33-inch BFGoodrich KM3 Mud-Terrain tires on 17-inch AEV Crestone wheels
AEV rear off-road bumper
Stainless steel truck bed cap
Roof-mounted tent
270-degree awning
Jerry cans for gasoline and water
Traction boards
Off-road jack and mount
Cooler and kitchenette
Truck bed storage with drawer system
Solar panel
The GMC Canyon AT4 is currently on sale, along with many of the parts the concept is fitted with, so theoretically you could create your own OVRLANDX truck if you want.
If you're interested in the off-road camping all-in-one truck, you'll definitely want to hit up the Overland Expo and see all of the great vendors and companies who are building overlanding parts for every make and model of truck.  There are multiple venues each year, including shows on the east and west coasts.
The Overland Expo West is the perfect place to debut the Canyon AT4 OVRLANDX Concept.
GMC Canyon AT4 OVRLANDX Concept Photos