The Slingshot is an exciting, unique, and attention grabbing three wheel motorcycle from Polaris. You've probably seen one passing by on the road and wondered exactly what it was, why would someone buy it and is it really worth all the money.
We'll answer those questions and more because GM-Trucks.com recently had the opportunity to chill with a brand new 2020 Slingshot R.
What Is The Slingshot R?
In 2014 Polaris started producing the three wheeled Slingshot by using parts taken from it's extremely popular side by side lineup and molding them into something street worthy and totally eye-catching.
Classified as a three wheeler, or autocycle by many states, the Slingshot is basically a "ride in" motorcycle. In 48 states you don't need a motorcycle license to drive a Slingshot but most states do require a motorcycle helmet.
It's that closeness to the motorcycle experience that draws people to the Slingshot. A feeling of open air driving with nothing surrounding you combined with the simple driving characteristics of a car. Just get in, buckle up, and go. No special certifications, licenses or equipment required.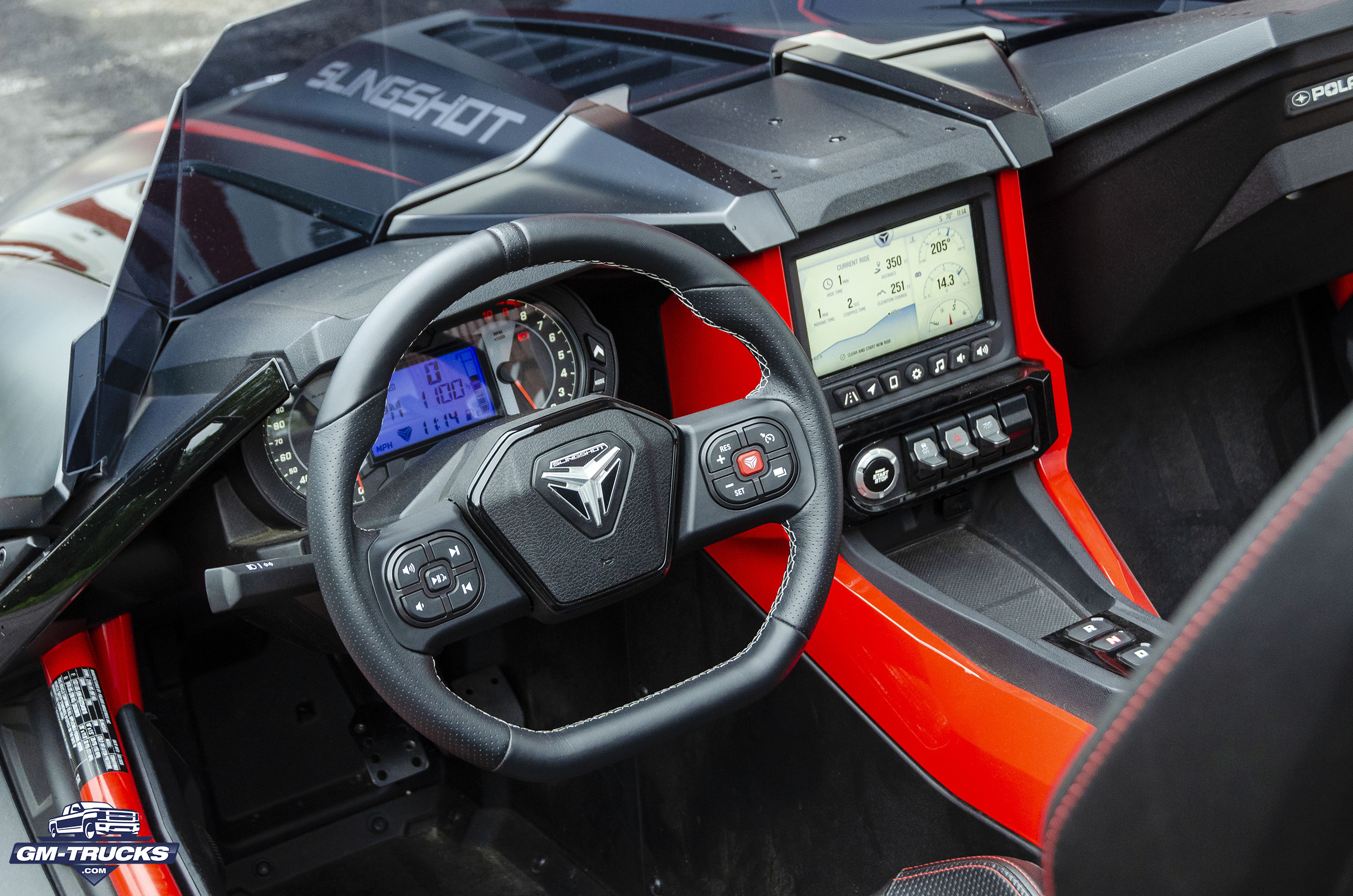 Until 2019, Polaris equipped the Slingshot with a GM sourced 173 horsepower ecotec four cylinder engine. The 2020 Slingshot has stepped up to a Polaris exclusive ProStar 2.0L engine.
In SL trim, the Prostar engine produces 173-horsepower. In Grand Touring Trim, 178-horsepower, and Slingshot R, 203-horsepower.
That engine is essentially a double size version of the 2-cylinder 100-horsepower ProStar found on many of the brand's side by sides, like the General, Ranger, and RZR. We've been a big fan of the 1.0L ProStar for years and the 2.0L version also earns our praise for packing a lot of punch in an extremely tight package.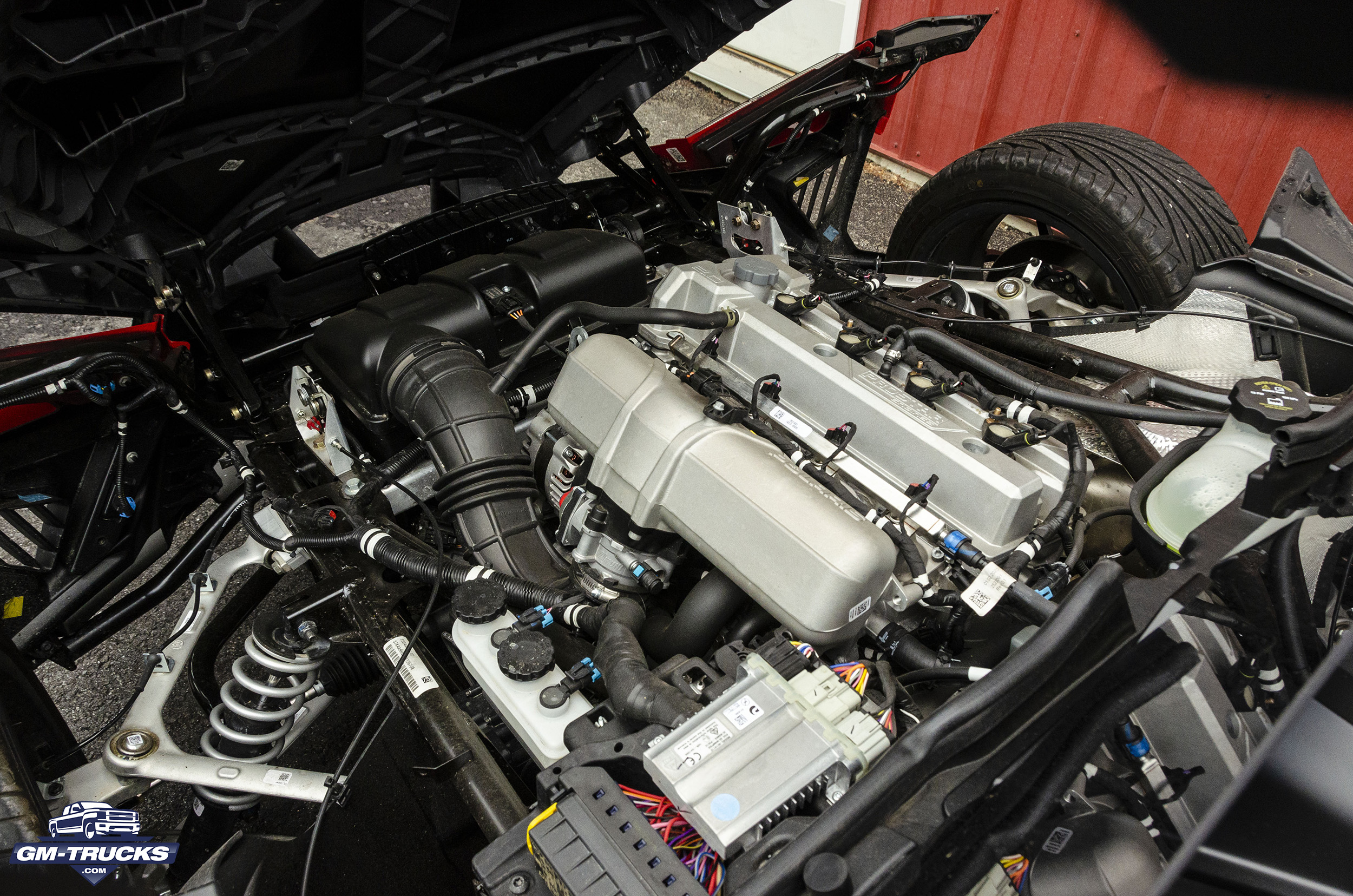 Make no mistake, 203-horsepower in what is essentially an engine on wheels is no small number. The Slingshot is every bit as fast as it looks.
Also new for 2020 is the addition of automatic style "Auto drive" transmission. Essentially a hydraulically actuated manual, autodrive shifts between 5 forward gears and one reverse with no manual intervention. Do-it-yourselfers can opt for a manual transmission on Slingshot R. More on that choice later.
Mostly New for 2020
As we mentioned before, the Slingshot has been significantly updated for 2020. With over 70% of the parts new for this model year.
Updates from 2019 include a refreshed and more aggressive exterior,Ride Command 2.0, and a new drive mode system that changes the demeanour of the Slingshot at the push of a button.
Polaris has also tuned the suspension and frame to offer a better composed ride and feedback.
How much does it cost?
But for all of that fun get ready to pay a price. The 2020 Slingshot SL starts at $26,499. Jumping up to the higher-horsepower Slingshot R will cost you a cool $30,999 for the manual, $32,699 for the autodrive.
And if you're planning on driving long distances in your Slingshot, consider the Grand Touring Limited Edition. The most expensive Slingshot in the lineup comes in an exclusive fairway green with bronze accents and a color coded roof for $33,999.
Who would want to buy one?
In our opinion, Polaris is reaching out to two very distinct customer bases.
On one hand, motorcycle enthusiasts who might be getting older and desiring an easier machine to ride will absolutely love the Slingshot. It offers 90% of the feeling that you'd experience riding a motorcycle with none of the skill, stamina, and balance required
On the other hand, enthusiasts who have never owned or ridden on a Motorcycle can jump into the sport with all of the thrill and none of the learning curve. Polaris wants those people to also consider a Slingshot.
But rider beware: like a motorcycle, the Slingshot offers little to no protection in crashes. With no airbags, no crumple zones, or safety systems beyond seatbelts and rollover hoops, the Polaris Slingshot feels safer than it really is.
What did we think of it?
We were lucky to test own a Slingshot R for three incredible weeks this past summer. In our time behind the wheel we had a chance to explore every facet of this exciting three wheeler.
In the end we loved many things and disliked a few things about the refreshed 2020 Slingshot R.
First off- the Slingshot is unlike any other vehicle we've ever test driven. The attention this thing brings to whomever is driving is unreal. Like a Ferrari or McLaren, people notice the Polaris Slingshot. Everywhere we drove was greeted with waves, shouts, hoots and cheers.
Behind the wheel, the Slingshot also offers blistering performance. With no frame flex and a stiff suspension there is no curve too tight and no country road that is too winding. Every drive in the Slingshot is exciting, fun, and gets your heart racing.
But in other ways the Slingshot fell flat.
We were not fans of the autodrive transmission whatsoever. It's slow, takes forever to shift, and always shifts at the wrong time. Even a moderate push on the accelerator seems to prompt a long and slowly drawn out downshift. On multiple occasions we found hammering the throttle from a stop would light the rear tire up, only to fall flat on a sluggish 1-2 shift and kill forward momentum.
Making quick maneuvers while changing lanes or leaving an intersection can become frustrating with the autoshifts lazy tendences and while we learned to live with the transmission over the three weeks we drove the Slingshot, we never got used to it and craved a manual option.
Being entirely open to the environment also presented challenges. During our time with the Slingshot the temperature ranged from the low 50's to upper 90s. Perfect motorcycle weather, right? Well not so fast. With no heat or air conditioning, Slingshot has a narrow window of temperature that ends up being comfortable. We found anything below 70 degrees could get cold quickly. Conversely, any temperature above 85 quickly became swelteringly hot.
A simple heater or heated seats could increase the usability envelope of the Slingshot. Thankfully Polaris is now offering a heated and cooled seat as an upgrade for the Slingshot.
Lastly, the non-boosted brakes on the Slingshot R were spongy and could never bring the unit to a stop as well as it could accelerate.
In the end:
At the end of the day we just can't deny we had an inordinate amount of fun driving the 2020 Polaris Slingshot R. And despite being priced far higher than most motorcycles, the Slingshot offers far more than most motorcycles too.
No matter if you're a two wheeled ace who just wants something easier to drive or a millennial who always thought open air riding would be fun but found motorcycles too intimidating- the Slingshot just may be a perfect ride for you.