A GMC dealer who tried to have a HUMMER EV owner sign a two-year "Right Of First Refusal" has sat down with the customer and the two parties have completely resolved their differences.
We originally reported on the delivery of GMC HUMMER EV #210 a few days ago. At the onset, the entire situation didn't look pretty. But thankfully the GMC dealer and a hummer order holder have come to a mutual agreement that will allow the electric vehicle delivery to take place as scheduled.
So, great news, right?! Sure, but it's also important to look at why this misunderstanding might have happened in the first place. So let's dive in.
The Customer's Mistakes
While it's easy to rail on the dealer in this situation (and we'll talk about that in a second), it's also important to recognize that the customer made at least one or two slight missteps in this process. We talked to "A" and he admits he made a "joke" to the salesman about "how much do you want to offer me for it…" at some point in the process before the paperwork was presented.  In retrospect would be a pretty poorly timed laugh. If you are buying a new vehicle these days, joking about flipping it would be a pretty bad faux pas, especially if you were buying it for sticker price or under.
"A" also gave the dealer permission to use photos of HUMMER #210 for marketing purposes. Photos of #210 were posted on the dealership's Facebook page.  "A" originally expressed concern that the photos were being used. "A" in a released statement (below) adds that he "reacted with emotion."
Also adding to the confusion is that in the past "A" has purchased vehicles and customized them. "A" has then resold some of them at auction.  "A" insists reselling or flipping was not his intention for HUMMER EV #210.
Where the GMC Dealer Is Coming From
GM dealers are in a tough spot right now. Inventory is low and customer demands are high. There are also some really hot vehicles being launched. The struggle for most dealers is how do we protect our long-term customer base in the face of being able to mark up every vehicle that arrives on the lot and still sell each one? For many dealers, selling at MSRP is a must to preserve customer trust. But when a customer takes advantage of that, flipping a vehicle within days or weeks of taking delivery, from a dealer perspective- that stings.
If you consider the warning letter from the President of GM North America, warning dealers about selling vehicles to wholesalers or resellers.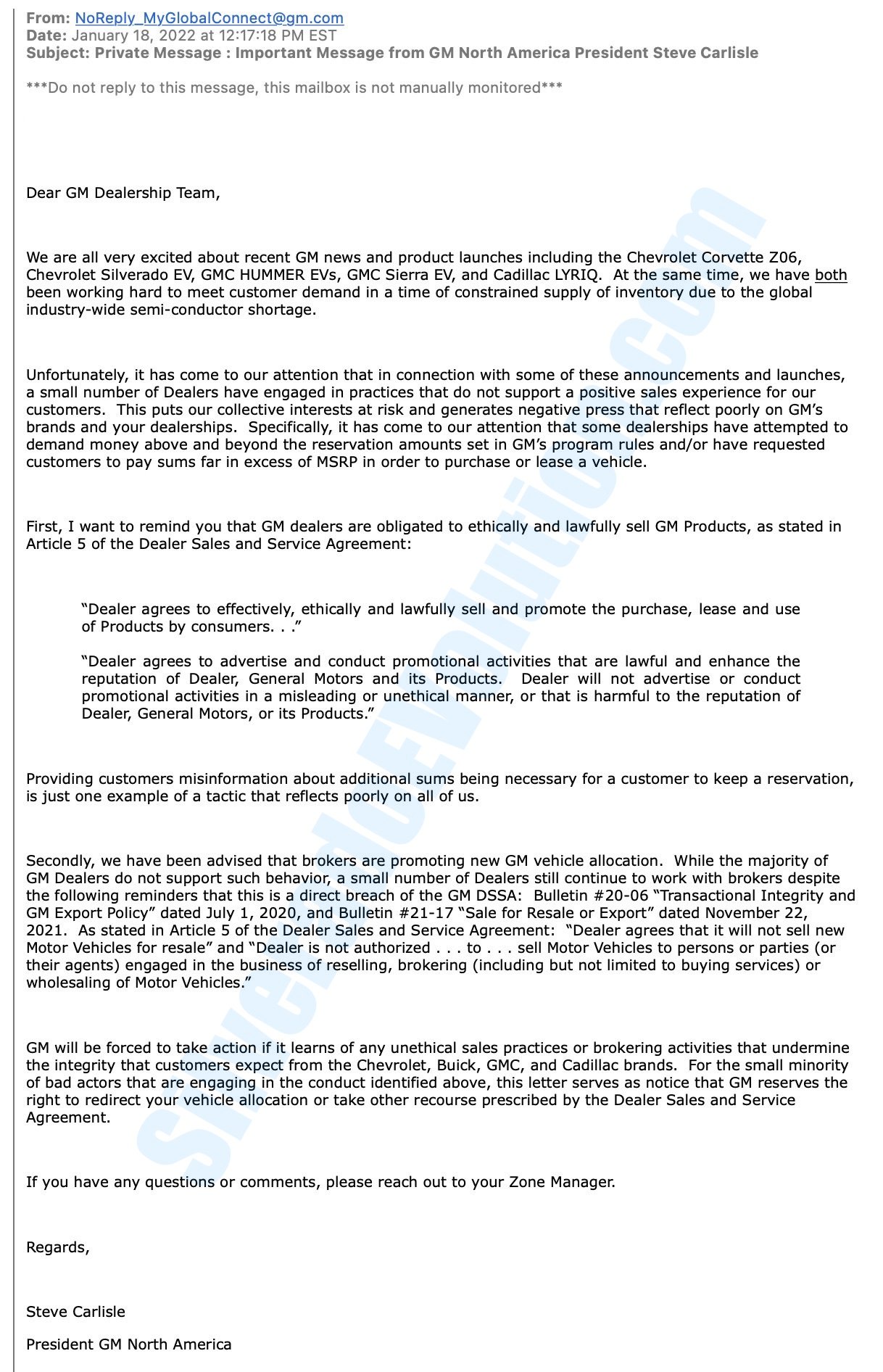 So with that all in mind, you can see how a dealer might decide to ask a customer who they perceive as open to resale a vehicle to sign a non-resale contract. There are arguments both for and against this practice but you can appreciate why that seemed like an option in this situation when GM has warned dealers not to sell to resellers.
And The Internet Took It Too Far
While a little public pressure might not be a good thing to force two sides to resolve their differences, the internet mod may have gone too far to show the dealer their collective displeasure. While we've not confirmed it, "A" let us know the GMC dealer in question had verbal and personal threats made to their employees.
This is totally unacceptable. If you can't criticize someone in a friendly constructive manner- shut the heck up. Threatening someone with violence or death is beyond out of line. We all hate shady dealerships but no bad deal is ever worth making someone feel unsafe at their place of work or preventing them from making a living.
"A" posted this statement to the GM-Trucks.com GMC HUMMER EV Facebook Group to wrap things up. He implores anyone who attacked or posted a negative review on the dealership's Facebook Page or Google Reviews to please remove them.
The Official Statement From "A"
I feel obligated to make the following post….
Over the last few days, the situation with my Hummer order, [dealer name removed], and its delivery has received national attention and taken on a life of its own. While I appreciate the support, some of the pressure I intended to put on the dealership has reached a level, by some, that is absolutely unacceptable. The threat of harm/fire to their establishment and/or physical violence directed towards the employees is something I did not ask for, do not condone, and wholeheartedly ask to come to a stop immediately.
I want to be very clear…. the dealership NEVER had another sale arrangement in place and I approved them using pictures of the truck for marketing purposes
Today I met with two principles of the dealership network and we were able to clear the air. I will be taking possession of the truck this weekend and am more than happy with the final deal. There were clearly misunderstandings on both sides and I reacted with emotion. Something I said made the salesman think I was a reseller.
If you took the time to post negative reviews on their Google/facebook/etc. pages, I kindly ask, if have no actual experience or interaction with the dealership, please take the time to remove the review.
Thanks…. and, NO, I did not post this out of legal threat.