A refreshed new Cadillac Escalade prototype has been photographed, giving us a very rough look at what the refreshed 2024 Escalade will look like.
Our spy photographer reports: 
It looks like Cadillac has begun testing prototypes for the Escalade's 2024 model-year facelift. The prototype is covered in heavy vinyl camouflage on everything in front of the A-pillar and behind the C-pillar.
This facelifted prototype is fitted with Cadillac's 22-inch 12-spoke alloy wheels with Dark Android Finish—wheels that are exclusive to the Escalade Sport or Sport Platinum trim. Despite the heavy camo, we can see sporty details, like the black woven mesh grille treatment, and a larger, deeper-breathing lower air intake (in the same mesh finish). In addition to the grillework, the other visible front-fascia details look similar—or perhaps, even identical—to the front-fascia found on the Escalade V. From this prototype, it looks like many of the Escalade V's styling cues will be migrating down to the Escalade Sport.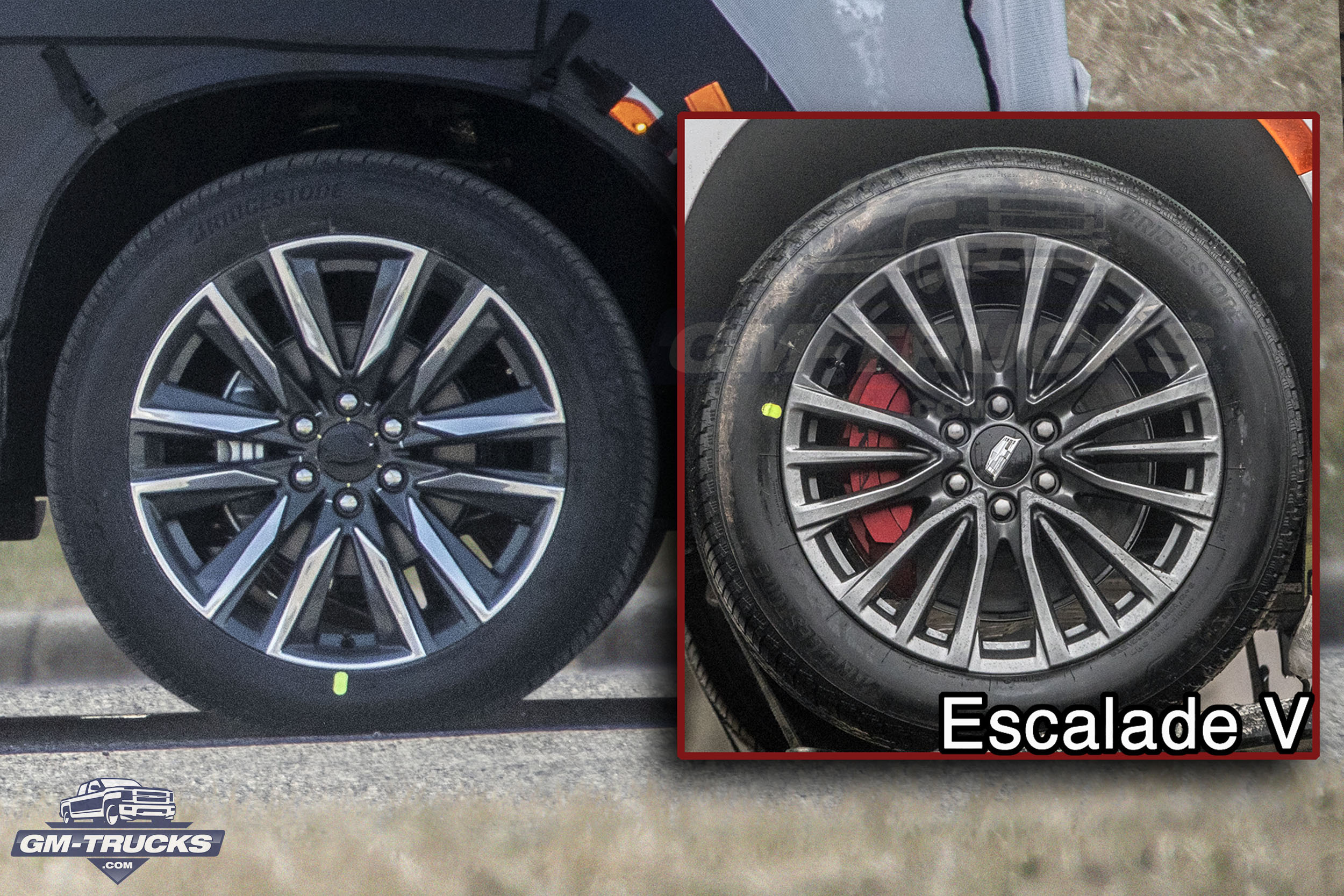 We know that this isn't just a camouflaged Escalade V, since it's clear that the V's high-performance hallmarks are missing from this prototype. The prototype's aforementioned wheels are not V-spec, nor are the Escalade's standard rectangular exhaust tips. The lack of the V's quad-tipped exhaust set-up tells us this prototype is not powered by the Escalade V's supercharged 6.2-liter LT4 V8. Finally, a close look at the prototype's brakes reveals standard (smaller) rotors, compared to the more substantial set-up seen on the Escalade V.
By all accounts, it looks like the Sport will be getting some of the "show" but none of the high-performance "go" that will define the Escalade V. Now that facelifted Escalade prototypes have started appearing, we'll be on the lookout for further changes to see what's in store. With the Sport getting V-like styling, will the 2024 Escalade V get new styling to provide separation? Only time will tell.