The all-new Cadillac Escalade has arrived.
The 2021 Cadilac Escalade has many of the changes that the new Suburban and Tahoe have plus technology firsts. "There is something special about driving an Escalade," said Steve Carlisle, Cadillac president. "It has the bold presence and exclusive technology to elevate the extraordinary and make every drive feel like an occasion."  Carlisle went on to add, "The 2021 Escalade takes its leadership into a new era of mobility, with comprehensive upgrades that are transformative to the driving experience. It's more than a new Escalade. It's a new experience."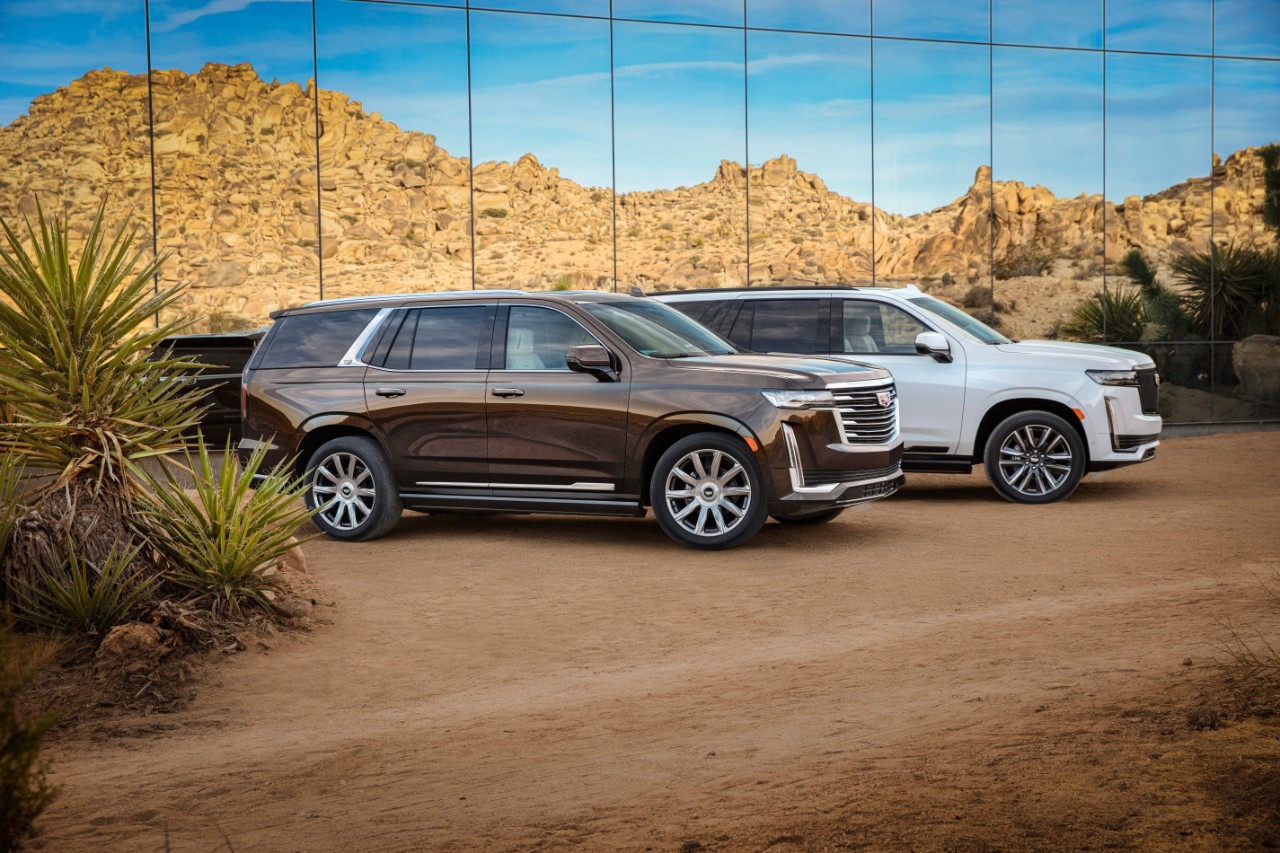 Escalade Size
The new experience is larger. Like the Chevy and GMC SUVs, the Escalade rides n GM's new longer architecture and new chassis. Escalade now has 40 percent more third-row legroom and a 68 percent increase in maximum cargo space behind the third row in the standard-length model. The increases in passenger and cargo space are due primarily to a longer wheelbase, but also a longer overall vehicle length. The new independent rear suspension also helps by enabling a lower interior floor. "Escalade's new architecture enables a unique series of wins for drivers and passengers," said Tim Herrick, vice president for global product programs. "We greatly increased passenger space, expanded cargo carrying capability – and at the same time delivered significant enhancements to both ride quality and handling performance."
Escalade Tech Updates
In its announcement, Cadillac stressed the many new technologies Escalade owners will enjoy. These include:
Super Cruise -Escalade is GM's first full-size SUV with Super Cruise driver assistance technology. It enables hands-free highway driving, automated lane change, and dynamic lane offset.
Studio 3D Surround  – Escalade offer professional-level sound through the multichannel audio system, with strategically placed speakers finely tuned to deliver sound like being with the artist in the recording studio. Additional speakers in the headliner help create a 360-degree immersive listening experience.
Conversation Enhancement. Vehicle communication is enhanced for front and rear passengers as their voices are captured by embedded microphones and reproduced in the designated zone using the 36-speaker system.
Audio Rendering for navigation. Turn-by-turn navigation instructions are more intuitive with audio prompts coming exclusively from the audio system's left- or right-hand speakers, with the prompt moving nearer to the driver as the turn gets closer.
Front Passenger Volume Control. The front-seat passenger can take charge of his or her personal audio experience, with a dedicated volume control for each front seat (included with the Studio Reference system).
All-new, available Augmented Reality-enabled navigation, which uses live street views with directional overlays and more to enhance driving directions.
Surround Vision, a standard feature that employs four exterior cameras to provide a 2-megapixel bird's-eye view of the scene around the vehicle.
Trailering Integration Package, which offers up to nine camera views (including rear camera guidelines) to support easier hitching. The package also includes an integrated trailer brake controller and a trailering app that offers trailer profiles, tire pressure and temperature monitoring, and an Extended Side Blind Zone Alert.
Rear Camera Mirror, an available feature that streams a rear-facing camera view on the conventional inside mirror screen.
Night Vision, an available feature that uses infrared technology to enhance forward visibility, including detection of pedestrians and large animals, projected on the center cluster display.
New rear-seat entertainment features a pair of 12.6-inch-diagonal independent touch displays with navigation as well as streaming capability to play games, music and videos through HDMI and USB inputs. The screens can also mirror Android smartphones. Additionally, destination "suggestions" can be "sent" by rear passengers to the front navigation screen, for the driver to accept or decline.
Industry-first curved OLED display technology. Escalade's industry-first curved OLED display offers more than 38 inches of total diagonal display area, with twice the pixel density of a 4K television. The technology delivers bold imagery, perfect blacks and the largest color range of any automotive display in production today. The system includes three screens: a 7.2-inch-diagonal touch control panel driver information center to the driver's left, a 14.2-inch-diagonal cluster display behind the steering wheel and a 16.9-inch-diagonal Infotainment screen to the driver's right. The OLED is paper-thin, and its curvature positions the displays for optimal visibility. The vivid color and visual quality of OLED technology also eliminates the need for the common "hood" shrouding many typical in-vehicle screens, creating a brighter and less cluttered environment.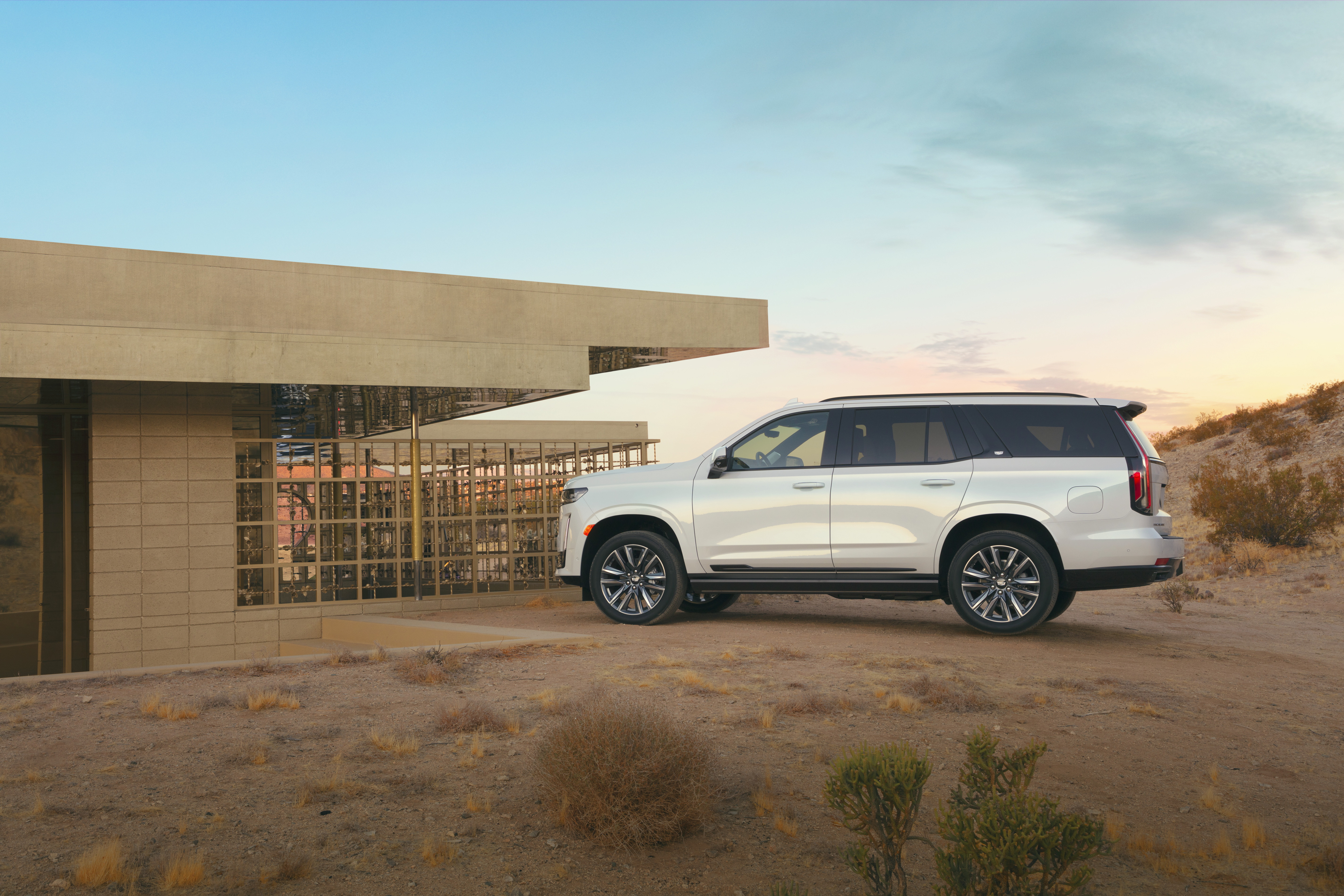 Escalade Suspension
Like the Suburban and Tahoe, the Escalade gets a new suspension which features:
– An all-new independent rear suspension fundamentally transforms the driving dynamics of the Escalade, allowing each rear wheel to handle road conditions separately to dramatically enhance ride quality, steering responsiveness and overall driver control.
– Cadillac's signature Magnetic Ride Control, the world's fastest reacting suspension technology, continues for Escalade. It uses sensors to continually "read" the road and alter the damping rate of the shocks almost instantly. It reacts much faster than computer-controlled shock absorbers to reduce vertical body motion, body roll and vibrations that can often resonate in a large SUV.
– New Air Ride Adaptive Suspension is available as a new system that combines with Magnetic Ride Control. The Air Suspension delivers automatic load-leveling and ride-height adjustments continuously at all four wheels. In highway driving, the system automatically lowers the ride height to improve aerodynamics; and a driver-selectable setting lowers the suspension 2 inches to aid passenger entry and exit when the vehicle is parked. Drivers can also raise the body for additional ground clearance when driving off-road.
An electronic limited-slip differential (eLSD) is available, offering more precise traction and power engagement for the rear wheels. Its infinitely variable clutch engagement delivers torque to the wheel with the most traction, including cornering and wet weather conditions.
The all-new Cadillac Escalade arrives this summer at your local Cadillac dealer.