This morning you may have received a OnStar promotional email offering three months of service and a free Amazon Echo Dot. There's only one problem- the promotion appears to have expired days before the email was sent.
Editor's Note: GM has confirmed the date was incorrect. The promotion is currently valid and will run until January 31st, 2021. If you can take advantage of this offer- go get your free Echo Dot right now!
When the staff at GM-Trucks.com opened up their email after lunch today an interesting message arrived from OnStar that caught all of our attention. Remember, today is January 4th, 2021.
"Get in-vehicle services on us!"
So, naturally we were curious and opened up the promotional email from OnStar and Chevrolet. A free Echo Dot? Three free months of services? Sounds interesting!
There's just one big problem. The offer, according to the email, is expired. 
Update: Turns out this offer is totally valid and runs through January 31st, 2021. Now that OnStar is aware of this misprint they are working to resend the email with the correct date.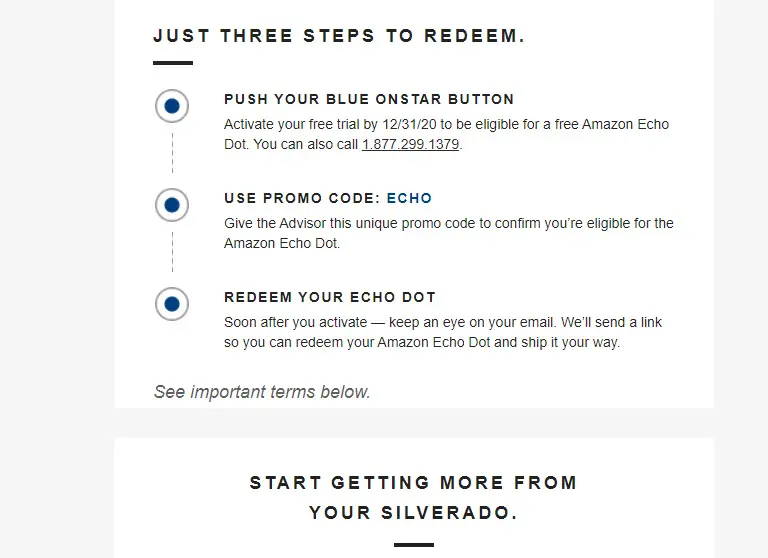 We're not sure what's up but can think of two probable reasons for this flub.
The offer is valid but the date on the email is wrong (most likely) (WINNER)
The offer WAS valid but the email was sent too late (probably not)
We've reached out to OnStar/GM and hope to have clarification on this issue at the top of the article.  Did you get this email too? Let us know on our forums or Facebook Group.