Hold your hats folks. This "Concept Truck" will blow your cap right off your head and you can see it in person at this year's 2021 SEMA Show.
Unveiled a day before the 2021 SEMA Show was set to kick-off, the Chevy Beast is a one-of-a-kind concept truck that showcases the extreme side of off-roading. It features a bevvy of production parts taken from the Chevrolet Performance Parts bin, including a 650-horsepower Supercharged 6.2L V8 engine.
The Beast is based on a short bed Silverado chassis that has been modified for off-road racing duty and includes a tubular safety cage system. A unique long travel suspension system with a five-link rear suspension was also adapted for the vehicle. Chevy says the independent rear suspension is a "concept" but we know better. This is probably a hint of what's coming down the line for the Silverado someday soon. The Beast has a widened 91-inch track for more stability, too.
The Beast is powered by a Chevrolet Performance LT4 6.2L Supercharged crate engine producing 650-horsepower. That engine is mated to a 10L90 10-speed automatic transmission and routes that power through a two-speed transfer case.
Getting all of that power to the ground are 37-inch tall off-road tires mounted to 20-inch wheels equipped with a bead lock system. For good measure, Chevy has also thrown in its Brembo Big Brake upgrade kit.
Inside are four Recaro performance seats and a pair of 7-inch LCD screens that communicate vehicle data, including pitch and roll angles, to the driver.
And this isn't the only concept truck that Chevrolet is bringing to SEMA in 2021. Check out the other trucks you'll see on the show floor by clicking here.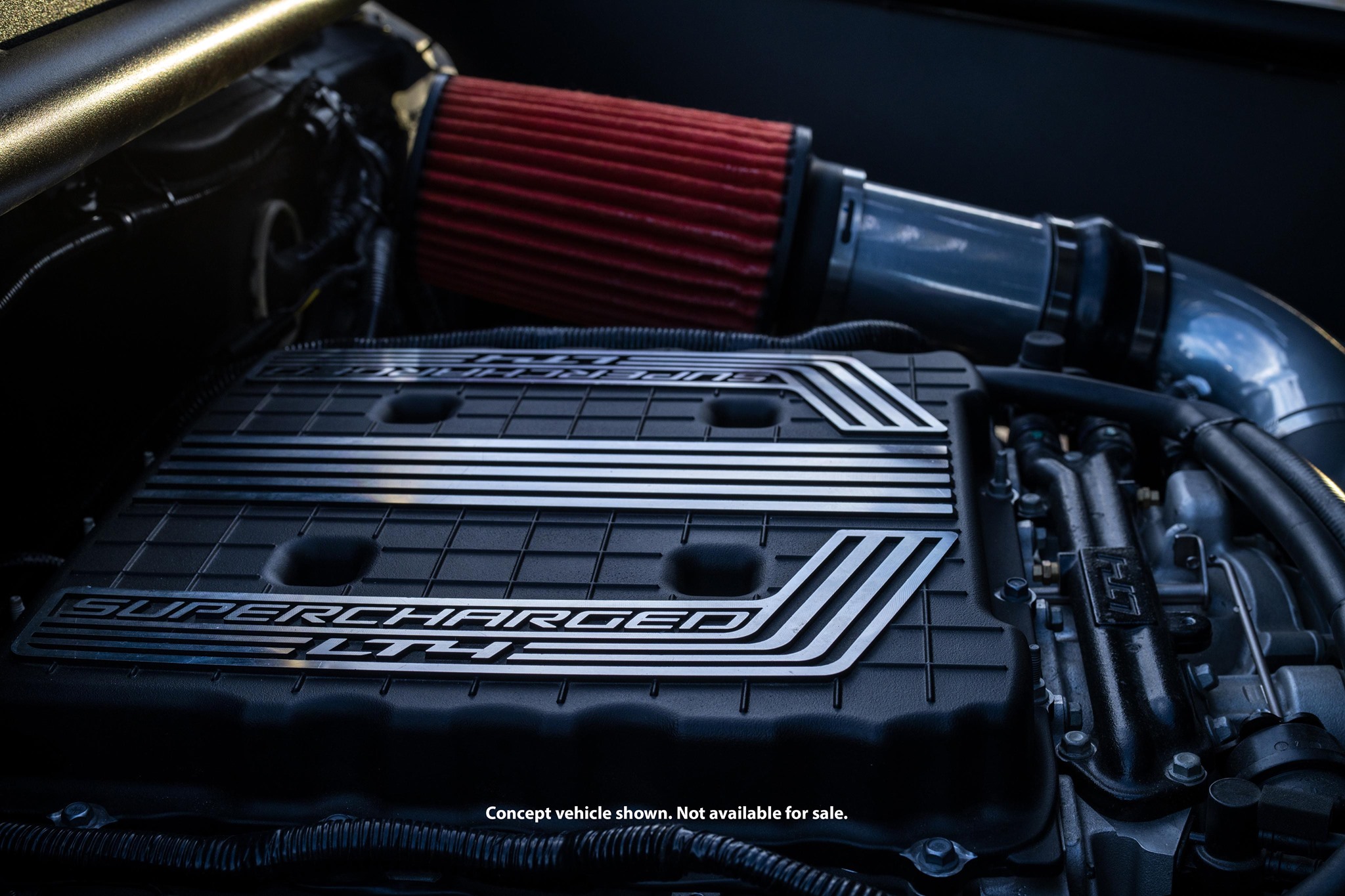 "The Chevy Beast concept takes the popularity of high-performance off-road trucks to the next level," said Jim Campbell, GM U.S. vice president of Performance and Motorsports. "It's a vision for a new dimension of Chevrolet Performance capability from a brand that's been pioneering performance and supporting customer personalization for more than 50 years."
"The Chevy Beast" Concept Truck – SEMA 2021 – Specifications
Wheelbase
126.87 inches
Overall length
204 inches
Track
91 inches (front and rear)
Maximum suspension travel
12 inches (front)
15.5 inches (rear)
Ground clearance
13.5 inches
Approach angle
45 degrees
Departure angle
46.5 degrees
Breakover angle
35 degrees
Engine
LT4 6.2L V-8 supercharged (650 HP)
Transmission
10L90 10-speed automatic
Driveline
4WD (with 2-speed transfer case)
Front suspension
Concept upper and lower control arms and fully adjustable racing strut assemblies with remote reservoirs
Rear suspension
Concept 5-link with Panhard bar and fully adjustable racing shocks with remote reservoirs
Brakes
Four-wheel discs, with Chevrolet Performance Brembo® front brakes equipped with six-piston calipers
Wheels
20 x 10-inch Raceline RTM260M Avenger True beadlock
Tires
37 x 13.5-inch AMP Terrain Attack M/T