Last week the Consumer Electronics Show went virtual, as have most events and Mary Barra, CEO of General Motors was a keynote speaker. If you have not read Part 1 or Part 2, take a moment to read them and head on down below for Part 3.
BrightDrop, New Products & New Business Unit
Of all the things we were General Motors to announce at this year's Consumer Electronics Show, like fantastic sheet metal and a Chevrolet / GMC Battery Electric pickup, we didn't foresee Pam Fletcher, GM VP of Global Innovation's reveal of BrightDrop. We should have.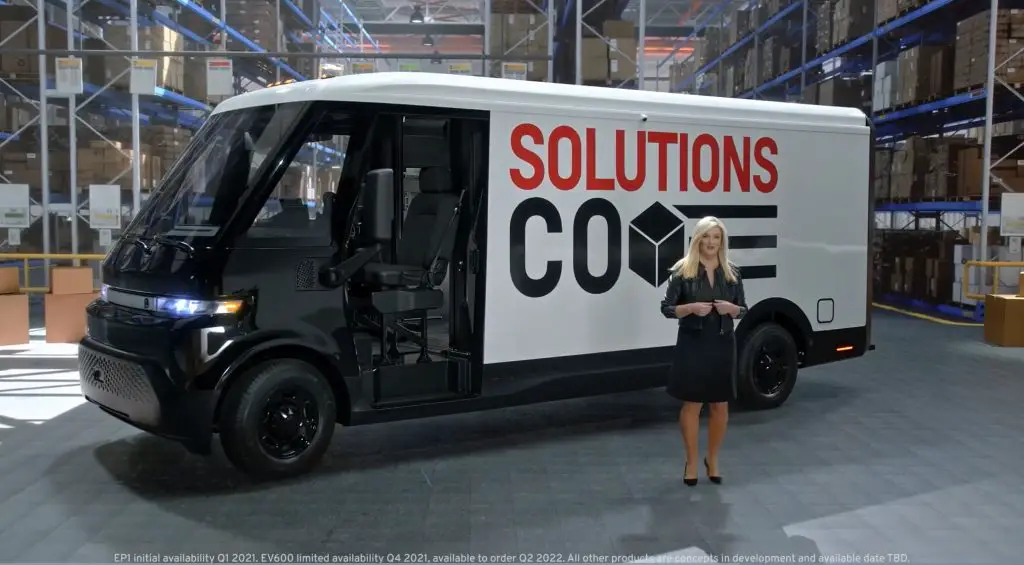 BrightDrop fits into what the supply chain industry calls "last-mile and first-mile." Thus, an EP600 Battery Electric Vehicle and innovative electrically powered parcel module, EP1. The why? Ultium and business opportunities, which we should have expected.
Look out your window at the FedEx, UPS, USPS, Whole Foods, CVS, Uber/Lyft/DoorDash/Kroger trucks. As we've said previously, delivery vehicles will be among the first BEVs to mass market whether from GM, Bollinger, Ford, Rivian or others. According to GM's estimate, by 2025 "the combined market opportunity for parcel, food delivery and reverse logistics in the U.S. will be over $850 billion." With e-commerce now in control of our shopping behavior, the World Economic Forum suggests the demand for last-mile delivery will grow 78-percent by 2030.
GM is vertically integrated, producing or integrating everything from hubs, to skateboard, to power units, to Ultium battery packs—which must have customers beyond General Motors to create economy of scale. They also have partners able to assist in rapid deployment, like Magna. This is brilliantly coherent thinking.
The first BrightDrop product, the DP1, is an R2D2-like pallet on electrically propelled wheels assisting delivery from the truck to your floor or door. FedEx has already beta tested these with very good results. Here's the specs from GM, with the expectation EP1s will be in service this spring:
Built-in electric hub motors with adjustable speed up to 3 mph depending on operator's walking pace.
Maneuverable in tight spaces.
Carries and secures approximately 23 total cubic feet of cargo.
Payload capacity of 200 pounds.
Adjustable shelving organizes contents.
Lockable cabinet doors allow for secure, remote access to contents.
Next to arrive will be the EP600 delivery vehicle, expected later this year. Ultium powered and with predicted 250-mile range, the box holds over 600 cubic feet of cargo and will be equipped with a full safety suite of park, brake, collision, distance, lane keeping, and auto headlamps with even more high-tech options available to customers. Cargo will be secured and monitored, the driver gets an infotainment system, and the cargo area can auto-open to set EP1 modules onto the sidewalk.
BrightDrop is also a software and cloud tracking service with charging support, advice on upfitting and retrofitting current fleet vehicles, a service network, as well as maintenance and repair. The new business will have its own dealer network and the BrightDrop electric commercial vehicles will, if all goes as planned, be built at the CAMI plant in Ingersoll, Ontario, Canada.
Immediate transformation from producing the Chevrolet Equinox has begun and is expected to take two years for the switchover. Price tag, according to GM, is nearly $800 million USD. This plan is subject to a tentative 2021 agreement between GM, Unifor (Canadian union), and various governments.
See more at gobrightdrop.com