General Motors is getting ready to show the world a brand new Chevrolet electric pickup and we've got a close look at what you can expect.
In just over one week, GM CEO Mary Barra will present the opening keynote presentation for this year's Consumer Electronics Show (CES). Both the show and the keynote are virtual but the products that Barra will talk about and potentially show off are entirely real (or will be soon).
One of the vehicles, among others,  that is expected to be unveiled next week is a future "electric full-size truck." And no, it's not a HUMMER.
No details about the vehicle have been leaked yet but the description matches a mystery truck that showed up in the background during a GM Investor Presentation from November.
"The GM Mystery Electric Truck"
We patched together every view of the spotted vehicle that we could to make this composite picture. Keep scrolling below to see the video these shots came from and the other views we captured.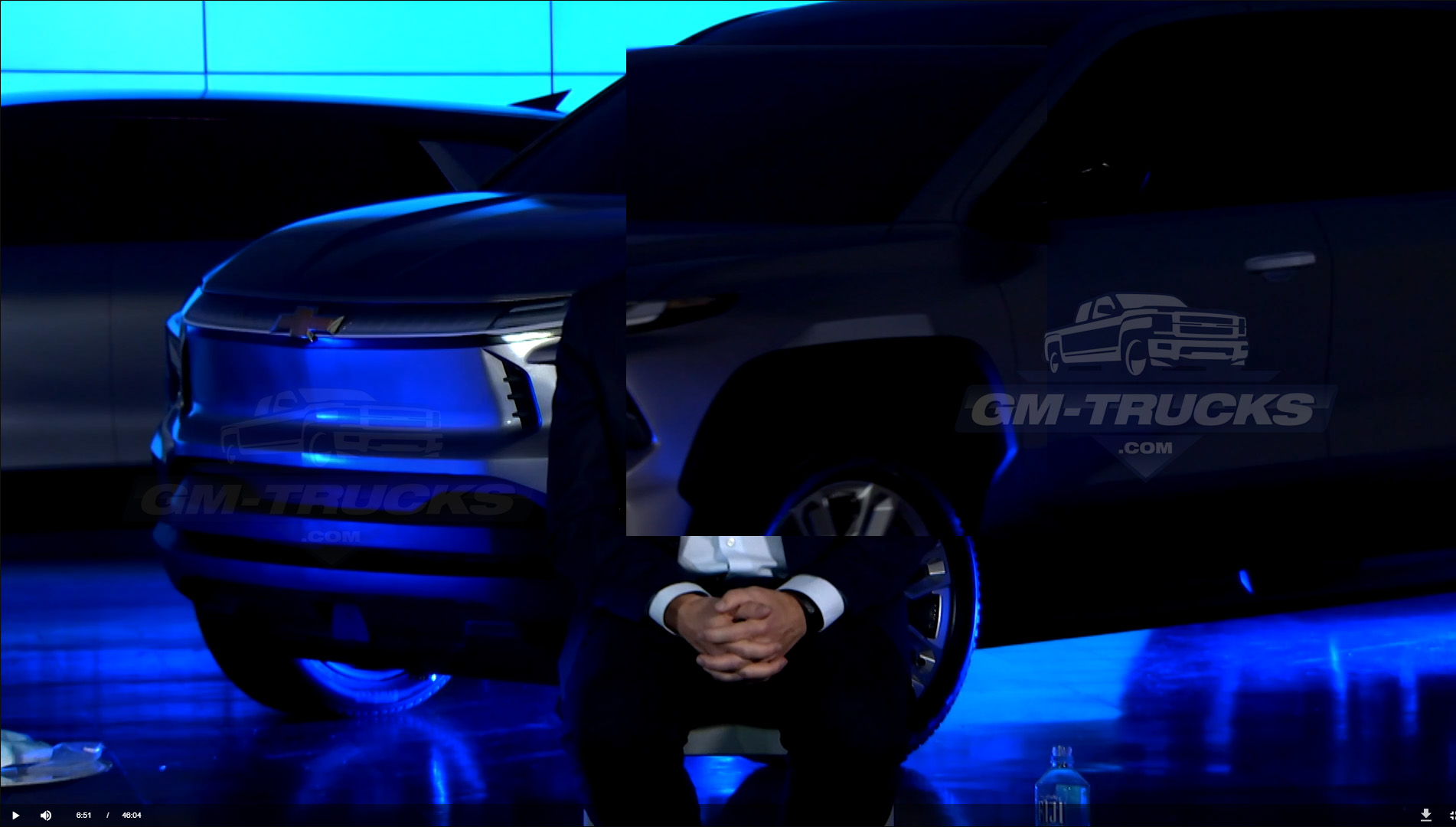 The GM Investor Talk In Its Entirety
The Truck In The Background
On November 19th, 2020 during an investor talk, this Chevrolet truck was positioned perfectly in the background. Here's the three unique views we got during the video.
The kicker is that truck was never mentioned- leaving us with a lot of unanswered questions. Is that a Chevy Blazer front end? Is this a full electric truck like the HUMMER EV or a plug in hybrid? Is it a Silverado or something else? It's really hard to tell and frankly, that's exactly what GM wanted to happen. Showing investors and enthusiasts they are cooking up something…..
Check back at GM-Trucks.com next week for the entire scoop on this future electric Chevrolet.
Read More about the truck and GM's 2021 CES Plans Here: