Rejoice, the time has come. Meet the redesigned 2022 Chevrolet Silverado.
A new refined front end, an all-new upscale interior, a more powerful 2.7L engine, more towing capacity, and the much anticipated off-road ZR2. That's the 2022 Silverado in a nutshell. But we're sure you want more details, so here they are.
2022 Chevrolet Silverado ZR2
First up, let's talk about the all-new Silverado ZR2. As you can see from the photos above and below, the ZR2 comes with a unique front fascia compared to other Silverado trim levels. It features a unique bumper that is made of steel, increases approach angles off-road, and is equipped with replaceable end caps for when you have a little too much fun. The ZR2 also has its own unique hood design with a raised power dome over the engine.
The 2022 Silverado ZR2 will feature a 6.2L V8 standard. It will be rated at 420-horsepower and 460 lb-ft of torque, the same as the last generation, and will route its power through a 10-speed automatic transmission.
The biggest difference between the Silverado ZR2 and the other new Silverado models is its suspension. Like the Colorado ZR2, the Silverado ZR2 will come with standard Multimatic DSSV spool-valve dampers. The ZR2's 40mm spool-valve dampers adjust how they feel and the force of dampening depending on position and speed of movement- allowing the Silverado ZR2 to tackle both slow speed and high-speed terrain- never compromising ride quality in the process.
Alongside the DSSV shocks is a revised spring rate, giving ZR2 more suspension travel over the Silverado Trail Boss. ZR2 has an impressive 31.8-degree approach angle – steeper than other Silverado models. The ZR2 also features a 2-inch suspension lift, like the Trail Boss models.
The ZR2 also comes with 33-inch off-road mud terrain tires, specific to the model, alongside unique skid plates, and front/rear electronically locking differentials. One-pedal driving when off-road will allow for acceleration and braking to be combined into one action of the accelerator peddle for more control without having to switch foot positions.
The ZR2 also has unique seats over other Silverado trim levels that include more bolstering.
Interested in a ZR2? Talk to your dealer. Unlike the HUMMER EV, there will not be any early reservation system for the model.
2022 Chevrolet Silverado New Design
The 2022 Silverado features an all-new front-end design. Each trim level, LT, High Country, and ZR2 have a slightly different look. Chevrolet has not yet shown what the Trail Boss and LTZ will look like.
The new design is an evolution of the 2019-2021 design. All of the design changes are limited to the front and wheels.
Three new colors will be offered for 2022, including Dark Ash, Sand Dune, and Glacier Blue Metallic.
The new daytime running lights look similar to the previous design but have cool new features: including integrated turn signals and a cool walk-up animation feature.
2022 Chevrolet Silverado New Interior
Although the new front fascia is big news- an all-new interior for Silverado is even bigger. This new interior will be standard on LT trim levels and above. Take a look.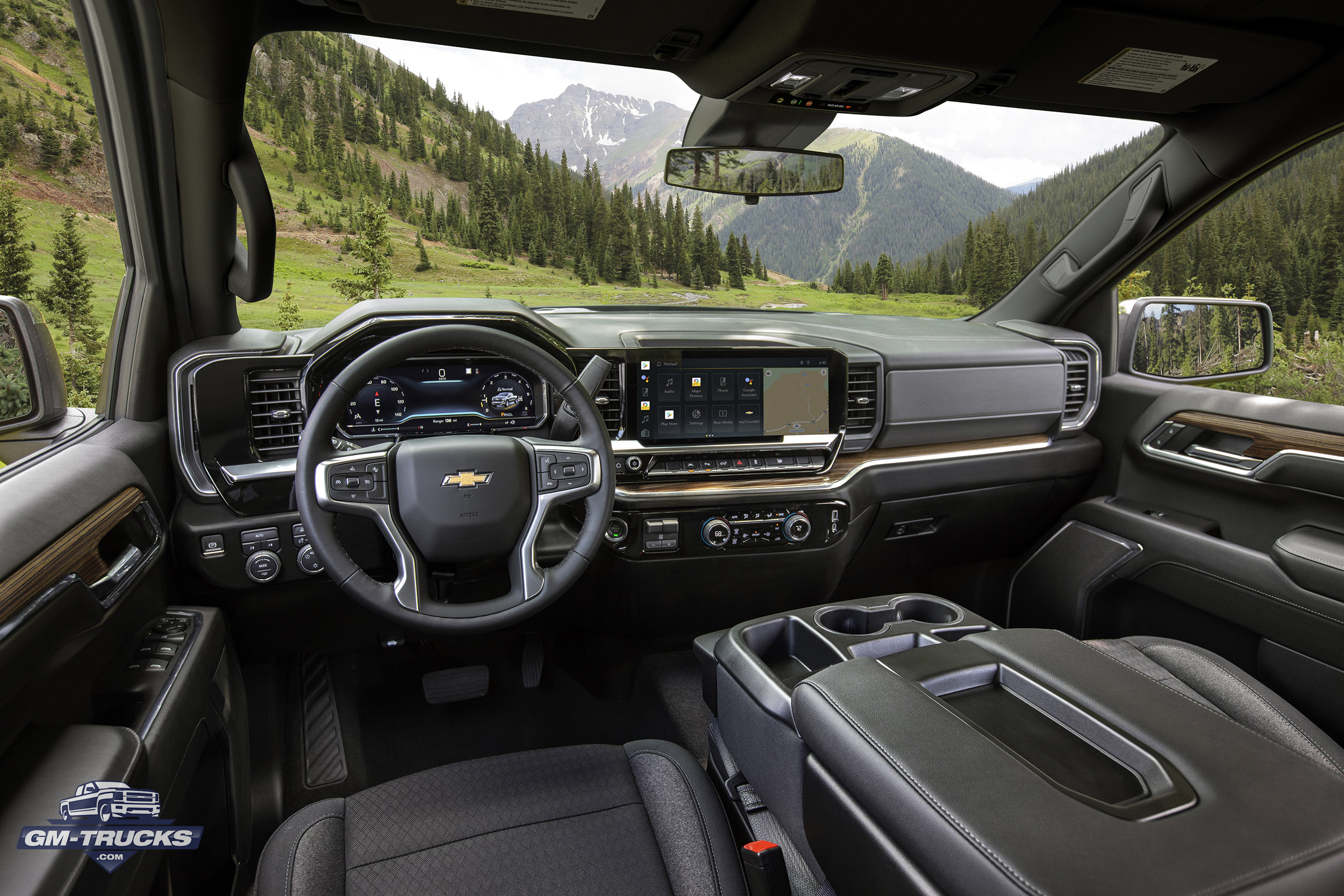 Chevrolet has really upped the game on the 2022 Silverado's interior. It now features a standard 12.3 inch fully digital gauge cluster on LT trim levels and above. Alongside that is a massive 13.4-inch infotainment system.
The new infotainment system includes "Google Built-In". That means you have access to run google apps and say "hey google" directly from the vehicle's interface. Of course, it also works perfectly with Android Auto.
The digital gauge cluster features multiple layouts for different purposes. Ride mode changes also change the gauge cluster, for easy reference to which ride mode you've currently selected.
Another feature never seen before in a Chevy truck makes its debut for 2022- a console-mounted shifter. It's totally electronic and is standard on trucks with bucket seats.
High Country takes luxury up another level. Open-pore wood trim is now a feature, alongside stainless steel speaker covers on the doors. High Country also features standard leather seats, like in past years, but now also includes unique perforation and stitching patterns.
2022 Silverado – New Safety Features
Super Cruise with trailering is a new option for Silverado in 2022. It will be an option on High Country trim levels only. It allows for drivers to take their hands off the wheel, even when towing and let their Silverado drive itself on 200-thousand miles of compatible divided roads in the USA and Canada.
Chevrolet is also adding six additional safety features standard on every trim level for the new model. Called Chevy Safty Assist- it includes Forward Collision Alert, Lane Keep Assist with Lane Departure Warning, Automatic Emergency Braking, Front Pedestrian Braking, Following Distance Indicator, and IntelliBeam auto high beams.
2022 Chevrolet Silverado Features More Power and Towing Capacity
While no changes have been made to the 5.3L or 6.2L V8 engines for 2022, the turbocharged 2.7L and 3.0L engines will see improvements.
The 2.7L turbocharged four-cylinder engine will see a massive torque boost, now up to 420lb-ft. This is in part to a 30% stiffer crankshaft and a fully forged bottom end. The 2.7L's standard 8-speed transmission has been reprogrammed for smoother shifting, quicker downshifts, and a more refined feel. A two-wheel-drive 2022 Silverado with the 2.7L engine can now tow up to 9,500lbs.
The 3.0L Duramax Diesel engine now comes with an optional max tow package. The package increases towing capacity an additional 4,000lbs over the outgoing model. A 2022 Silverado with the 3.0L Diesel can now tow up to 13,300lbs in a two-wheel-drive configuration. The engine continues to be paired with a 10-speed automatic transmission.
When Does The 2022 Silverado Go On Sale?
The all-new 2022 Chevrolet Silverado will start production early next year. It should hit dealer lots sometime in the Spring of 2022 and you should be able to order one in late 2021.
2022 CHEVROLET SILVERADO 1500 PRELIMINARY SPECIFICATIONS
EPA-EST. MPG
| | | |
| --- | --- | --- |
| | CITY | HIGHWAY |
| 2.7L Turbo High-Output engine/ 8-speed | Not Yet Available          (2WD & 4WD) | Not Yet Available          (2WD & 4WD) |
| 5.3L V-8 / 10-speed | Not Yet Available          (2WD & 4WD) | Not Yet Available          (2WD & 4WD) |
| 6.2L V-8 / 10-speed | Not Yet Available          (2WD & 4WD) | Not Yet Available          (2WD & 4WD) |
| 3.0L I-6 turbo-diesel / 10-speed | Not Yet Available          (2WD & 4WD) | Not Yet Available          (2WD & 4WD) |
FUEL TANK CAPACITY1 (APPROX.)
| | |
| --- | --- |
| Regular Cab | 28.3 gal. / 107 liters |
| Double Cab | 24 gal. / 91 liters |
| Crew Cab | 24 gal. / 91 liters |
1Capacity is approx. 22 gal. / 83 liters on 2WD/diesel models
ENGINES
| | |
| --- | --- |
| Type: | 2.7L I-4 Turbo DOHC VVT DI with Active Fuel Management and Stop/Start |
| Bore & Stroke (in / mm): | 3.63 x 4.01 / 92.25 x 102 |
| Block Material: | Cast aluminum |
| Cylinder Head Material: | Cast aluminum |
| Valvetrain: | Dual-overhead camshafts, four-valves per cylinder, tripower valvetrain with continuously variable valve timing, variable valve lift and Active Fuel Management |
| Fuel Delivery: | Direct high-pressure fuel injection with Active Fuel Management |
| Horsepower (hp / kW @ rpm): | 310 / 231 @ 5600 (GM est.) |
| Torque (lb-ft / Nm @ rpm): | 420 / 569 @ 3000 (GM est.) |
| | |
| --- | --- |
| Type: | 5.3L V-8 VVT DI equipped with Dynamic Fuel Management |
| Bore & Stroke (in / mm): | 3.78 x 3.62 / 96 x 92 |
| Block Material: | Cast aluminum |
| Cylinder Head Material: | Cast aluminum |
| Valvetrain: | Overhead valve, two valves per cylinder, variable valve timing |
| Fuel Delivery: | Direct high-pressure fuel injection with Dynamic Fuel Management |
| Horsepower (hp / kW @ rpm): | 355 / 265 @ 5600 (SAE certified) |
| Torque (lb-ft / Nm @ rpm): | 383 / 519 @ 4100 (SAE certified) |
| | |
| --- | --- |
| Type: | 6.2L V-8 VVT DI with Dynamic Fuel Management |
| Bore & Stroke (in / mm): | 4.06 x 3.62 / 103.25 x 92 |
| Block material: | Cast aluminum |
| Cylinder Head Material: | Cast aluminum |
| Valvetrain: | Overhead valve, two valves per cylinder, variable valve timing |
| Fuel Delivery: | Direct high-pressure fuel injection with Dynamic Fuel Management |
| Horsepower (hp / kW @ rpm): | 420 / 313 @ 5600 (SAE certified) |
| Torque (lb-ft / Nm @ rpm): | 460 / 623 @ 4100 (SAE certified) |
| | |
| --- | --- |
| Type: | 3.0L DOHC I-6 Turbo-Diesel |
| Bore & Stroke (in / mm): | 3.30 x 3.54 / 84 x 90 |
| Block material: | Cast aluminum |
| Cylinder Head Material: | Cast aluminum |
| Valvetrain: | Dual-overhead camshafts, four-valves per cylinder |
| Fuel Delivery: | High-pressure, common-rail direct injection (36,250 psi / 2500 bar); electronic throttle valve |
| Horsepower (hp / kW @ rpm): | 277 / 207 @ 3750 (SAE certified) |
| Torque (lb-ft / Nm @ rpm): | 460 / 623 @ 1500 (SAE certified) |
TRANSMISSION & AXLE
Type:
Hydra-Matic 8-speed automatic (2.7L)
Hydra-Matic 10-speed automatic (5.3L, 6.2L, 3.0L turbo-diesel)
Gear Ratios (:1):
8L90 8-speed
10L80 10-speed
     First
4.56
4.70
     Second
2.97
2.99
     Third
2.08
2.15
     Fourth
1.69
1.77
     Fifth
1.27
1.52
     Sixth
1.00
1.28
     Seventh
0.85
1.00
     Eighth
0.65
0.85
     Ninth
—
0.69
     Tenth
—
0.64
      Reverse
3.82
4.87
Axle Ratio:
3.23 (5.3L, 6.2L and 3.0L)
3.42 (2.7L, 5.3L and Max Trailering Pkg. and 6.2L w/ Max Trailing Pkg.)
CHASSIS & SUSPENSION
Front Suspension:
Independent coil-over-shock with twin-tube shock absorbers; Rancho shocks with Z71 pkg. Two-speed transfer case or AutoTrac automatic transfer case with 4WD, depending on the model. Multimatic DSSV dampers and specific springs with ZR2
Rear Suspension:
Solid axle with semi-elliptic, variable-rate, two-stage multileaf springs (includes composite second-stage springs on LT models), splayed twin-tube shock absorbers; Rancho shocks with Z71 pkg. Two-speed transfer case or AutoTrac automatic transfer case with 4WD, depending on the model. Multimatic DSSV dampers and specific springs with ZR2
Steering Type:
Electric power-assisted rack-and-pinion
Brake Type:
Four-wheel disc with electro-hydraulic power assist and ABS; vented front and rear DuralifeTM rotors
Brake Rotor Size
(in. / mm):
13 x 1.18 / 330 x 30 (front)
13.6 x 0.79 / 345 x 20 (rear)
Wheel Size:
17-in. x 8-in. steel (std.)
17-in. x 8-in. aluminum (avail.)
18-in. x 8.5-in. aluminum (avail.)
18-in. x 8.5-in. aluminum (ZR2)
20-in. x 9-in. aluminum (avail.)
22-in. x 9-in. aluminum (avail. on High Country)
Tire Size:
P255/70R17 all-season
P265/70R17 all-season
LT265/70R17 all-terrain
P265/65R18 all-season or all terrain
LT275/65R18 Goodyear Wrangler DuraTrac
LT275/70R18 Goodyear Wrangler Territory (ZR2)
P275/60R20 all-season or all terrain
P275/50R22 all-season
EXTERIOR DIMENSIONS
REGULAR CAB
DOUBLE CAB
CREW CAB
Wheelbase
(in. / mm):
139.5 / 3545 (long box)
147.4 / 3745
147.5 / 3747 (Trail Boss)
147.4 / 3745
(short box)
147.5 / 3747
(short box Trail Boss and ZR2)
157 / 3987
(standard box)
157.1 / 3989
(standard box Trail Boss)
Overall Length
(in. / mm):
229.7 / 5834 (long box)
231.9 / 5890
231.9 / 5890
(short box)
241.4 / 6132
(standard box)
232.9 / 5915
(short box Trail Boss)
242.4 / 6157
(std. box Trail Boss)
232.8 / 5912
(ZR2)
Overall Width w/o Mirrors
(in. / mm):
81.1 / 2061
81.2 / 2063
81.2 / 2063
Overall Height
(in. / mm):
75.6 / 1920
(2WD – long box)
75.6 / 1920
(4WD – long box)
75.6 / 1920 (2WD)
75.6 / 1921 (4WD)
78.5 / 1993 (Trail Boss)
75.5 / 1917
(2WD – short box)
75.5 / 1918
(4WD – short box)
78.4 / 1990
(short box Trail Boss)
75.4 / 1914
(2WD – standard box)
75.4 / 1915
(4WD – standard box)
78.2 / 1987
(standard box Trail Boss)
78.7 / 1998
(ZR2)
 
INTERIOR DIMENSIONS
REGULAR CAB
DOUBLE CAB
CREW CAB
Headroom
(in. / mm):
43.1 / 1095
43 / 1093 (front)
39.9 / 1013 (rear)
43 / 1093 (front)
40.1 / 1019 (rear)
Legroom
(in. / mm):
44.5 / 1131
44.5 / 1131 (front)
35.2 / 895 (rear)
44.5 / 1131 (front)
43.4 / 1102 (rear)
Shoulder Room
(in. / mm):
66 / 1678
66 / 1677 (front)
64.9 / 1648 (rear)
66 / 1677 (front)
65.2 / 1655 (rear)
64.5 / 1639 (front Trail Boss & ZR2)
64.0 / 1626 (rear Trail Boss & ZR2)
Hip Room
(in. / mm):
60.9 / 1547
61.2 / 1554 (front)
60.2 / 1530 (rear)
61.2 / 1554 (front)
60.2 / 1530 (rear)
60.8 / 1544 (Trail Boss & ZR2)
59.3 / 1505 (rear front Trail Boss & ZR2)
TRAILERING
REGULAR CAB
DOUBLE CAB
CREW CAB
2.7L (lb. / kg)^:
9500 / 4309
(2WD long box)
9300 / 4218
(4WD long box)
9200 / 4173 (2WD)
9000 / 4082 (4WD)
9200 / 4173             (2WD short box)
9000 / 4082              (4WD short box)
9200 / 4173             (2WD standard box)
8900 / 4037             (4WD standard box)
5.3L w/DFM   (lb. / kg)^:
9900 / 4491
(2WD long box & M5X)
9700 / 4400
(4WD long box & M5X)
9500 / 4309 (2WD)
11200 / 5080       (2WD & NHT)
9300 / 4218 (4WD)
11000 / 4990       (4WD & NHT)
9500 / 4309             (2WD short box)
11200 / 5080            (2WD short box & NHT)
9200 / 4173             (4WD short box)
11000 / 4990               (4WD short box & NHT)
9200 / 4173              (Trail Boss short box)
9400 / 4264             (2WD standard box)
11100 / 5035             (2WD std. box & NHT)
9200 / 4173             (4WD standard box)
10900 / 4944           (4WD std. box & NHT)
9200 / 4173
(Trail Boss std. box)
6.2L (lb. / kg)^:
N/A
9200 / 4173 (4WD)
13300 / 6033       (4WD & NHT & 20" Wheels)
9100 / 4128             (4WD short box)
13200 / 5987           (4WD short box & NHT & 20" Wheels)
9000 / 4082             (4WD standard box)
13100 / 5942           (4WD std. box & NHT & 20" Wheels)
8900 / 4037
(ZR2)
3.0L diesel    (lb. / kg)^:
N/A
9300 / 4218 (2WD)
13300 / 6033
(2WD & NHT & 20" Wheels)
9000 / 4082 (4WD)
13000 / 5897
(4WD & NHT & 20" Wheels)
9300 / 4218 (2WD short box)
13200 / 5987
(2WD short box & NHT & 20" Wheels)
9000 / 4082 (4WD short box)
12900 / 5851
(4WD short box & NHT & 20" Wheels)
9200 / 4173 (2WD std. box)
13100 / 5942
(2WD std. box & NHT & 20" Wheels)
8900 / 4037 (4WD std. box)
12900 / 5851
(4WD std. box & NHT & 20" Wheels)
2022 Chevrolet Silverado Photos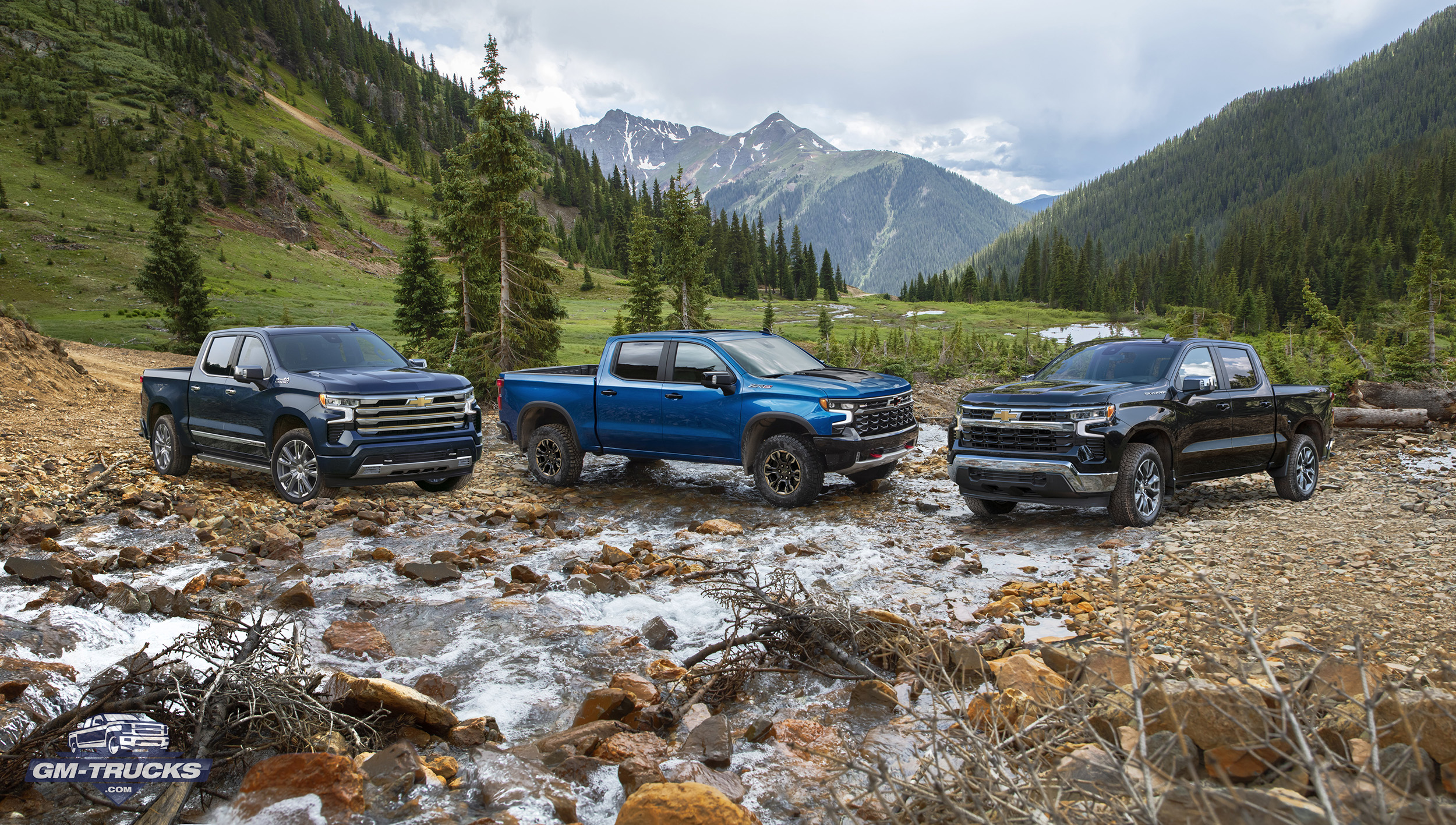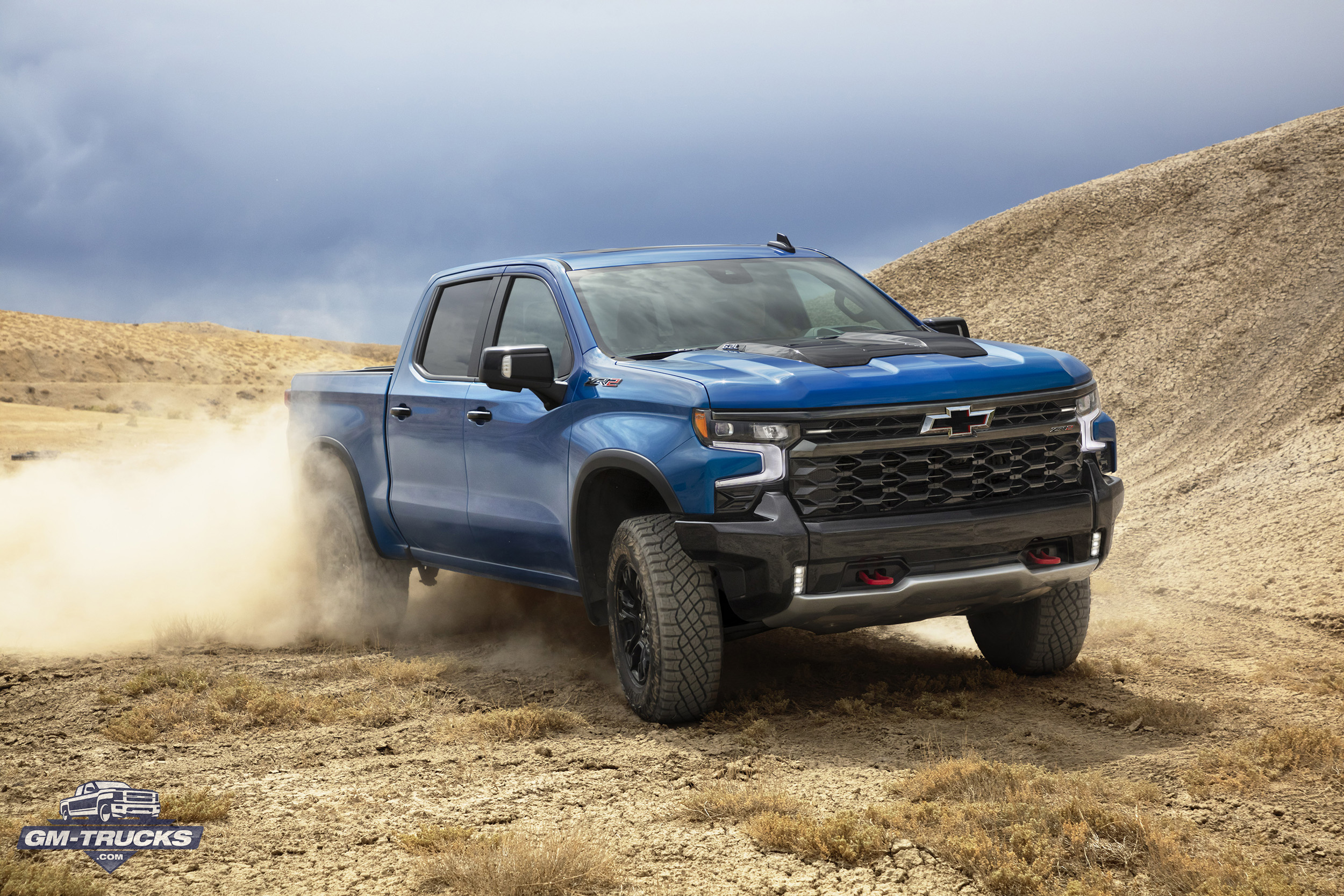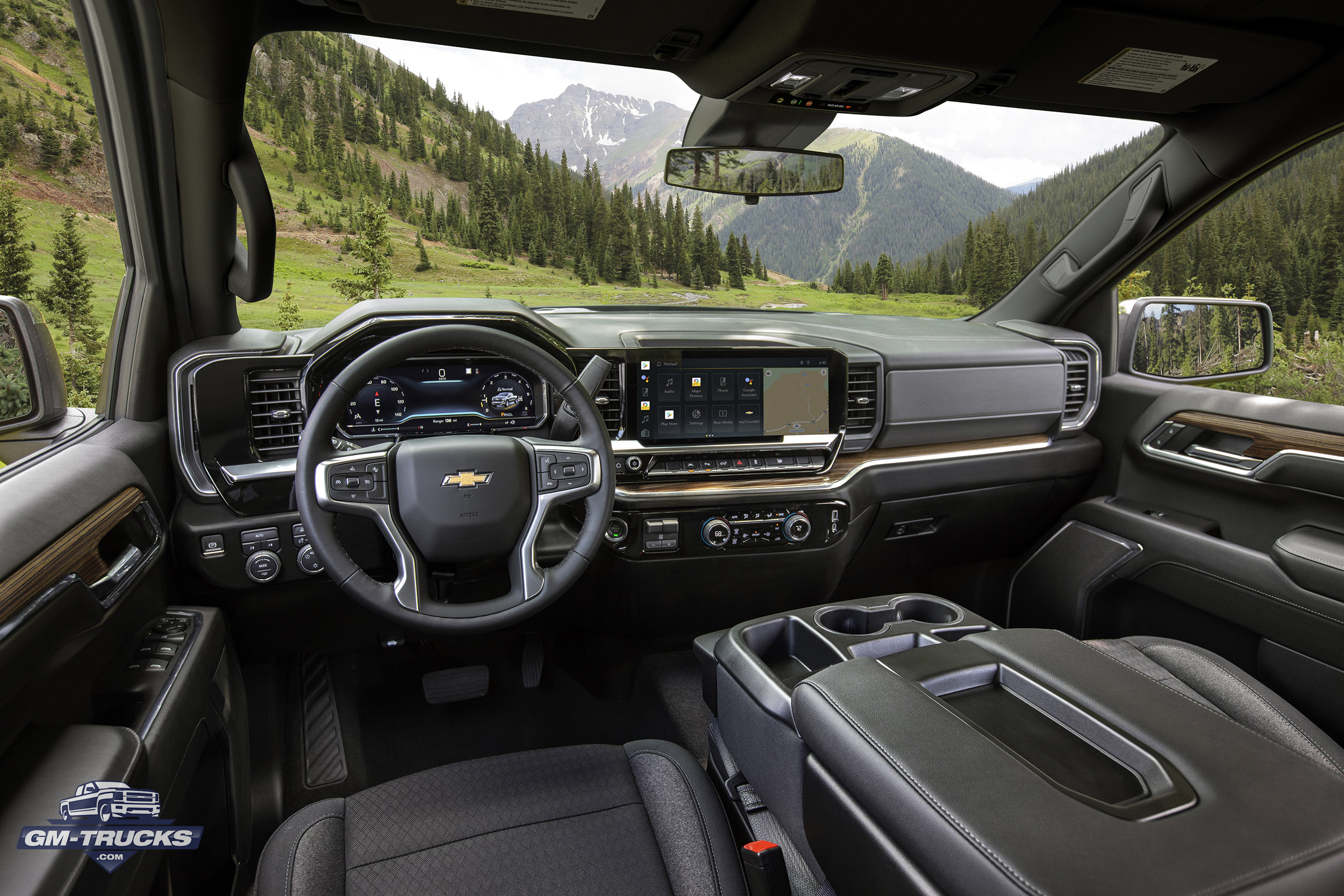 Check out the history of the Chevrolet Silverado on Wikipedia