We sure hope so..because new spy photos showing a prototype Silverado sporting a "SEMA Beast" like front bumper have been captured.  Close by, we also shot a Sierra AT4X with different off-road bits.  We discuss what this all may mean and show you all of the photos.
Our spy photographer reports:
GM has upped its off-road truck game with the Chevy Silverado ZR2 and GMC Sierra AT4X, but new, disguised prototypes suggest that more extreme variants are now being tested around the GM Proving Grounds. The new prototypes show distinct design differences from their officially-released counterparts, with a focus on more aggressive looks and improved off-road clearances.
GMC Sierra AT4X-based Prototype Gets ZR2-style Makeover
We got our first whiff of the coming changes a few weeks ago, with a glimpse of a GMC Sierra 1500 AT4X showing signs of a new high-clearance front bumper and disguised wheels. We now have more revealing shots showing the ZR2-inspired front bumper treatment, but with a new front skid plate design that should yield even better approach angles and clearance.
We initially chalked up the Sierra AT4X's revised front-fascia as a likely upgrade to address the model's rather mundane, unmodified front bumper—unlike the aggressive high-clearance design applied to the Silverado ZR2. Now, that theory has been thrown into serious doubt, with the appearance of newly camouflaged Silverado ZR2-based prototypes. It now appears that something much more far-reaching is likely taking place in GM's truck development group.
Silverado ZR2-based Prototypes Show Minimalist Front Bumper Design, New Skid Plate Design
The new Silverado ZR2-based test trucks have everything in front of the A-pillar covered in camouflage, and we can see a completely different approach to the front skid plate design compared to the officially-released model. The bumper on the current Silverado ZR2 appears to have a heavier chin, with its skid plate integrated into the bottom of the front bumper's design. These new prototypes appear to have a simplified front bumper—with better front clearance—and a narrower skid plate more distinct from the front bumper design. The result looks to have a better approach angle than the "standard" ZR2.
New Silverado Prototypes Showing Some "Beastly" Overtones?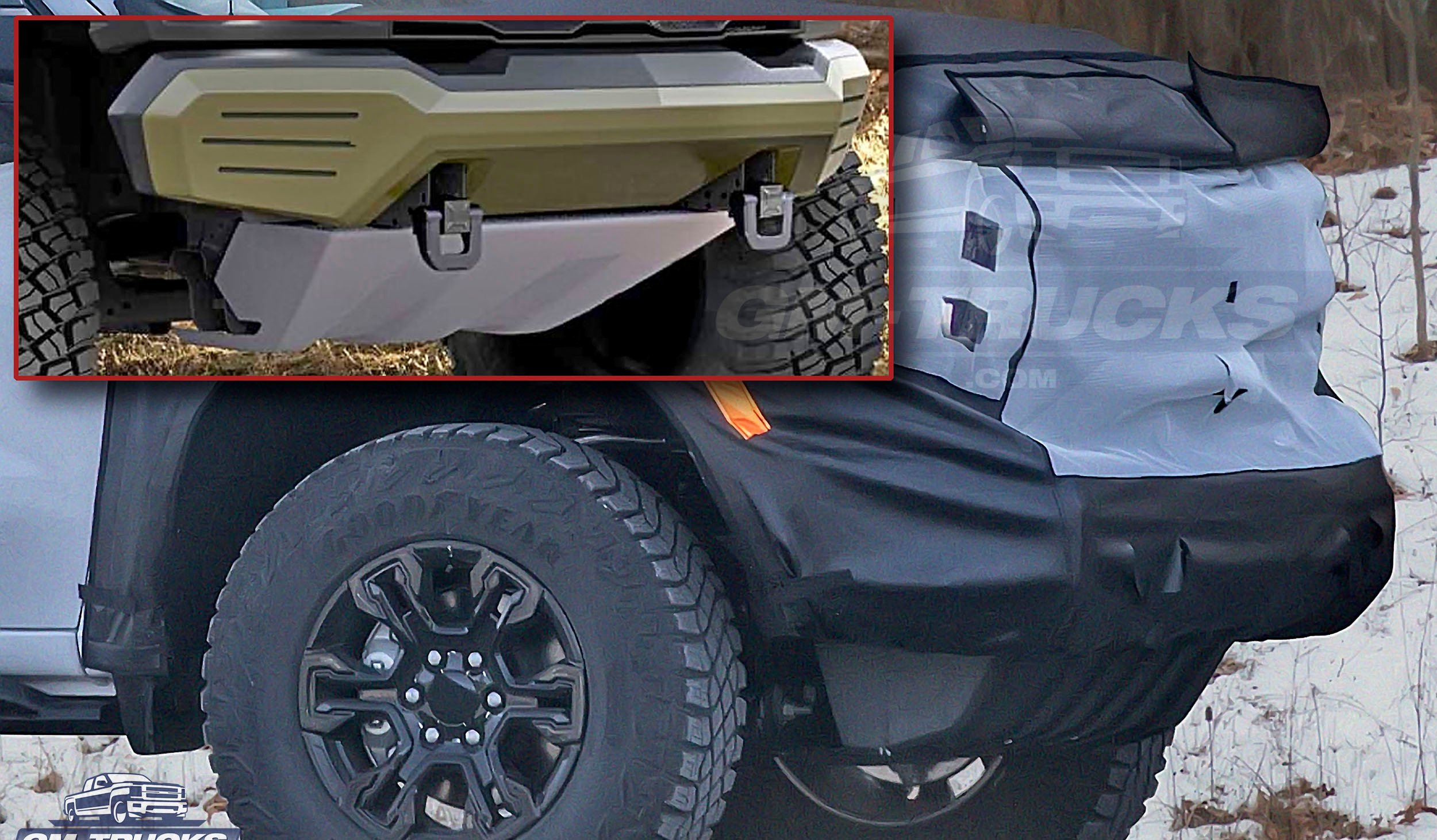 In analyzing the Silverado prototypes in detail, we noticed that the shape and orientation of their front bumpers and skid plates appear to resemble the Chevy Beast concept which debuted at the 2021 SEMA show. The Beast concept started with a Silverado, and was modified into full SEMA outrageousness. The end result is a crazy, over-the-top side-by-side/dune buggy, but there is a definite link to the Chevrolet Performance parts catalog (and a certain recently-announced engine). What if some simple elements of the Beast's design were applied to a more extreme variant of the Silverado ZR2? Looking at the prototypes' stripped down front bumper and skid plate design through "Beast-colored lenses" it's possible to see some similarities. What if the Beast foreshadowed some things in store for GM's newest off-road truck?
What Engine Is In The Beast Concept Again?
The Beast Concept was fitted with GM's supercharged 6.2-liter LT4 V8 engine—the same engine powering the recently unveiled Cadillac Escalade V. Given that the supercharged LT4 has likely been adapted for more truck-focused duties in the Escalade V, transitioning the engine into a high-performance variant of the Silverado ZR2 has just gotten a lot easier. Perhaps the Chevy Beast concept's engine of choice serves double duty: 1) Get lots of attention for the Chevrolet brand at the crowded SEMA show, and 2) Provide a little foreshadowing for what's in store for GM's truck lineup in the next year, or so.
Our encounters with these new Silverado ZR2- and Sierra AT4X-based prototypes have not yet yielded any audible proof of what lies under their camouflaged hoods, so we're left to engage in some speculation. These new prototypes tell us something interesting is in the works—likely above and beyond the standard Silverado ZR2 and Sierra AT4X. Given that the Escalade V has blazed the trail for the supercharged 6.2-liter V8 to enter the truck segment, a more powerful ZR2-based variant is more feasible than ever, and would provide some kind of answer to the Ram TRX, and the coming Ford Raptor R. We'll be aiming for some audio and video the next time we come across these curiously modified prototype trucks.
Here's every spy photo from this session: