Full-size Chevrolet pickup trucks from the late 1990s aren't rare or all that special. Chevy sold thousands of them, and while most of the trucks still around today are chewed through with rust or beaten down by years of abuse, there are still quite a few on the road. This one, however, is different. This 1998 Chevrolet Pickup has just 10,000 miles, and looks to be in just about the same condition now as it was sitting on the dealer's lot in the late 90s. Its auction on Bring a Trailer has drawn plenty of attention, but we're a little conflicted on the price.
The truck's original window sticker shows almost $8,000 in options, the most expensive of which is a Vortec 5700 5.7L V8 engine. Interestingly, the Z71 Off-Road package only added $270 to the price tag – a far cry from today's package price of around $2,000. Still, the Silverado and all of the add-ons (CD Player!) only came to $29,003.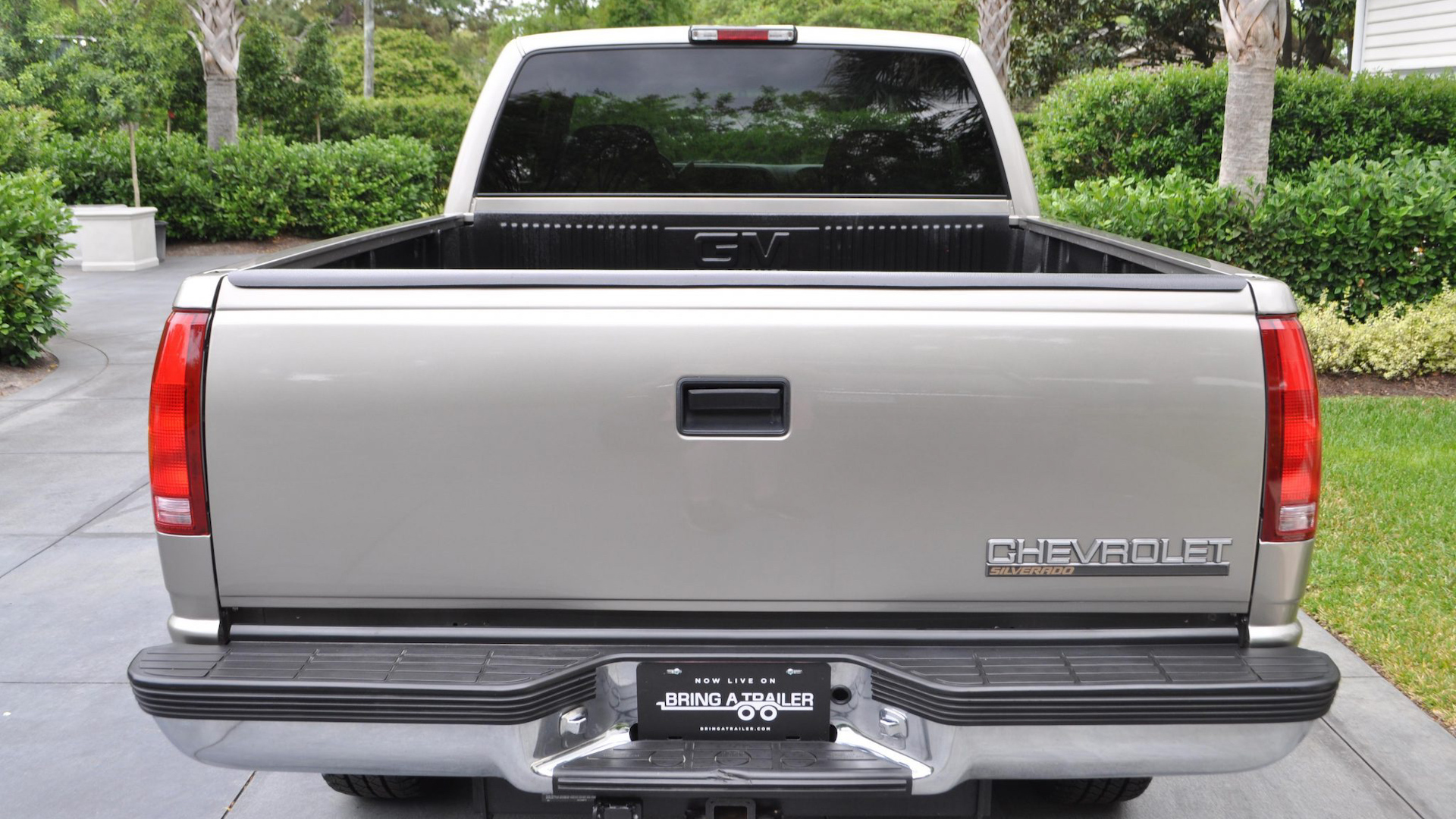 Its current bid of $35,000 surpasses that number by a tremendous margin, but it's impossible to deny that the truck is just about as neat as it gets for fans of 1990s vehicles. The navy blue interior is spotless, and the fluffy bucket seats up front still appear to retain all of their easy chair-like padding and comfort.
Of course, a person buying an expensive, low-mileage pickup truck might want to stash it away in a garage somewhere for safe keeping, but we hope that it ends up in the hands of someone wanting to use it. It's quite capable, even by today's standards for pickups. The 5.7-liter V8 produced 255 horsepower and 330 pound-feet of torque when it was new, which should still be the case for this truck.
Here, that engine comes paired with a four-speed automatic transmission, but the truck could also be ordered with a five-speed manual in 1998. That powertrain is good enough for the Silverado K1500 to tow 6,000 pounds, and this particular truck is outfitted with plenty of goodies that make it even more useful as a utility vehicle. The options list shows additions like a bedliner, electronic transfer case, four-wheel drive, and a removable tailgate, many of which are desirable features even today.
This pristine truck joins a long list of relatively common, low-mileage vehicles from the 1980s, 1990s, and 2000s drawing big attention on BaT. In just the last few days, the site has seen an auction for a 68-mile 2001 Plymouth Neon, a 15,000-mile 1989 Mercedes-Benz 560SEL, and a 15,000-mile 2008 Pontiac Solstice. What do you think? Are these vehicles worth the money?