2021 GMC Yukon Denali versus Toyota Land Cruiser. We compare these two iconic full-size SUV behemoths.
Toyota Land Cruiser Heritage Edition
Unlike the 2021 GMC Yukon Denali, Toyota's Land Cruiser is old school, seriously old school. Yes, it integrates new technologies like smart radar cruise control—but doesn't have auto-three blinks from the turn signal! And there's the eight-speed transmission where a Yukon delivers it's up to date 10-speed. So, what would push a GM loyalist towards Land Cruiser, or vice versa? Perhaps history, resale value, or sheer moral turpitude?
2021 GMC Yukon Denali
The 2021 GMC Yukon Denali is spanking new and delivers available advanced technologies like Air Ride Adaptive Suspension for an extra 50mm (2-inches) of clearance, engine choices ranging from the 6.2L with stop/start and Dynamic Fuel Management to the venerable 5.3L or GM's new 3.0L Duramax turbodiesel, all with 10-speed transmissions. The Land Cruiser uses a 381-horsepower 5.7-liter DOHC V8 engine, which produces 401 lb.-ft. of torque.
Yukon added 6.1-inches and is now 210-inches long, versus Land Cruiser's somewhat shorter 194.9 length. Comparing wheelbases, Yukon added 4.9-inches for 2021, bringing it to 120.9-inches, with the Toyota having at 112.2-inches. There's no comparison of third-row leg room in my specifications, but Yukon added another 10.2-inches this year. That's huge.
Land Cruiser's long history of third world transport vividly contrasts with this Heritage Edition, which has as luxurious an interior as could be wished for by Lexus, with rugged rubber floor mats juxtaposed against soft, supple leather comfort seating, and an array of switches, dials and buttons to control its off-highway prowess which includes a Torsen limited-slip center differential. In other words, a mountain goat wrapped in luxurious Merino wool.
The 2021 GMC Yukon Denali, while a new model, is equally proven in technology and durability. GMC uses the all-new Active Response 4WD system that includes a new electronic limited slip differential. With adaptive ride, the chassis lowers 20mm at speed and the driver can further lower the chassis 50mm or 2" when parked for ease of entry.
Land Cruiser is proven rugged and reliable. Their popularity in any middle eastern or African domain proves it. Look at any United Nations video and there are Land Cruisers with UN logos. We drove a 2020 Heritage Edition (2021 is basically unchanged), one with seating for 5 passengers (it's a delete option from Toyota), not GMC Yukon Denali's 8-passenger roominess and found some wondrous and puzzling attributes.
First was wind noise rivaling a Taylor Swift tribute band of 4–7-year-old kids. Multiple support bars across the Yakima Megawarrior roof rack designed to carry coolers, duffel cases upon cases for a marathon journey resonated at any speed over 55 mph. Not good. Its Heritage Edition BBS forged alloy wheels, distinctive grille, badge, headlamps and fog lamps and bronze contrast stitching on the seats—those we liked.
GMC Yukon offers seven colors, Heritage one. Both vehicles offer premium sound, JBL from Toyota, a 14-speaker Bose system on Denali. Each provides plenty of active safety, including blind spot warning, rear cross traffic, and GMC can be optioned with the amazing 9-camera view system.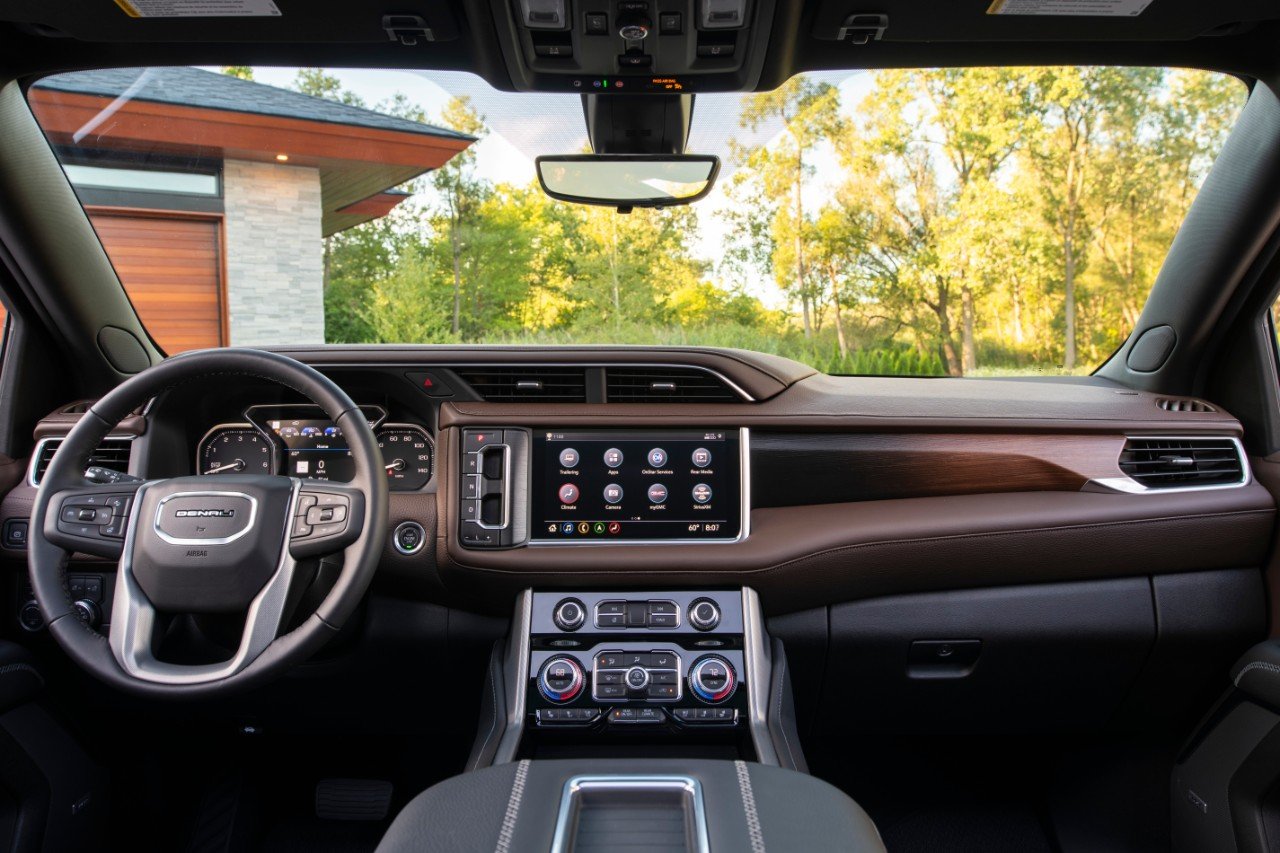 With an opportunity to do a little bit of pushing the truck through some very mild Northern Michigan offloading—two-tracks, sand and parting the trees, to say we had no issue would be a massive understatement.
So, would you switch? If you're a GM loyalist, no way! If you're interested in Land Cruiser, Heritage Edition or not you may have to join the UN Peacekeepers:
 "The Toyota Land Cruiser has been a legendary name for more than 60 years. While it will be discontinued in the United States after the 2021 model year, (Toyota remains) committed to the large SUV segment and will continue to explore future products that celebrate the Land Cruiser's rich off-road history.  We encourage loyal enthusiasts and intrepid adventurers to stay tuned for future developments."
 For more information:

https://www.gmc.com/suvs/yukon
https://www.toyota.com/landcruiser/